LIKE OUR PAGE

Kenyada Waters from Alaska recently encountered a stranger on the roadside. Waters recently posted on her Facebook page her experience with a stranger by the names of Richard who she met on the road side. She explained that when she found Richard standing on the side of the road holding a sign, her instincts told her she needed to help him.
At first, Waters was going to offer him some small odd jobs at her business, but then she realized she could offer him much much more than that.
When she approached the man, he explained to her that he was stranded and stuck in a vicious cycle since his cell phone had been cut off after losing his job as a tree climber. He said he could apply for jobs, but had no way to know when to apply, or if he was being contacted by any companies he had previously applied to.
So Waters decided to help this man by paying his cell phone bills, she took him to the AT&T store, where she paid his cell phone bill for the next 2 months.
Waters explained on her Facebook page that the man was very happy and delighted when she paid his phone bills. She also revealed that he was so overwhelmed, he cried in the store. Richard could not believe his phone bills were finally paid by someone he did not even know. She further explained that Richard had applied for over 20 jobs.
They later went for lunch together, as soon as they started eating, he got a text from one of the jobs he had applied to, saying in the next few weeks they may have a spot for him.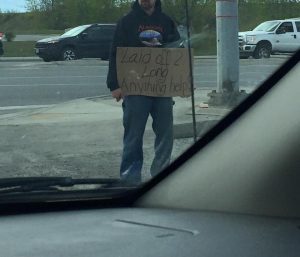 Here's what Waters posted on her Facebook page.
" Today I saw a man standing on the side of the road with a sign! And God told me to give him my card and hire him to do some labor work for my business! I walked over to him and I gave him my business card and told him a little bit about my business and what he can help me with!
He began to tell me about how he got laid off a few months ago and has really been struggling to keep his feet on the ground he's on the verge of being evicted from his apartment and he was so embarrassed to be standing on the side of the road asking for money but he had to do what he has to do to get his cell phone cut back on so he could get hired!
He repeatedly said that he wasn't a lazy bum he is a tree climber and cutter and has worked in that field for 20 years! He just a good guy having a hard time and had exhausted all of his resources! He said that people would drive past him and yell out get a job you stupid lazy bum not knowing he has submitted over 20 applications and has not heard anything back!
Then with his cell phone being cut off, he had no way for businesses to get in contact with him he would have to call in and check on his application which resulted in him missing a lot of jobs!!!! So God told me to pay for his cell phone and not only did I pay for it one month but I paid for two months!!!!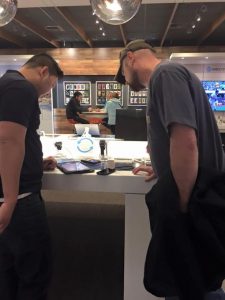 This man cried in AT&T! I told him it was all God! And to not let ignorance hurt him!" Waters explained that the reason as to why she shared the unusual incident on her Facebook page was to show that there are power and purpose in being obedient to God! She believes that God sent her to help this man and that it was his plan for her to meet Richard.
"As soon as his cell phone got cut back on he got a text message and he read it to me while we were at lunch! It was from one of the jobs that he applied to saying that he could possibly have a job in two weeks in Kenai!!!! Wow!!!!!! Gods timing is perfect!" she said. She warns people to stop judging others especially those who are homeless and struggling because unless you talk to someone, you can not tell what they are going through.
"Not everyone is lazy and an addict! It might be you one day! Extend your hand doesn't point it!" She added. She also asked her Facebook followers to pray for Richard that he can get the money he needs to pay his rent. She was glad to have met him, they spent only 2 hours and they have been friends since that day. Lastly, Waters asked her followers to help Richard if they happen to see him or at least refer him to a tree company that needs more workers.
What a selfless woman! Please share your opinion about what she did in the comment section below and SHARE with your friends on Facebook if you were impressed by her!
Don't forget to ♥LIKE US♥ on Facebook for more inspirational stories!
LIKE OUR PAGE