Watch the video of the woman trying to steal at the check out machine.

The rising trend of employing automated self-check machines in shops instead of the labor force is seeing a number of unexpected troubles. All the effort which was done for the sake of saving money is going to the dogs as people are finding shrewder ways to deceit the machine.
By analyzing the recent stats and incidents, criminologists have warned that even honest buyers are turning into unethical thieves when it comes to 'scan by yourself' through a checkout machine.
The loss of money in terms of stolen goods has become more than twice as high after the retail stores installed self-scanning machines.
The reports also state that decent people who would normally pay for the purchased items are too found stealing, as the opportunity presents itself to them.
Also, the lack of human interaction gives them a feeling that they are not doing any harm to someone, and that a large store can surely afford a small cheat.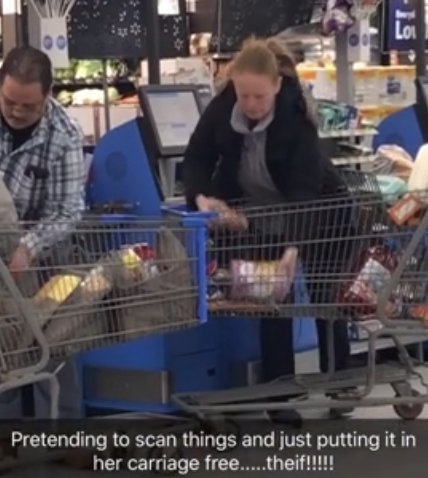 Such people have also discovered different justifications whenever they are found putting an item in their bags without scanning it. Many instances cannot be even judged since it's not always easy to conclude whether the person had done it intentionally or not.
Another reason for increased shoplifting is the frustration non-tech masses face while self-servicing, their failure to operate the machine has got them a 'ready-made excuse' as well as the freedom to blame machines for not scanning properly.
In addition to increased stealing, aggressive behavior is also seen in people whenever the staff has to intervene either due to a mistake made by the customer or to check age verification.
This new kind of robbers, whose items find their way straight to the shopping bag rather than the scanning machine, are known as 'swipers.' They are the thieves who don't just secretly shoplift the valuable items in their pockets but manipulate the machine to do so.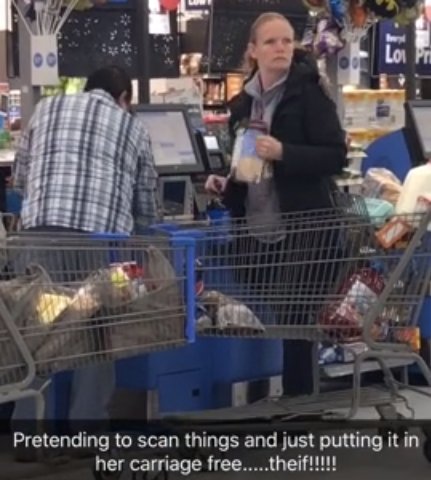 Such immoral activity was witnessed recently in a Walmart in Cranston, Rhode Island, USA.
A woman with her male accomplice was swiping goods, pretending that they were scanning the products. However, most of their things were moved into the shopping bag without being properly scanned by them.
Unfortunately for the cheaters, a couple who was present nearby captured their theft in a video.
On watching the evidence, a Walmart employee stopped the swipers at the gate, asking them to show their bill. Their short receipt contained the record of just a few things, contrary to their heavily-filled grocery bags.
Much to their shame, the woman and her theft-partner were then asked to present themselves at customer service.
What a shameful thing to do!