Ben Burville is a 49 years old General Physician in the Amble town who has been diving for 32 years and more. He is even a part-time researcher at the department for the marine biology of the Newcastle University. He has been studying on subjects like the dolphins with white beaks and the grey seals. He has an experience of 18 years as to how to behave with and around grey seals as he has been doing it for the past years.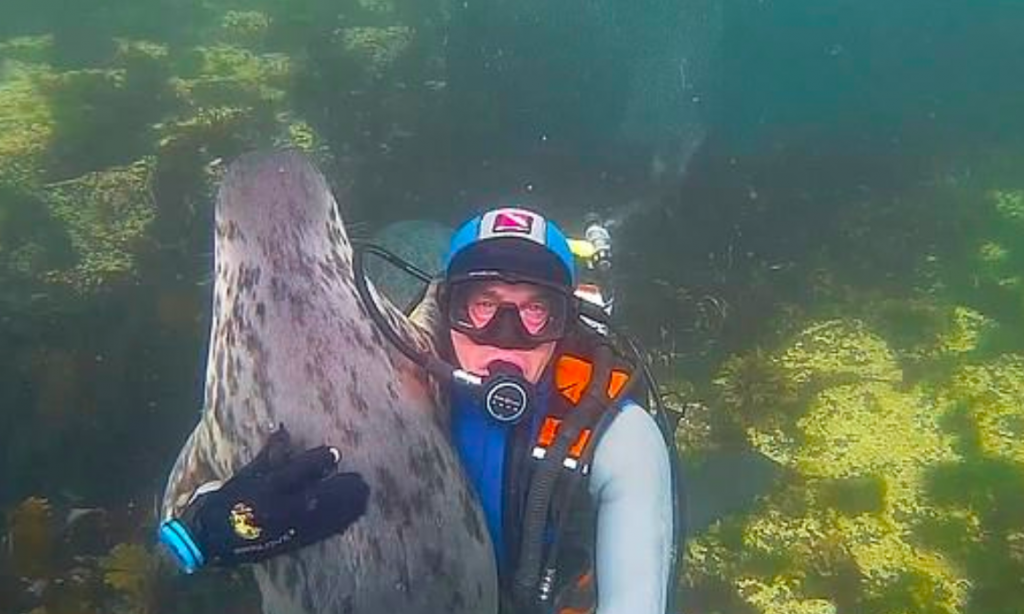 Ben was exploring the coasts of the Furne islands in Northumberland diving in the depths of the ocean when he met a grey seal in the depths of the water body. There was something entirely different about this grey seal.
Video credit: Caters News Agency
The seal had the amazingly cute curious nature. It saw Ben and went up to him and started sniffing his diving gear. When Ben patted the seal, it began to roll over like a puppy at home. The seal was playful and patted back on Ben's arms as well. When Ben started caressing its back, the seal went on to hug Ben for instance as well.
The seal sniffed Ben's arm and also patted it back. As Ben strokes, its back the seal wraps its flippers around his neck even. It also goes on to sniff and snuggles around with the face gear of Ben's. The goggles were what fascinated it the most, and the seal tapped its nose against it and then later went on to tap on his head with the flippers that it had.
This is one great experience of how even the wild animals as well have the soft side. They are also creatures of God's love and have compassion. However, Ben warns that seals have big claws as well as in their mouth there are lots of microorganisms that are not good for human health, it is thus better not to always touch them.
Share this post with your friends and family.
Recommended Video –"Wild Sea Otter Gives Birth At An Aquarium, What Happened Next Will Make Your Day"
If you liked this post, we would love to hear from you:)
Enjoyed the article? Check out another interesting story below ▼
---

Share this story with your friends and family!
---