NASA's Curiosity rover has revealed the best evidence yet that life may have once existed on Mars.
Over the last few years, the data collected by the Mars rover led scientists to find organic matter in a Martian lakebed and trace methane gas in the atmosphere in two separate studies.
These revolutionary results are not only expected to better our understanding of the seasonal events taking place on Mars but are also expected to guide our future search for microbial life on Mars.
Curiosity's project scientist, Ashwin Vasavada of NASA's Jet Propulsion Laboratory in Pasadena, California said: "The chances of being able to find signs of ancient life with future missions, if life ever was present, just went up."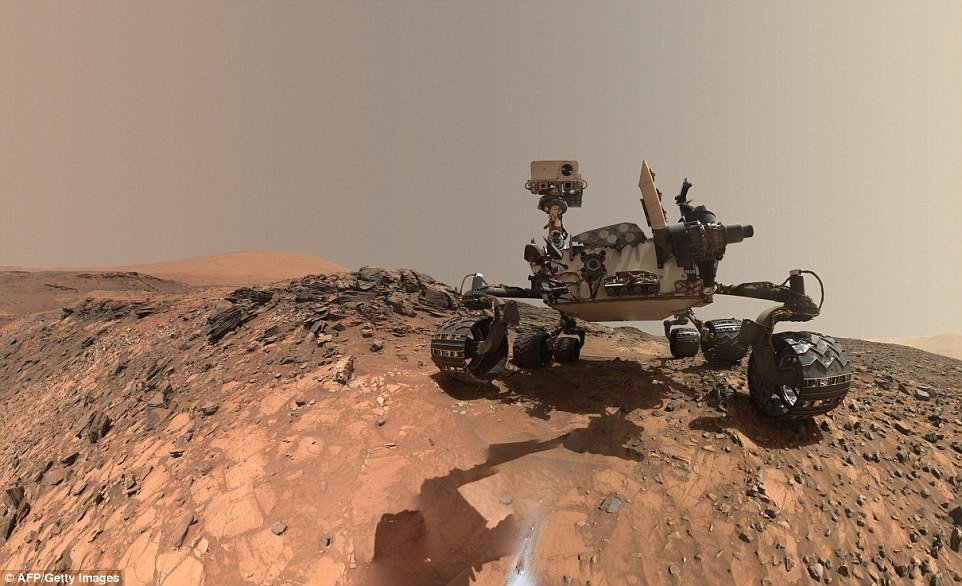 The details were revealed by NASA on Thursday afternoon in a press conference.
Paul Mahaffy, director of the Solar System Exploration Division at NASA's Goddard Space Flight Center said in the conference that although the finding may not be the detection of life itself, it addresses factors that are "fundamental to our search for life."
Organic molecules were detected in the Curiosity samples derived from the rocks of an ancient lakebed, lead author and astrobiologist Dr. Jennifer L. Eigenbrode explained.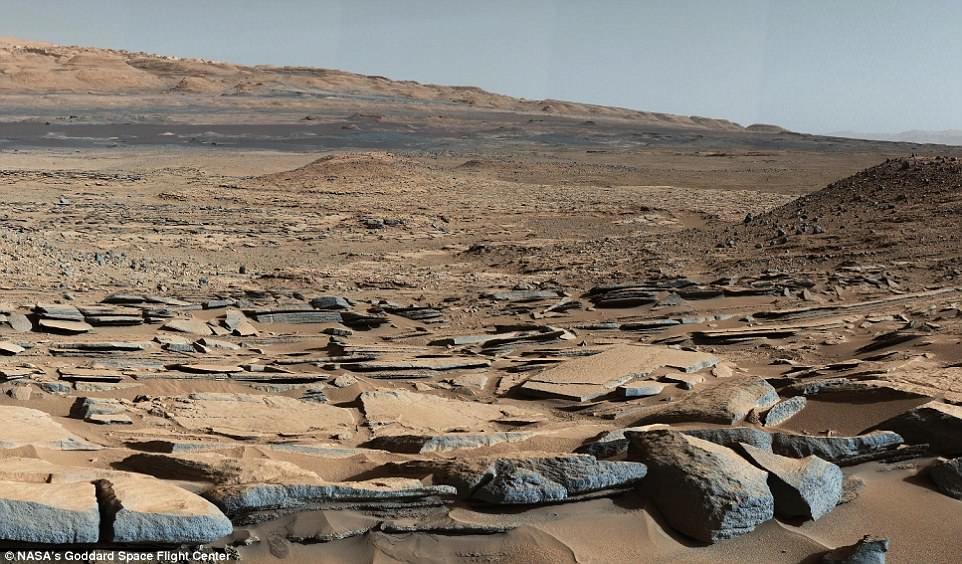 Organic molecules are typically associated with life on Earth but can also be created through non-biological processes.
Eigenbrode suggested: "Those organic molecules could have come from life, but we don't know that there was ever life on Mars, So, those specific molecules are not evidence of life."
Instead, he explained, these molecules could be linked to non-life sources, such as meteorites.
"What we're looking at here are a lot of layers that were put down in an ancient lake," Eigenbrode continued.
"That lake had been there for a long periods of time – hundreds of thousands, maybe millions of years.
"Organic materials can come into that lake through rivers, they can be windblown in, or they can be formed in the lake itself through biology.
"One source could be meteorites infalling, or rock forming processes that form organics on their own.
"We don't have enough information from the observations we've made to know what the source is, and how it got in there."
Researchers suggested that the discovered organic molecules may be fragments of larger molecules since they differed from those seen on Earth by a single carbon side chain.
The rock samples were analyzed by Curiosity's Sample Analysis at Mars which identifies the molecules using a mass spectrometer after the sample is heated to around 500 degrees Celsius (900 degrees Fahrenheit) to release organic molecules as gases.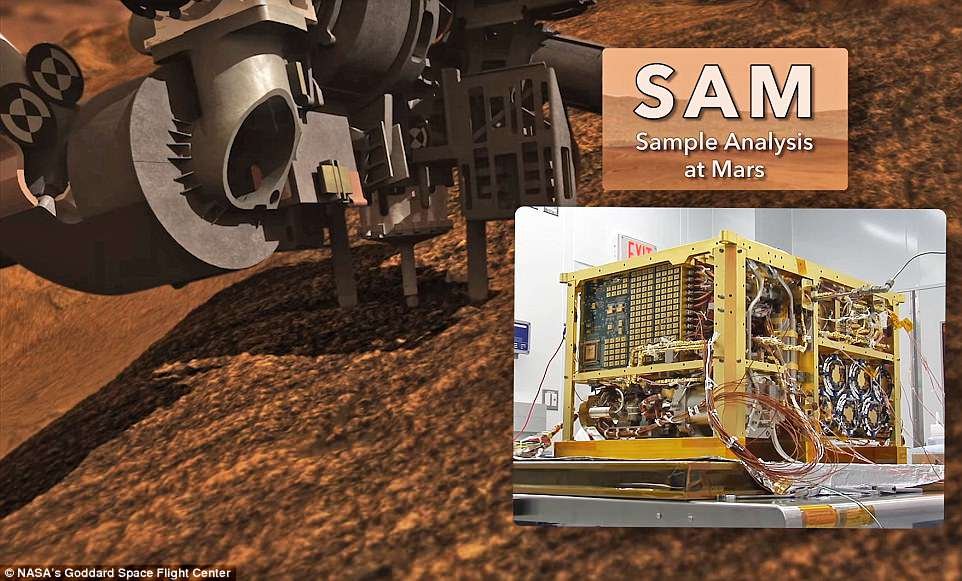 "The new findings reinforce our conclusions that there is Marian organic matter in the ancient sediments and they tell us about how the organic molecules are preserved in the rocks," Eigenbrode said.
"The detection of organic matter in rocks from an ancient habitable environment on Mars bode well for the future search for life on Mars.
"Organic matter could come from life, but the presence of organics is not evidence for life since organics can also come from non-life processes.
"We found organic matter in rocks exposed at the surface where the environment is very harsh and tends to break down organic matter.
"Finding it in this harsh place means we might find better preserved organic matter in other places, particularly where it has not been exposed to lots of radiation.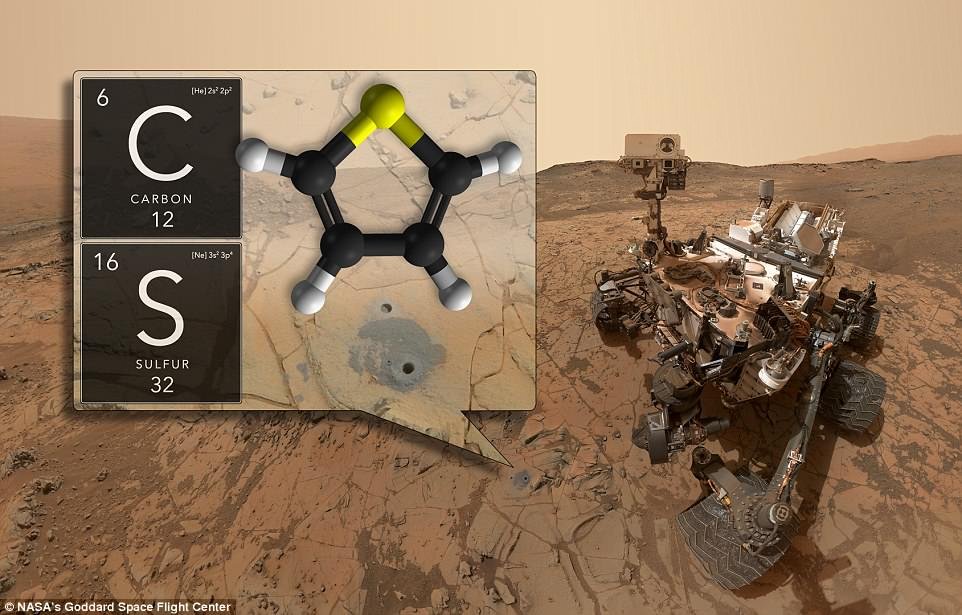 "To do this, we might drill deep, which is what ESA's ExoMars rover plans to do.
"Alternatively, we could look for outcrops that have been recently excavated by erosion or meteorite impacts.
"Perhaps NASA's Mars2020 mission will have this opportunity and will catch samples for return to Earth."
The Curiosity data has also led scientists to discover Mars' mysterious methane in another study, in addition to the discovery of organic molecules in lakebed rocks.
Methane is closely linked to the presence of life since it is formed from biological sources on Earth. However, researchers proposed that methane on Mars may not necessarily be emitted by the biotic processes, it could have been generated by certain abiotic processes.
In the second study, researchers measured atmospheric methane captured by the Curiosity rover in 3 Martian years (55 Earth months).
The concentration of methane on Mars was found to vary from 0.24 to 0.65 ppb (parts per billion). However, it was found in abundance in the Northern hemisphere especially at the end of summers.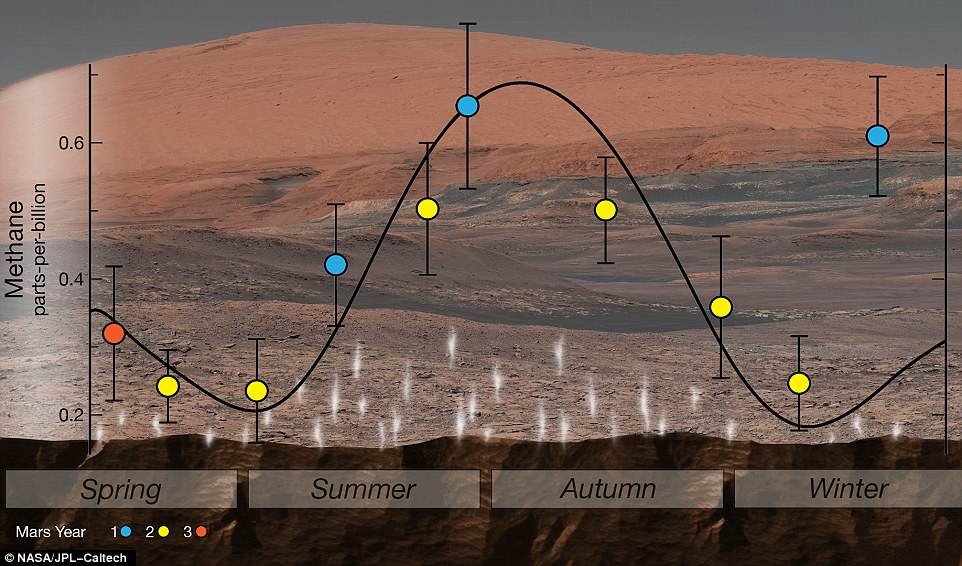 Lead author of the second study Chris Webster of NASA's Jet Propulsion Laboratory in Pasadena, California, said, "This is the first time we've seen something repeatable in the methane story, so it offers us a handle in understanding it.
"This is all possible because of Curiosity's longevity. The long duration has allowed us to see the patterns in this seasonal 'breathing.'"
According to the researchers, Martian methane may have come from 'clathrates', the water-based crystals present beneath the surface, through the cracks and fissures in the ground but we can't rule out the possibility of biological origins.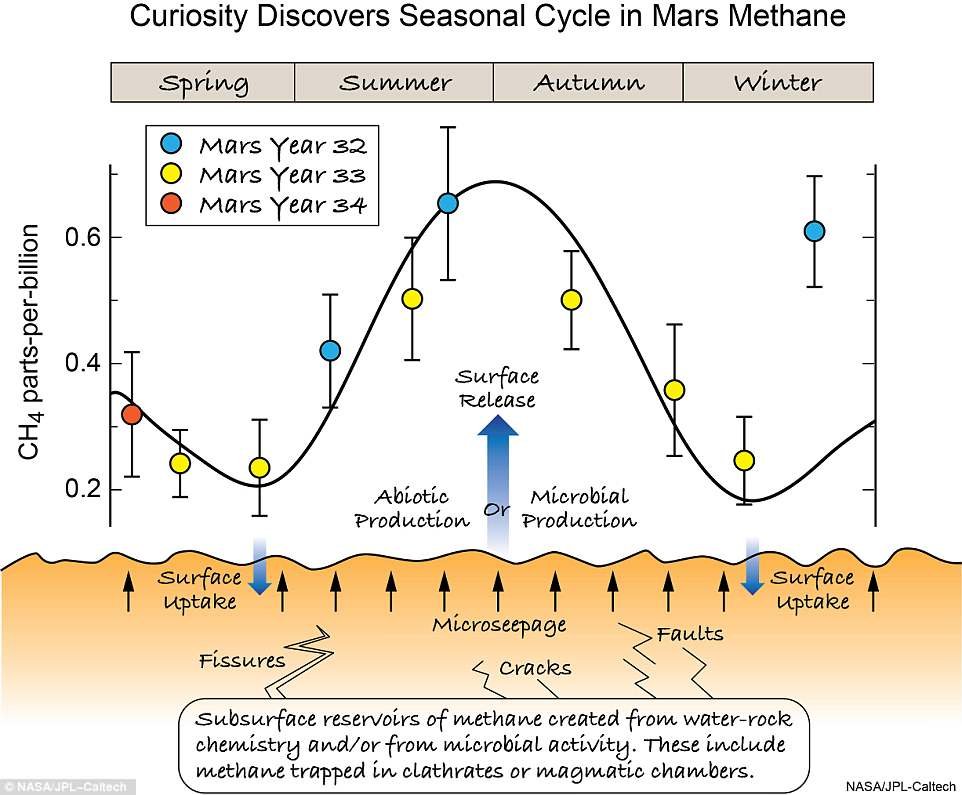 "Are there signs of life on Mars?" said Michael Meyer, lead scientist for NASA's Mars Exploration Program, at NASA Headquarters.
"We don't know, but these results tell us we are on the right track."
"Recommended Video – 6 Mysterious Places In The World That Ignore Gravity"
Enjoyed the article? Check out another interesting story below ▼
---

Share this story with your friends and family!
---