Never mess with a girl's father. They become more possessive when it comes to protecting their daughters. Dad's are the proved "Heros" for their daughters. You must have heard "Mama's Boy" but in this story, dad proves that his daughter is "Daddy's little girl". Read the story of the coolest father on earth who screwed up the guy who tried touching his daughter's butt.
Girl's father was himself a coach but on girl's demand, he decided to take a year off to make her daughter expert in a softball game. The girl's new coach was Steve. He was a very much fonded person in the town and had great terms with his players.
Her dad was a regular audience who used to see her matches. Once he noticed that Steve, his daughter's coach, was showing over-friendly behavior towards her daughter which was not acceptable to him. But being a cool dad himself, he ignored it at first.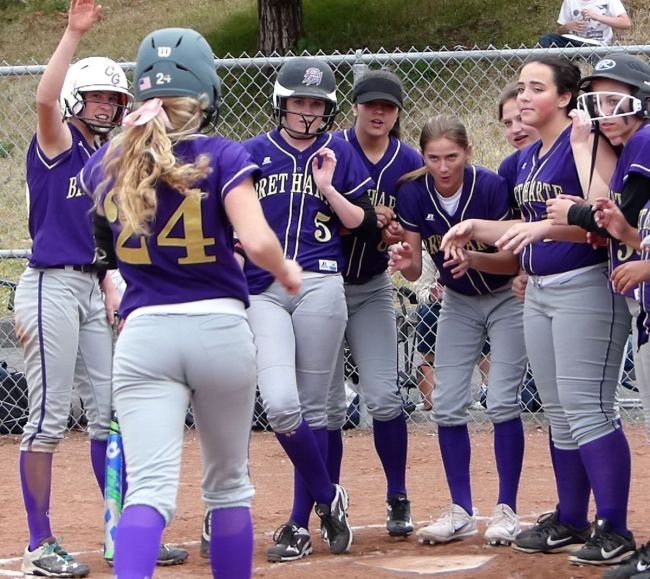 The scene became worse when he noticed that the coach had slapped his daughter's butt as a "good job pat" as she cranked a left field fence. The father knew that Steve did not do the right thing. This became intolerable for him. He couldn't control himself and stepped into the field and gave peaceful warning to Steve (Coach) and told him that he was not okay with it and he should not repeat it again. Steve agreed, but two games later the dad had to remind the coach again.
That stubborn guy was again caught doing the same thing. Her father again noticed it and then he again warned that idiot brat but now not in that peaceful way like before he did.  Steve again promised him not to do it again with a final warning. Steve, embarrassed in public, started bitching about the father's behavior and told how insensible he was. Girl's father still controlled his anger.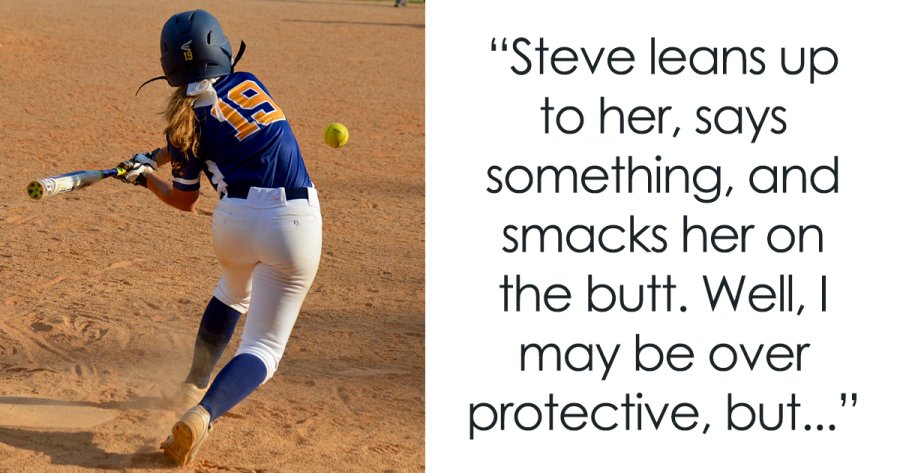 Not only this, Steve had a Civic Centre and Little League running which usually got a good donation from a club where the girl's father was a member. That year, the donation to both these centers were declined which made the coach go mad and he spoke bad things about the girl's the father and his daughter. The superhero dad also knew that the coach had a fraud case with these centers.
But that's when this story took a turn for the worse and left the father with no choice. His anger got burst and he took strict action against Steve.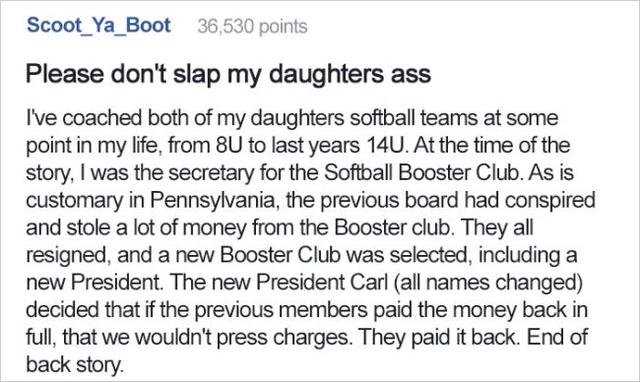 He wrote an anonymous letter to the FBI and told them everything about the missing receipts, ledgers etc. FBI raided in all local charities and organizations within next 3 months. What happened next?
Steve, his daughter, and son were charged with fraud. The guys had over $80,000 over them and on the top of it, his wife left him. He received a two-year sentence and was prohibited from being involved in any more charitable organization. Steve was completely destroyed. This revenge was one of the best revenge I have ever seen. This Supercool Dad's revenge just made us more feel stronger. I really appreciate the steps her dad took to revenge Steve.

Every dad should do this. Check out what his girl's father said after the revenge.
"Steve gave my daughter a "Good job" slap to the butt. I told him to get off. He did it again. Steve got mad I embarrassed him, turn the town on me, so I turned the FBI on him for embezzling from kids charities. F**k Steve"
This story of how a girl's dad took his revenge empowered us in many ways. We must not always step back after seeing such behavior near us. It became highly important to take revenge against such people.
Enjoyed the article? Check out another interesting story below ▼
---

Share this story with your friends and family!
---