LIKE OUR PAGE

A waitress in New Jersey received the tip of her life after answering a simple question. In her shift, Brianna Siegel happened to serve a young couple who checked in at Bar Louie in Woodbridge where she was employed as a waitress. The couple sat in her section to share a happy moment.
The couple were so friendly to Brianna, and they engaged in a lengthy conversation. They shared their stories together. It was fun, and they all laughed. "We had a nice talk; they were all happy and nice people," Brianna reported to the News 12. In the process, the couple asked her what drew her attention.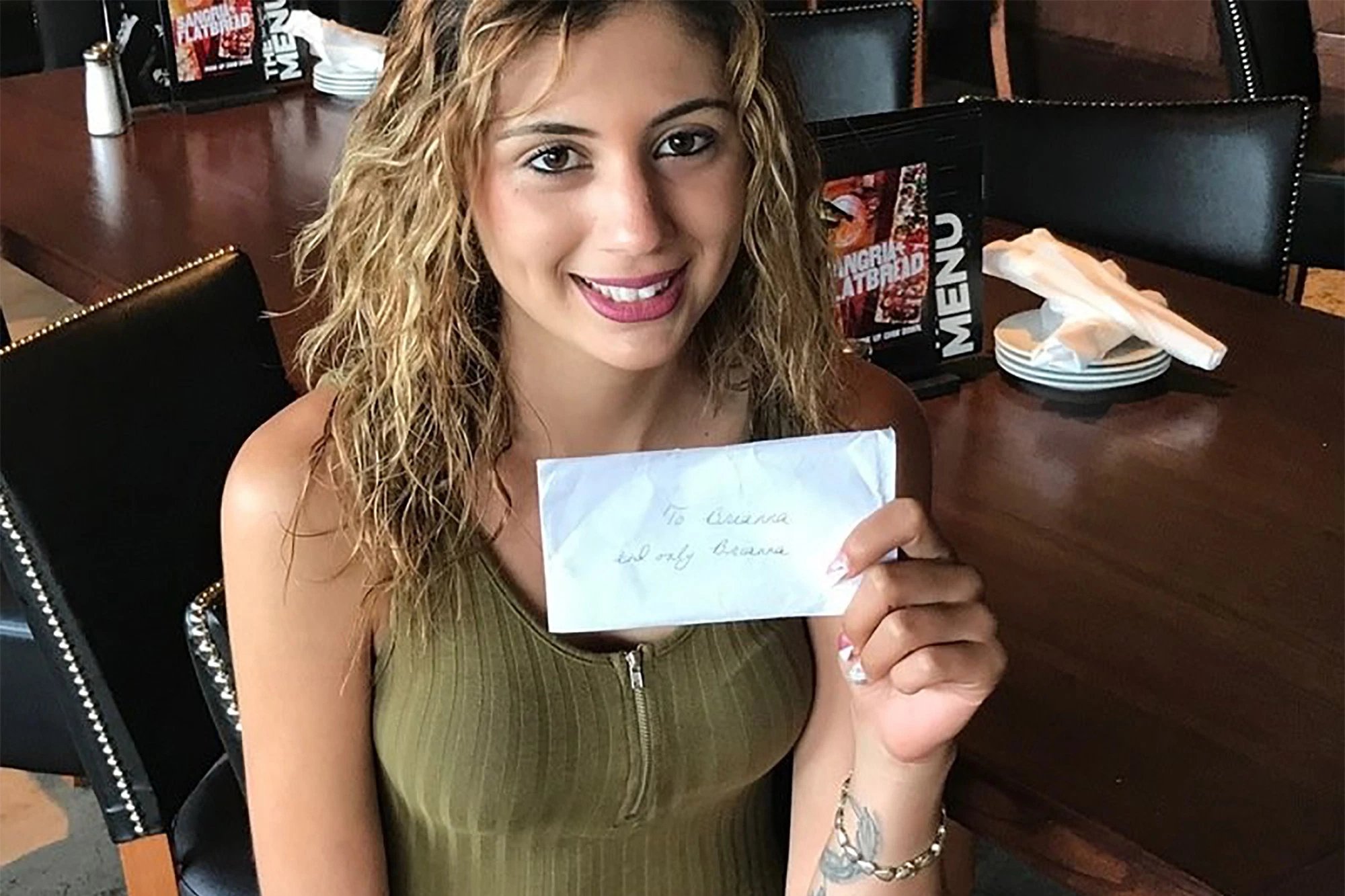 "Do you believe in God?" the couple asked Brianna. That was a simple question that Brianna never hesitated to answer in confirmation. She told the CBS News how it all happened until such a point the couple turn on her and asked the question. To many, answering such a question straight away would prove a bit uneasy. Not because they don't know the answer or not willing to give the response, but to be asked such personal question with someone you have just met for the first time may seem so strange. Many people would have responded with this other question "Why ask?" However, it was a different case with Brianna. Maybe because she had much faith in the God she serves.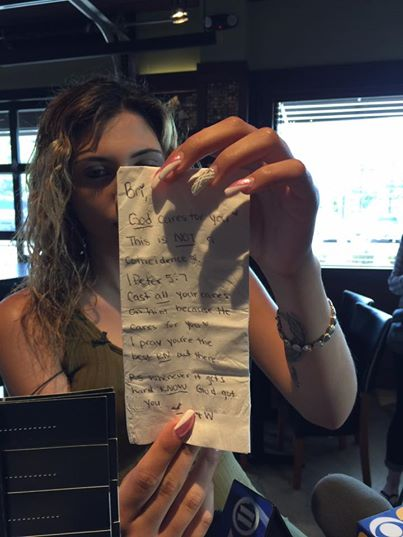 The couple seemed as if they were less interested in the meal. The order bill amounted to $20 only, but instead of paying just their bill, they added something else. They handed a sealed envelope to Brianna and instructed to open it when they are gone. How often do you resist from receiving gifts from people not well-known to you? Do you readily accept such gift anyway? In my opinion, one must inquire more about the content.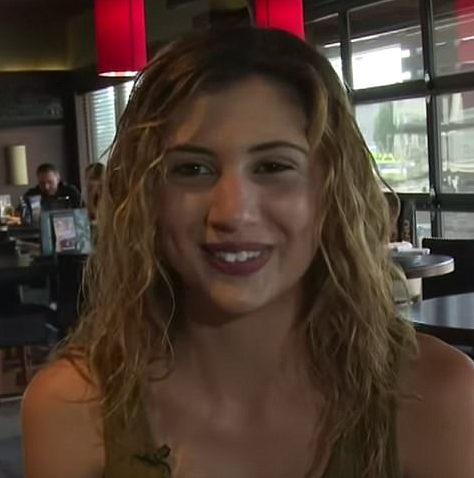 The content of the envelope sent Brianna down on her knees. At first, she thought that it was just a prayer card. She didn't bother breaking the seal until she got home after work. She took control of her anxiety. We must learn not to do things because we are pushed by some forces from within ourselves. Wait until all seem to be cool and you are composed. Brianna was in for a real surprise

The envelope had a note saying "God gets you whenever it gets hard." Alongside the note lied a $1200 check! She could not believe her eyes. At first, she thought she was dreaming, so she rubbed her eyes to come back to reality from the dreamland. Still, she could not believe it even after ensuring that she was awake. She had to do one last test to affirm her gift.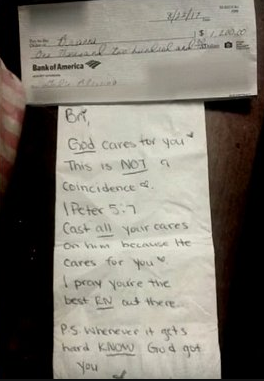 She went all the way to the bank to confirm with the bank officials. High praises to the God she serves. The check was an original one, and she knew that her gift was real. She thought of running after the couples, but it was too late for her. They didn't share contacts, and the envelope only had the check and a note. She thanked them in their absence.
It was time for everyone to say whatever they knew about Brianna. The first one to praise her for her good character was her restaurant manager, Brent Ruhkamp, who knew that she deserved the gift. "She always has a will to report to work… she is such a greater worker for us, always lending a helping hand." Brent confessed.

Brianna never stopped to ask herself why only her out of thousands of unfortunate people around her. It was hard to believe she was the favorite receive the gift. "There are generous people out there… they were willing to help me, yet we have no close association." Brianna acknowledged. Now that she was $1200 richer, it was time to budget with her riches. It was wise of her to allocate the cash towards a nursing school and buy a car with the balance. It must have been a gift of her lifetime!
Something must have been in your mind thus far. Why did the couple who generously gave Brianna the gift wanted to remain anonymous? Maybe they were loyal to the words in the Christian's holy book, The Bible. "Blessed is the hand that giveth." But the promised blessing become void when you go about boasting about your generous action. It is required that your generosity to others remain a secret between you and God. The couple said that they were led by the hand of God to deliver the gift to a deserving person who was not known to them.
You read our stories to learn, enjoy, and share with others. Feel free to share, and most of all, don't forget to LIKE US ON FACEBOOK.
LIKE OUR PAGE