US President Donald Trump has landed at Stansted Airport with First Lady Melania before taking Marine One to the US Ambassador's residence in Regent's Park to meet embassy staff.
Trump and Melania landed at the airport by holding hands. During the visit, Trump told reporters: 'I think they like me a lot in the UK.'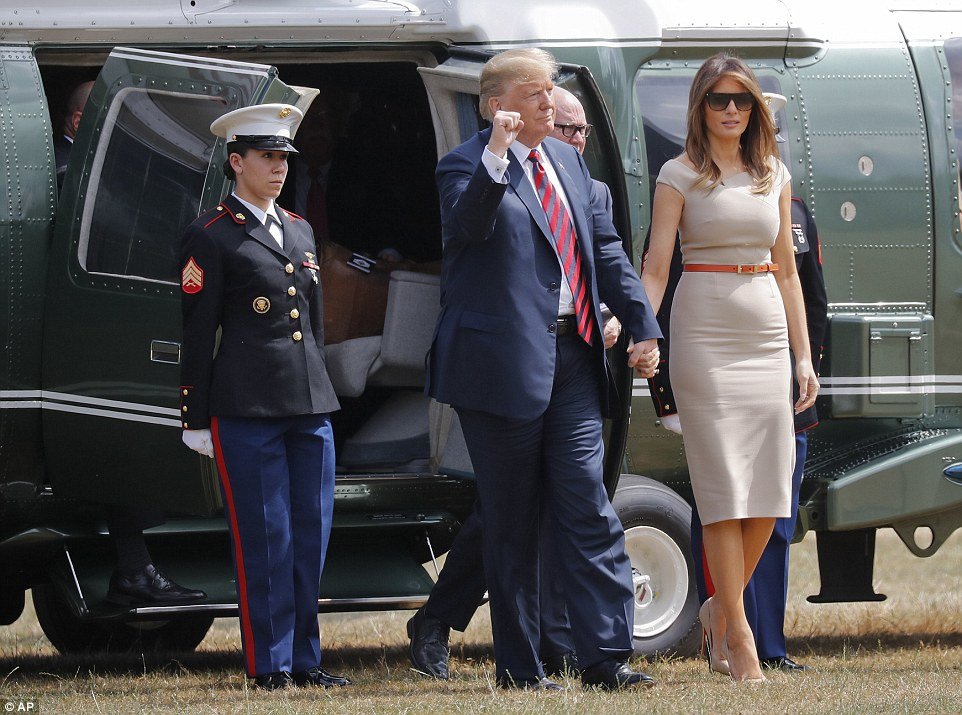 10,000 British police officers were on duty to protect him against the protest. London Mayor Sadiq Khan said 'troublemakers are not welcome' and the protest is "not anti-American", more a demonstration of the UK's expectation of the "highest standards".
America's Commander-in-Chief has 1,000 of his own staff in the UK and a giant motorcade led by his bomb-proof Cadillac nicknamed 'The Beast' as well as multiple helicopters including Marine One to fly him around.
Trump and Melania met the tarmac by US Ambassador Woody Johnson and UK Trade Secretary Liam Fox before he was hurried off to Mr Johnson's house near Regent's Park.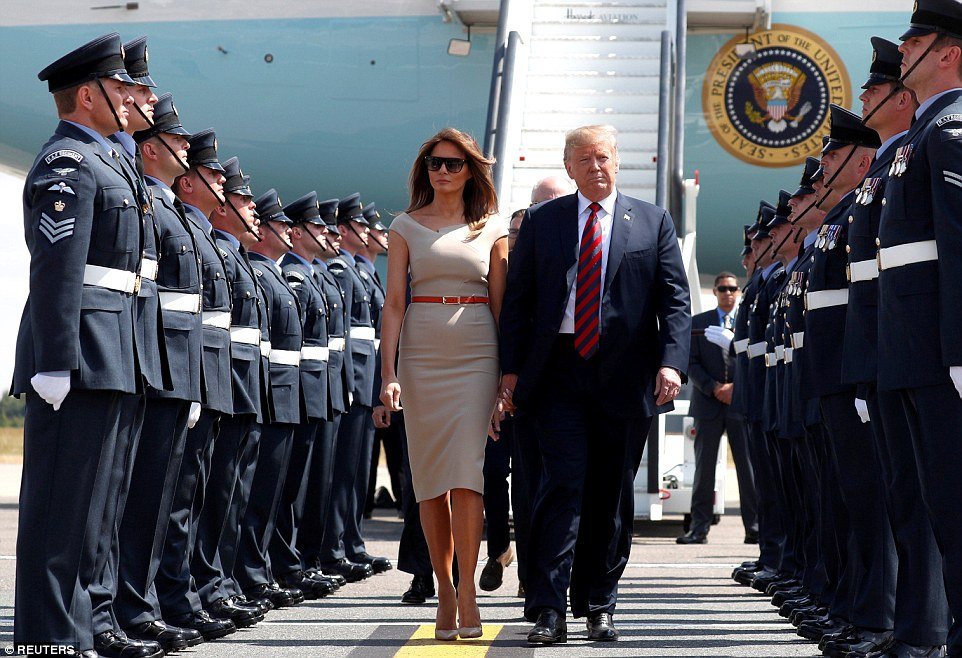 Tonight he will attend a gala dinner with US and UK business leaders at Blenheim Palace in Oxfordshire – the ancestral seat of Sir Winston Churchill.
Earlier Mr Trump gave a remarkable press conference in Brussels after giving NATO leaders a bruising over defence cash, where he wrote off protesters and said Theresa May's Brexit deal probably wasn't what Britons voted for.
When Trump was asked about the threat of mass demonstrations he said: ''I think it's fine. A lot of people like me there. I think they agree with me on immigration. I think that's why Brexit happened.''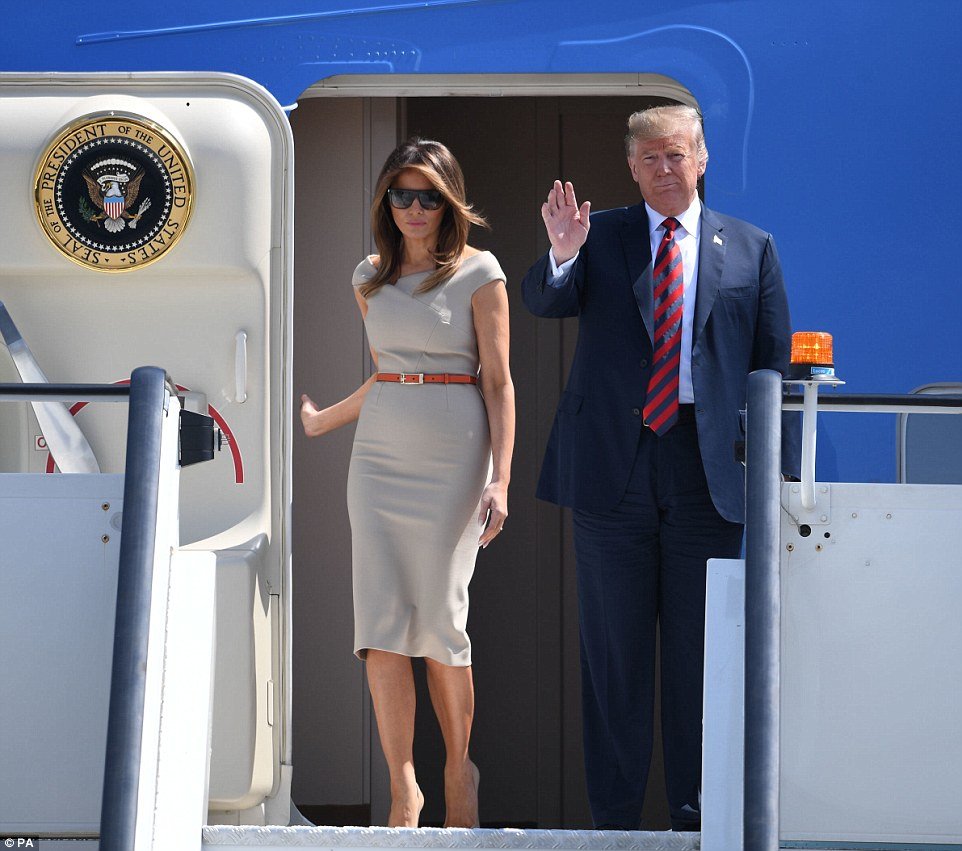 Protesters have vowed to follow him wherever he goes to Britain and this is the reason that  10,000 police officers have been ordered to protect him.
Almost two million people signed a petition demanding him to be banned from the UK because they believe he is sexist and racist and 'Stop Trump' campaigners say he will face a 'Wall of Sound' outside all the landmarks he visits because supporters will bang pots and pans.
The Guard of Honour will be with him when he will meet the Queen at Windsor Castle for tea tomorrow, there will also be a grand dinner at Blenheim Palace tonight as well as a lunch with Theresa May at Chequers on Friday.
He will stay at the US Ambassador official residence in Regent's Park, London, tonight which has been surrounded by a ring of steel of new security fences and road barriers to prevent a terror attack.
On Saturday he will visit Scotland to play golf at one of his resorts and his son Eric landed in the family's 'Trump Force One' private jet at Aberdeen this morning, before visiting Helsinki to meet Vladimir Putin on Monday.
Trump described US President described Britain as a 'pretty hot spot right now with a lot of resignations' and suggested his meeting with Vladimir Putin in Helsinki on Monday could be easier.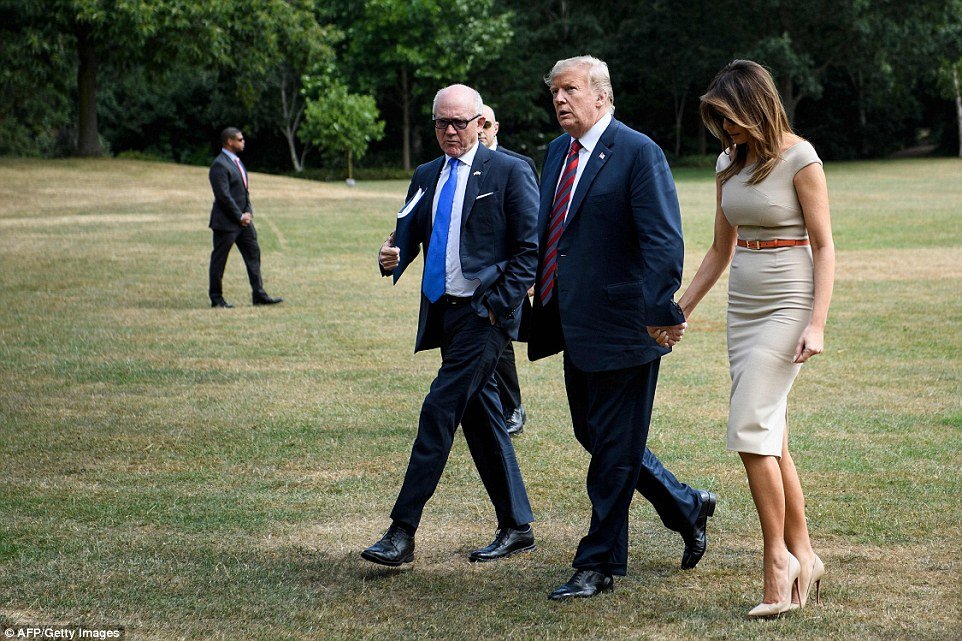 He made clear that he did not approve of the softer stance the PM has been advocating despite fury from many Tory MPs.
Mr Trump said: ''Brexit is Brexit, the people voted to break it up so I would imagine that is what they'll do, but they might take a different route, I'm not sure that's what people voted for,''
''They're great people – I just want them to be happy. The EU better be careful. I warned them. Immigration is taking over Europe,'' he added.
'I'd like to see them be able to work it out so it could go quickly,' he said.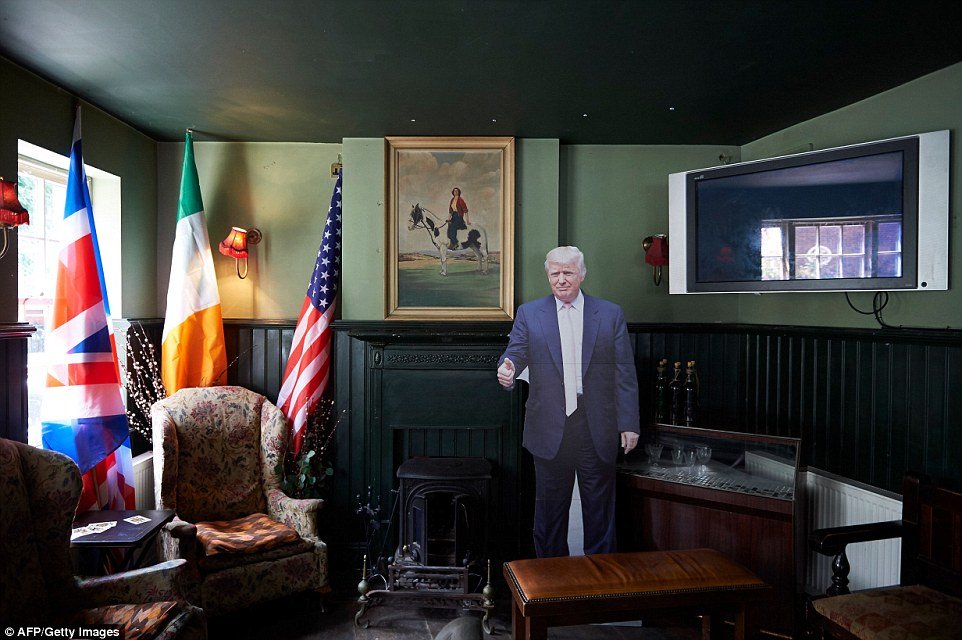 Protests will end in a 70,000-strong march through London from Portland Place to Trafalgar Square. The 'Stop Trump' march is part of a wider 'carnival of resistance' across the UK while he is here.
Today Metropolitan Police Commissioner Cressida Ms Dick stated: said: ''We will keep him safe. We will facilitate lawful protest and we will uphold other people's rights as much as we can.''
''Later today we have a visiting head of state from across the pond,''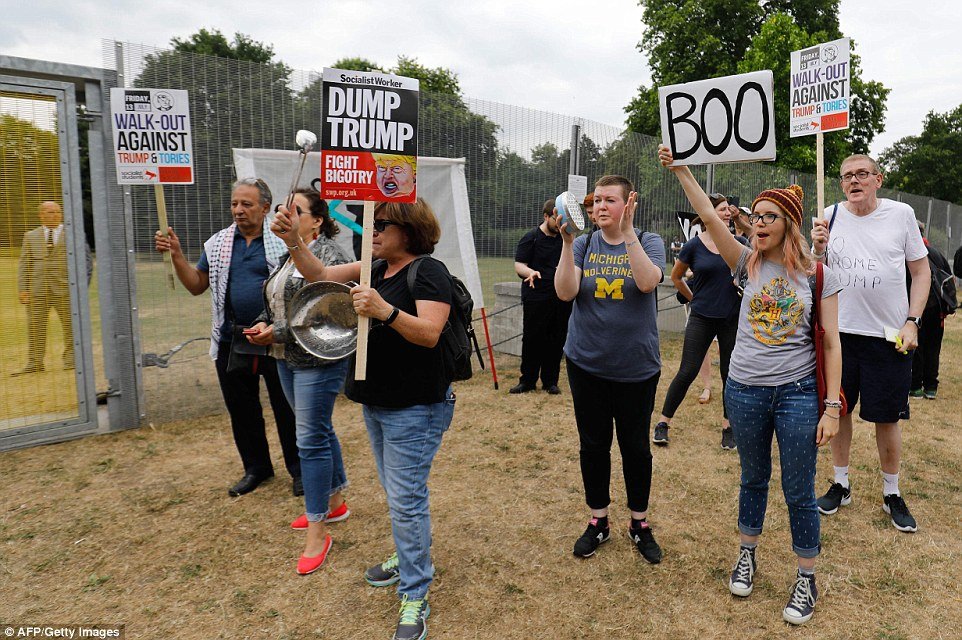 ''Tomorrow we have some large protests in central London and as the president of the United States makes his way through the country it is the Metropolitan Police who are responsible for his protection and security.''
''Tonight there will be protests, tomorrow there will be protests.''
''On Saturday there will be sort-of related protests (from the) far-right and far-left and probably the most difficult,''
''They will be talking to teams on the ground and they will be liaising with police services up and down the country. They will be doing that in concert with the Civil Aviation Authority, the US Air Force and the RAF.''
''We in this country, and I hope I do not regret saying this, are very good at this sort of thing,'' she added.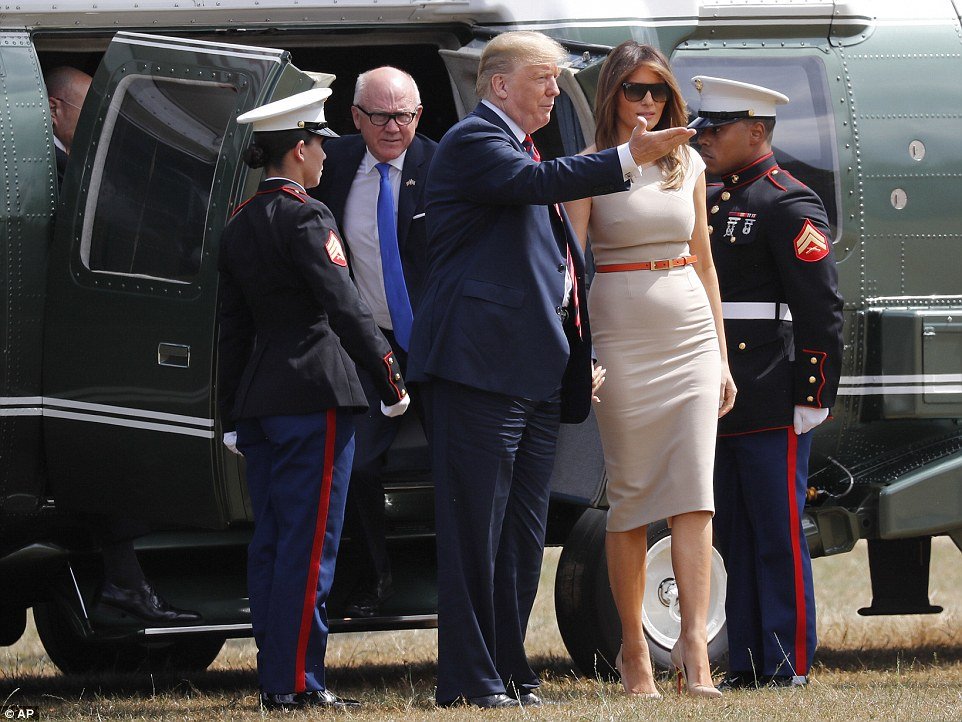 "Recommended Video – Trump HUGS US Flag As He Is Applauded After His Speech Against Illegal Immigration"
Follow

@smalljoys_of_life
Enjoyed the article? Check out another interesting story below ▼
---

Share this story with your friends and family!
---