This picture captured perfectly, the tension that simmered between the various parties in the G7 summit that concluded on Sunday.
The photograph, which was clicked by Jesco Denzel, German Government Photographer, was peculiarly analyzed and the expressions of the various leaders were read, to find out what exactly was going on. The body language expert Patti Smith has revealed the light in which America is seen around the world and Trump's point of view of the world.
Patti Smith who is the author of the book "Snap: Making the Most of First Impressions, Body Language & Charisma" said that she could not believe it was a real picture when she first saw it. She said that she didn't know this kind of atmosphere was possible at international conferences, it was so comical and startling.
"This moment captured how the world's leaders react to Trump's behavior. We wonder what people think about our president and us, and the same thing was reflected in this picture."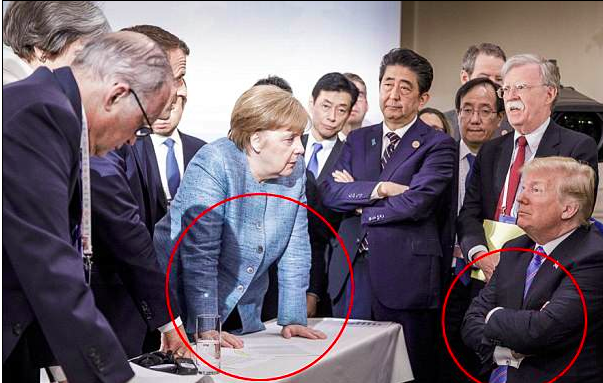 Smith then added that the fact that Trump is sitting and others are not means that he is the center of attention in the room. Usually, the person who is sitting is considered weaker, but here the fact that his viewpoint is influencing everyone else's viewpoint proves that he is commanding the attention in this room.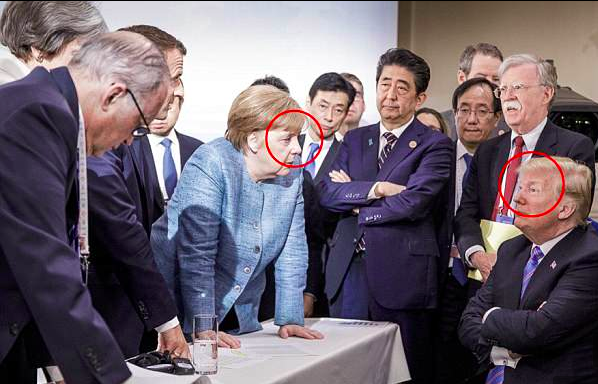 His crossed arm position indicates that he is not ready to accept anyone else's viewpoint, but his. He is hiding his expression on someone else's point or their interpretation of his point.
His leg position indicates his 'alpha male position,' says Smith. He has done such a thing in past, so it's not unusual for him to do such a thing in the presence of world leaders.
He also sports an amusing look on his face, which is interesting to see in a world conference.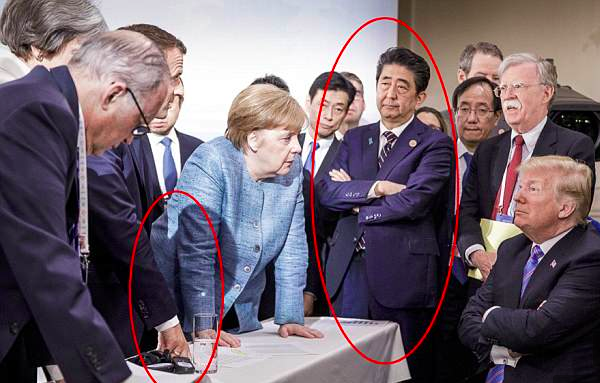 German Chancellor, Merkel, on the other hand, is seriously anything but amused by this situation. Her arms show that she is aggressive and that she is very serious about her view. The fact that her fingers are relaxed is comforting because tense fingers show that she wants to be more aggressive. Contrary to her aggressive position, her face looks dumbfounded and fatigued. She also looked a bit sad; all of the mixture of expressions is in accordance with the situation.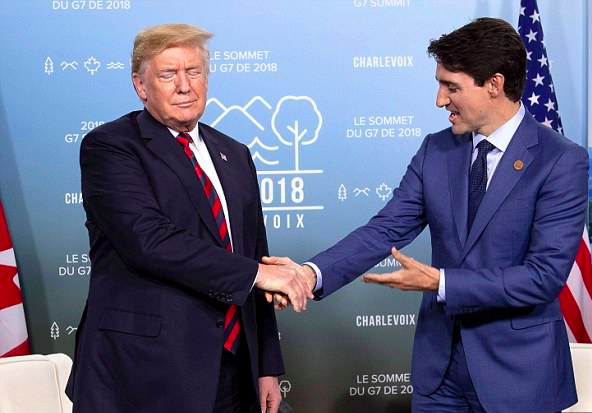 The photo was clicked a few hours before Trump rejected the traditional joint statement that follows.
It is the first time when this annual summit will fail to issue a joint communiqué, due to Trump's refusal. Rather, Canada is expected to issue a chair's synopsis of the meeting and its major topics of discussion.
Smith said that Larry Kudlow, the National Council Director has closed his eyes shut in the picture; it means that he did not like what was going on. His posture only shows heaviness and sadness.
John Bolton, the US National Security Adviser, on the other hand, is protecting himself.
Shinzo Abe, the Japanese PM was halfway between Trump and Merkel and his crossed his arms, as well. But his posture says that it is more to protect himself than anything else.
The French President, Emmanuel Macron has raised his eyebrow, his expressions reflecting surprise but the position of his arms and hand, which are aligned with Merkel's, shows that he supports her point of view.
In the end, Smith summarises her revelation by saying that Trump has observed everyone's reaction and is amused by it and how the world leaders do not seem to share his opinion.
Share it with your friends and family.
"Recommended Video –"Jackie Chan's Estranged Daughter And Her Girlfriend Are Homeless, Claim To Be Living Under A Bridge Due To 'Homophobic Parents'"

If you liked this post, we would love to hear from you:)
Enjoyed the article? Check out another interesting story below ▼
---

Share this story with your friends and family!
---