President Trump set up another potential confrontation with Democrats during his State of the Union address when he demanded a ban on late-term abortion. The president's statements drew a standing ovation from Republicans and stoic silence from Democrats.
He hit Democrats for "chilling displays" that support legalizing late-term abortion in New York. The president also capitalized on a gaffe made by Ralph Northam, the Virginia governor who was shamed for admitting to wearing blackface, when his defense of a Democratic proposal for late-term abortion liberalization in his state made it appear as if he supported infanticide.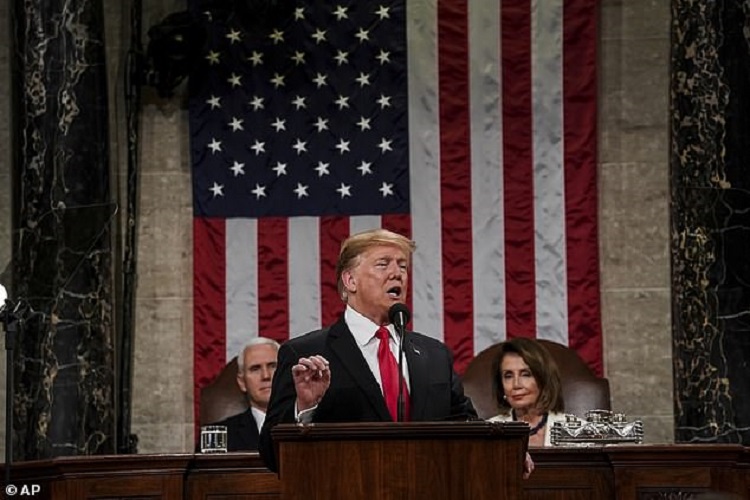 "There could be no greater contrast to the beautiful image of a mother holding her infant child than the chilling displays our Nation saw in recent days," Trump said. "Lawmakers in New York cheered with delight upon the passage of legislation that would allow a baby to be ripped from the mother's womb moments before birth.
"These are living, feeling, beautiful babies who will never get the chance to share their love and dreams with the world. And then, we had the case of the Governor of Virginia where he basically stated he would execute a baby after birth.
"To defend the dignity of every person, I am asking the Congress to pass legislation to prohibit the late-term abortion of children who can feel pain in the mother's womb. Let us work together to build a culture that cherishes innocent life. And let us reaffirm a fundamental truth: all children – born and unborn – are made in the holy image of God."
As it stands, late-term abortion laws vary from state to state.
Andrew Cuomo, New York's Democratic governor who signed the late-term abortion protections as one of his first acts in office, accused Trump of trying to reverse the provisions of Roe vs. Wade.
"New York has a message to those who spread lies and fear to control women's reproductive health decisions: Not going to happen. Not now, not ever," Cuomo said in a statement.
While Trump will not be able to enact an abortion law without the support of Democrats in the House, he could use it as powerful political leverage later on. At the very least, Trump's stance will boost his standing among evangelical voters who he needs for 2020.

The bill that comes closest to what Trump has demanded is the Pain-Capable Unborn Child Protection Act. When the House was Republican, the bill repeatedly passed but could never get past the Senate.
The bill would have banned abortions after 20 weeks, reasoning that at that point in development, the fetus is already capable of feeling pain. However, critics say that no scientific evidence supports this claim.
The last federal abortion restrictions that were made into law happened under George W. Bush when partial-birth abortion was banned in 2003. But this only happened after the Supreme Court ruled on the law four years after it came into effect.
With Justice Brett Kavanaugh, Trump's pick, now part of the Supreme Court, abortion rights supporters fear that the conservatives now have a 5-4 edge in the nation's highest court and this might lead to the 1973 Roe vs. Wade ruling being weakened or overturned.
Recommended Video – "Teen Tries To Poison 11 Week Old Baby 'I Don't Feel Bad About It'"
Enjoyed the article? Check out another interesting story below ▼
---

Share this story with your friends and family!
---