We have often heard the news about chimpanzees being abused for human greed. Baby chimpanzees have been abducted by traffickers from jungles and later sold as pets. This illegal trade separates a child from his family.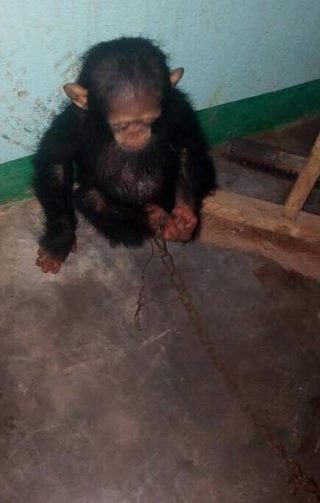 This is something that happened with a baby chimpanzee named Farah. A non-profit organization named 'Ape Action Africa' found this baby in September 2017. She was being kept by a young man in a bag in Djoum, Cameroon.
The man had killed Farah's mother and was trying to sell him to get some reward. He was immediately taken into custody and the baby was brought to the Mefou Sanctuary.
Witnessing such trauma at such a tender age, Farah was upset. His eyes reflected the amount of sadness he had in his heart.
He did not trust humans at all. When he was taken to the sanctuary, he was quite reserved to the extent that he did not let anyone come near him. He didn't even let anyone touch him.
He was tired, anxious, and hungry but when Babs (their manager) tried to lift Farah, he did not allow Babs. When their director Rachel made an effort to comfort Farah in a blanket for sleeping, he again refused to take any help. This is what illegal trade does to a child.
But after the first week, Farah started making progress as he was showered with love and care. Although Farah is still not comfortable when he is tickled and doesn't like when he is picked up, He does not shoo away his caregivers when they sit next to him.
Gradually, his world is coming back to normal and soon he'll be cherishing his life with a smile. As Farah was skeptical about being close to humans, his caregivers tried to introduce him to his own species so that he could make friends. He brought Paula, Lomie, and Jenny to play with Farah.
This was exactly what he needed and his life has improved ever since. He loves to play rough with Paula, spends quiet time with Jenny and snuggles up to Lomie.
The four chimpanzees enjoy hanging out at the sanctuary together. Farah is finally getting the love that he deserves.
Share this wonderful story with your friends and family.
"Recommended Video – Gorilla Adopts Two Tiny Cats – Because She Doesn't Have Baby"

If you liked this post, we would love to hear from you :)
Enjoyed the article? Check out another interesting story below ▼
---

Share this story with your friends and family!
---