Does your family wonder over the dining table over which pet to get? Well, pondering over it does make sense because pets make an inseparable part of the family.
Folks! The answer to your questions lies in this adorable video of this toddler playing to her heart's content with her best friends. Yes, these funky haired chickens are her best friends. Given the sharp talons and beaks, you might decide against leaving your child in the care of chickens but these exceptionally friendly and gentle Polish Chickens make crazy fun pets for your little ones.
Scroll down to watch the video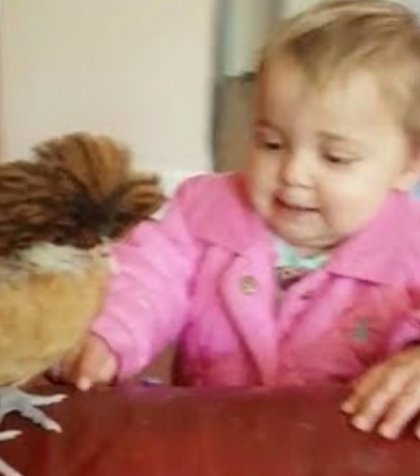 Generally, people opt for these funky headed chickens to bring some variety into their backyard poultry farm. Then again, you can bring them into your house as pets as well.
Watch the video below:
Video credit: Newsflare
According to The Happy Chicken Coop, these chickens attract children and they cannot resist playing with them and cuddling them. They adjust well to the surroundings and fare well in captivity, unlike farm chickens who can be a handful sometimes. Speaking of farm chickens, Polish Chickens are not renowned for their egg laying qualities but they can lay up to 200 eggs annually, which isn't bad for a chicken which is fun to look at too.
All you have to do is provide the chickens with a dry place to stay in so that the feather on their head doesn't get wet. You will not like to have chicken in your yard fretting over feathers which freeze in cold. So, with minimal care, you can have a pet in your family which your toddler would love dearly.
Did you know that Polish chickens are very inquisitive and attentive to what's coming towards them, making them a good choice for your child's safety as well? So, wait no longer, and get your family one of these funky little pets!
If you liked this post, share it with your friends and family.
Recommended Video – "This Mama Dog Watching Over Her Premature Pups Inside The Incubator Will Bring A Big Smile On Your Face"
Don't forget to ▼LIKE US▼ for more inspirational stories:)
Enjoyed the article? Check out another interesting story below ▼
---

Share this story with your friends and family!
---