When we talk about beauty, it is the most precious jewel for any people. There is nothing more beautiful than a person with passion. If she has any scar on her face or body, it is considered to they would live lonely and die without their true love. But I think this is just ridiculous. If someone asks my opinion, I would say "so-called deceptions" are just silly. Beauty comes from within and not from how we look from outside.
Women have the right to do anything they want, regardless of anything they have. So they can decide to do whatever they want. However, we know there is some pressure on the society to cover their scars.
Have you ever heard any women strip down and boldly showing her scars on social media?
Yes, these ladies don't need to wear makeup to cover the scars. They are most gorgeous souls God made.
Every scar tells a different story but also highlights the strength of each of these ladies.
Photographer Sophie Mayanne from the United Kingdom decided to capture these women with their scars in a photo series called "Behind the Scars". Sophia shares some raw pictures of these women and their scars.
These fearless women bare all for the camera and show each of their scars and bravely share the stories of how they fought with these scars and became the courageous winner.
Anna:
In 2014, I was diagnosed with Ewings Sarcoma, a bone cancer. I had chemo for nearly a year and several surgeries for bone transplantations in my arm. They took pieces of bone from my leg and thigh. One time, my transplant broke, so I had a major surgery which took 8 hours. In two years I had 10 surgeries and I have one planned for November 2017.
Bintu:
In 2014 I was diagnosed with angiosarcoma of the breast, a rare and aggressive cancer. Three surgeries and two chemotherapy treatments later these are the scars I bear. My recent operation was an innovative surgery which involved removal of my sternum and four ribs, which were replaced by surgical cement, muscle from my back and a skin graft. It took me a long time to finally embrace my scars. They document my journey and the courage and strength I did not think I had. Recently I was told cancer had returned. Surprisingly I feel at peace.
Deborah: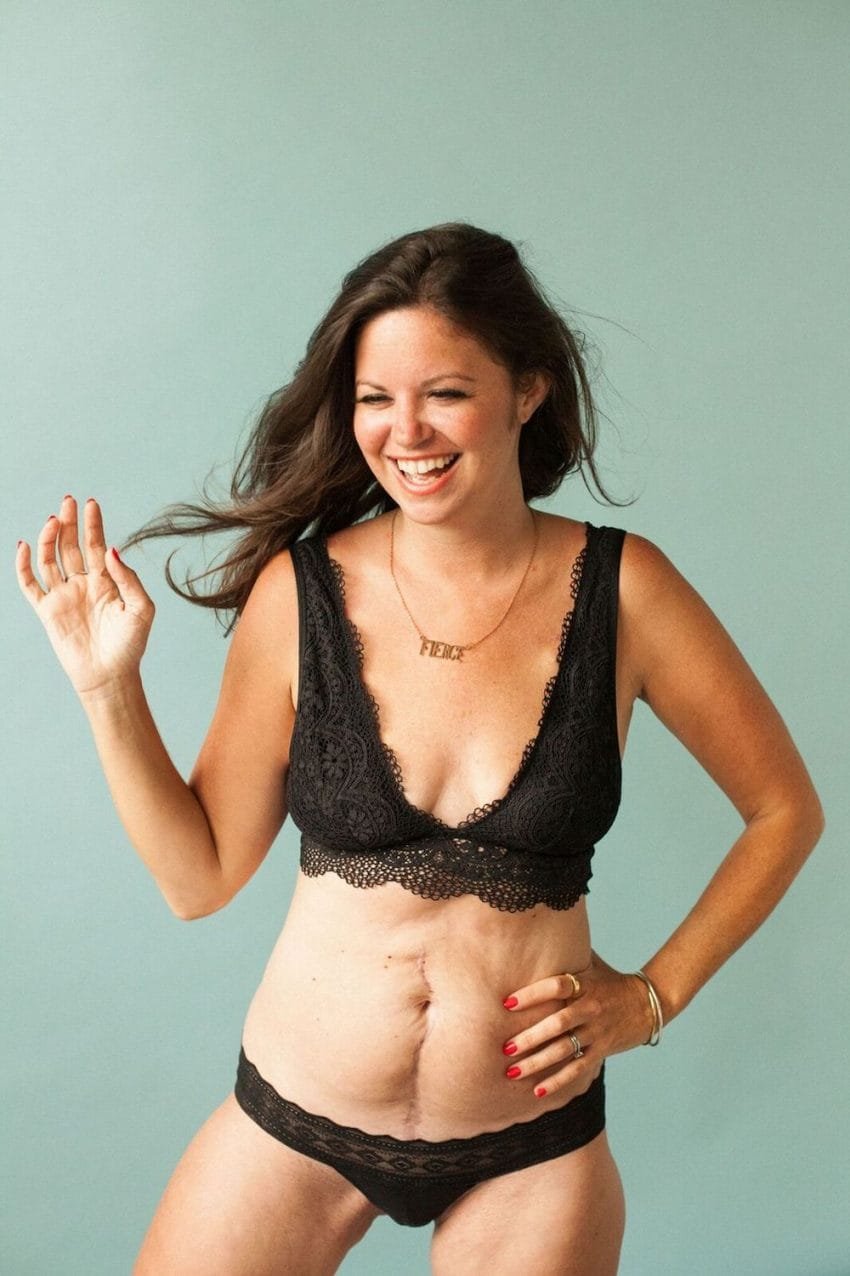 My body is full of scars that represent my cancer journey. Each one is a war wound that has meant I have faced cancer and kicked it head on! At first, I hated my scars, but as time has gone on I've learned to love them. I suggest we carry our scars with pride, knowing they have built us rather than defied us. 7 months ago my life was turned upside down when I was diagnosed with stage 4 bowel cancer. People say I'm brave to be going through what I am, but I'm not — I just have no other choice. I'm still me, I can still be sexy, I can still have fun — cancer doesn't need to define me. 
Chloe: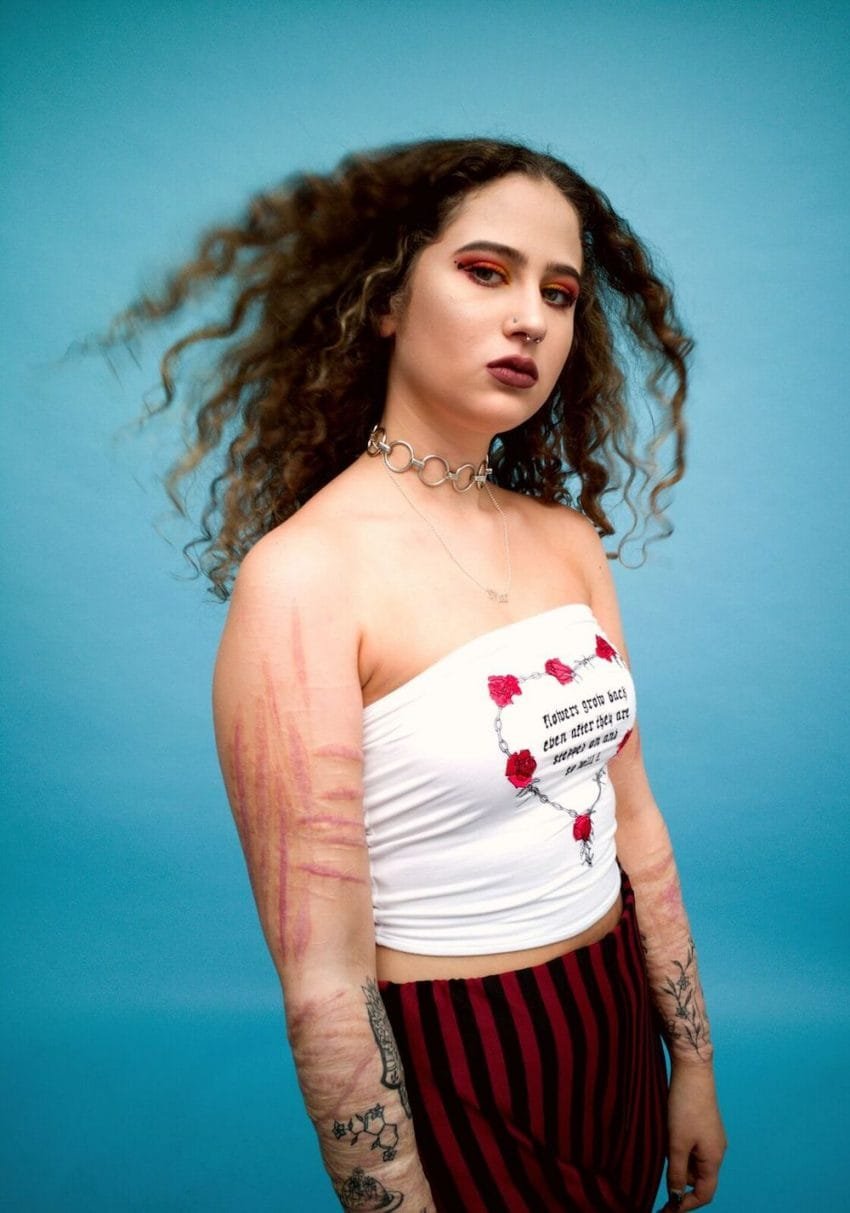 I started self-harming when I was 13 and have struggled with it ever since. The issue with self-harming is it gets progressively worse and you end up doing more and more damage to yourself than you think is possible when you first start. It truly is an addiction and you get to a point where surgeons tell you that plastic surgery can't fix the appearance of the scars, so the only thing you can do is love your scars so much that all the negative connections that come along with self-harm slowly disappear — along with all the pain attached to the scars.
My scars tell my story, and I'm never going to let anyone else's thoughts or opinions change that.
Isabella: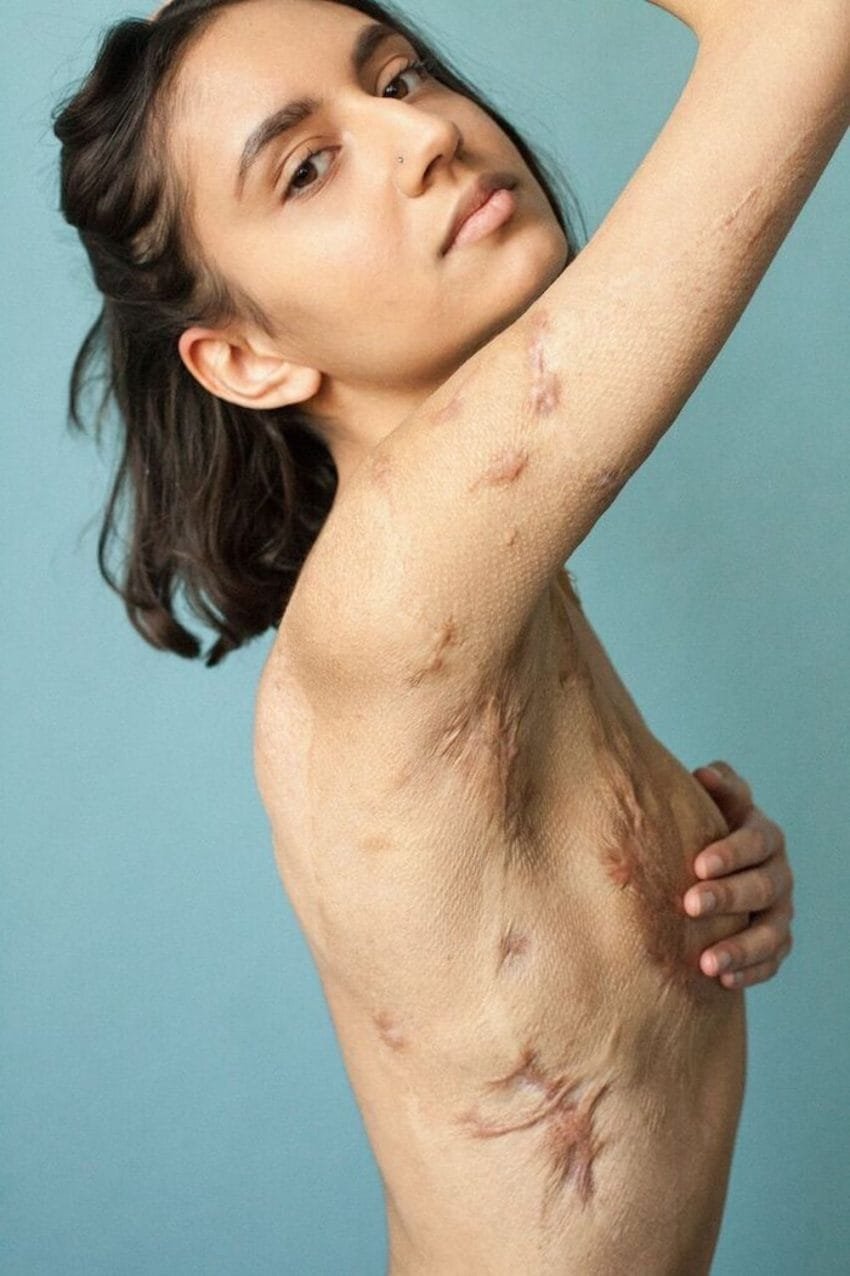 In the summer of '15, I was in a house fire. My clothes and way of life up in flames. I spent my summer in a burns unit on Fulham Road. My scars and scar tissue continue to change, but I have never felt more beautiful.
Hannah: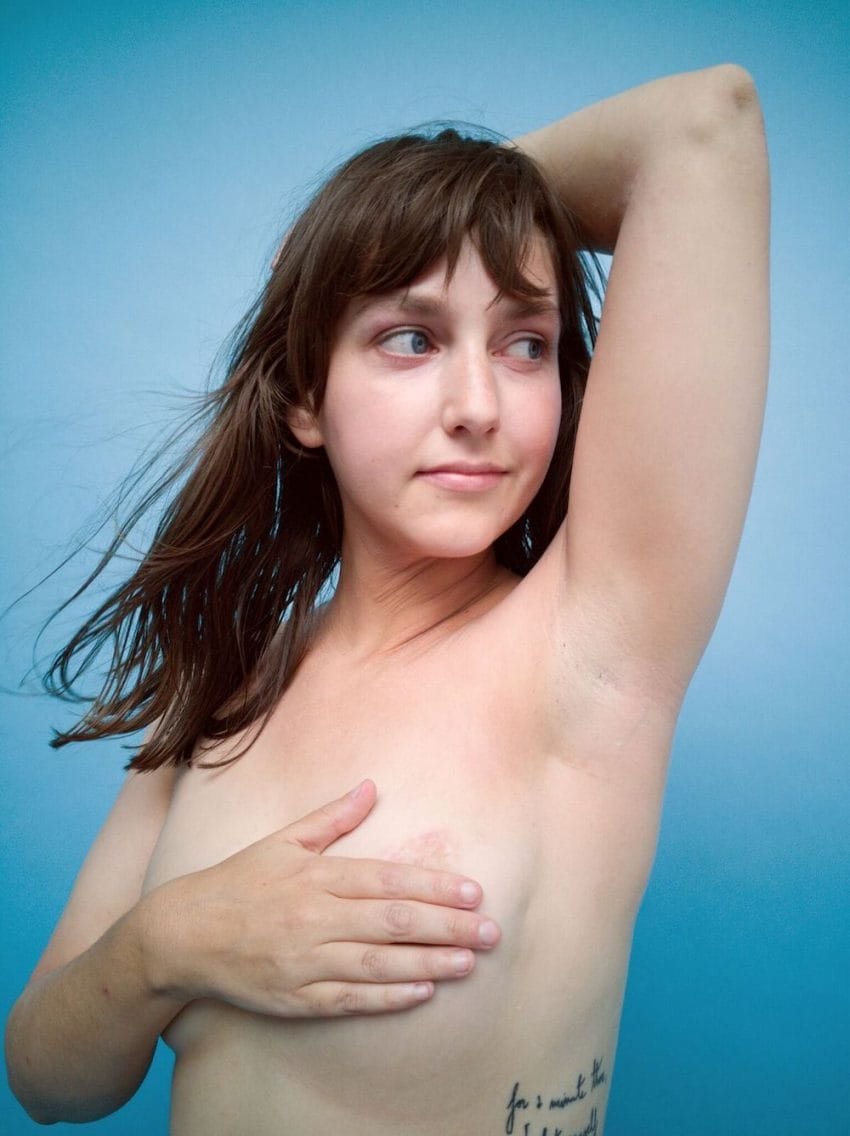 I was told I had breast cancer in April 2016. After various tests and biopsies (from which I have a few tiny scars), I had surgery a week before my 27th birthday. I don't remember much about those first few days, expect I watched a lot of The Sopranos and I was in a lot of pain. The first time I saw my wound I was inconsolable. I had a lot of issues over the next few months – my nurses said I'd broken the record for longest time taken to heal after a lumpectomy. My body rejected the dissolvable stitches, and I had a couple of infections. One day I was out with friends, and my wound opened up on one side, by the time I got to A+E blood was pouring out and my shirt was drenched. So the scar is much thicker than the original incision.
It's difficult to talk about still, and I'm definitely not totally liking my scar yet, but I'm getting there. It's not easy having a scar on a part of your body that's "Sexy" — I don't have that relationship with my breasts anymore.
This journey with cancer has taught me a lot, and I appreciate my body for doing it's best and keeping me alive. I know that soon I'll appreciate this scar too, as a reminder of how I had the strength to get through.
Nell:
My scars were made whilst I was in a coma for 90 days. The scars on my face, neck, and groin are there because I was on life support known as ECMO — my lungs had been devastated by necrotizing pneumonia and they had to stop me breathing — the ECMO oxygenated my blood and kept me alive for 66 days. The other round scars on my body are from chest drains because both my lungs had collapsed and infection and air were trapped in my chest cavity. The scar on my back is from surgery I had because my chest had filled with so much blood that it was impacting my heart. All this began when I went on a school trip to the Ardeche in France. I left on the 26th June with the school and came home on the 24th October. I was in a French hospital in Montpellier, in Intensive care all that time. They never gave up on me and fought with me.
My scars are the map of my survival and I'm very proud of them. They give me strength and individuality. It's very rare for people to survive this infection — and in actual fact, I survived two, because, after first pneumonia, I suffered a second infection — hospital born MRSA and went into multiple organ failures. We all fought on. I have a small scar on my throat where I had a tracheostomy — it was strange to have no voice when I woke up, but I wasn't afraid — I only believed.
Mercy: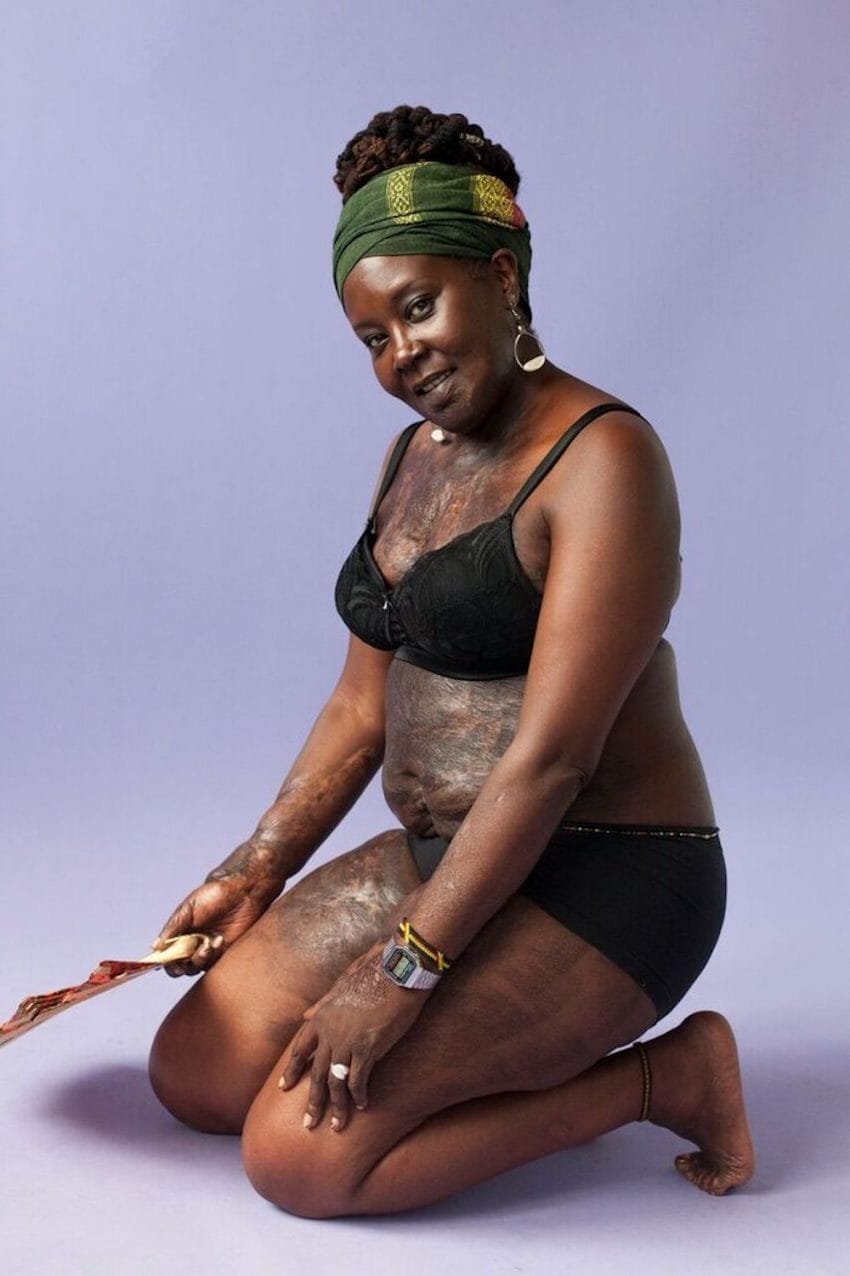 My scars are from a fire related to domestic abuse. I got burnt at the age of 29, and it's been a difficult journey coming to terms with it. The comfort I take from my scars is they make me who I am today. I call them my most precious, and expensive piece of jewelry I own.
I have survived and if having my picture taken, and exposing my scars can help anyone else then that's good for me!
These are called the brave beauties. I would really bow down in front of their courage. Bravo ladies! you made it.
Enjoyed the article? Check out another interesting story below ▼
---

Share this story with your friends and family!
---