Being raised in the military is a stressful experience for many children who just find it unbearable. To share my personal story, my father stayed in the Navy as long as I can remember, and most of the important events which happened found when he was away. All I can remember are those moments I missed with him when he was away.
This type of separation inflicts pain in the heart of many kids, but a young kid of 7-years of age named Natalie Plamondon of Clifton Park, New York, had experienced much of it when she missed her dad for one year. The saying of "absence makes the heart grow fonder" found its meaning.
Her dad was away in Kuwait to serve military duties. He went there in February 2017, and his return was still unknown to everyone. Not even his wife could have a clue when she expected her husband back home.
He, unluckily, has missed out many celebrations that were organized by his family throughout the year, including the birthday of her only daughter.
"Even though I had the opportunity to see the pictures captured from those celebratory events, it still never satisfied me and everything was different," said army reservist, Lieutenant Colonel Jean-Paul Plamondon.
Natalie was only six years of age when her father departed from her on deployment. Now with the grand home return nearing, Jean-Paul made up his mind to do it three weeks before the scheduled date on Tuesday 9th January.
On that day when he planned to be home, her daughter and wife were attending an important morning school program at her school, Okte Elementary.
John-Paul hoped for only one thing on his homecoming day; pull out an ultimate surprise. It was hard to make it so because he was also eager to meet his family once more after that long period of separation. However, he managed to contain himself and achieved what he had planned.
Natalie's mom, Valarie, was among the parents present at the school on that important day. Fortunately, she was invited to be the reader of the day. With the help of her intelligent daughter, she managed to read a military-inspired story entitled "hero Dad" eloquently.
Just at that point that the two ended the story, Jean-Paul appeared from the backstage. Upon seeing this big surprise, Natalie ran as fast as she could to meet her Dad. Sure enough, she had missed him. A whole year is such a long time to stay without seeing your dad.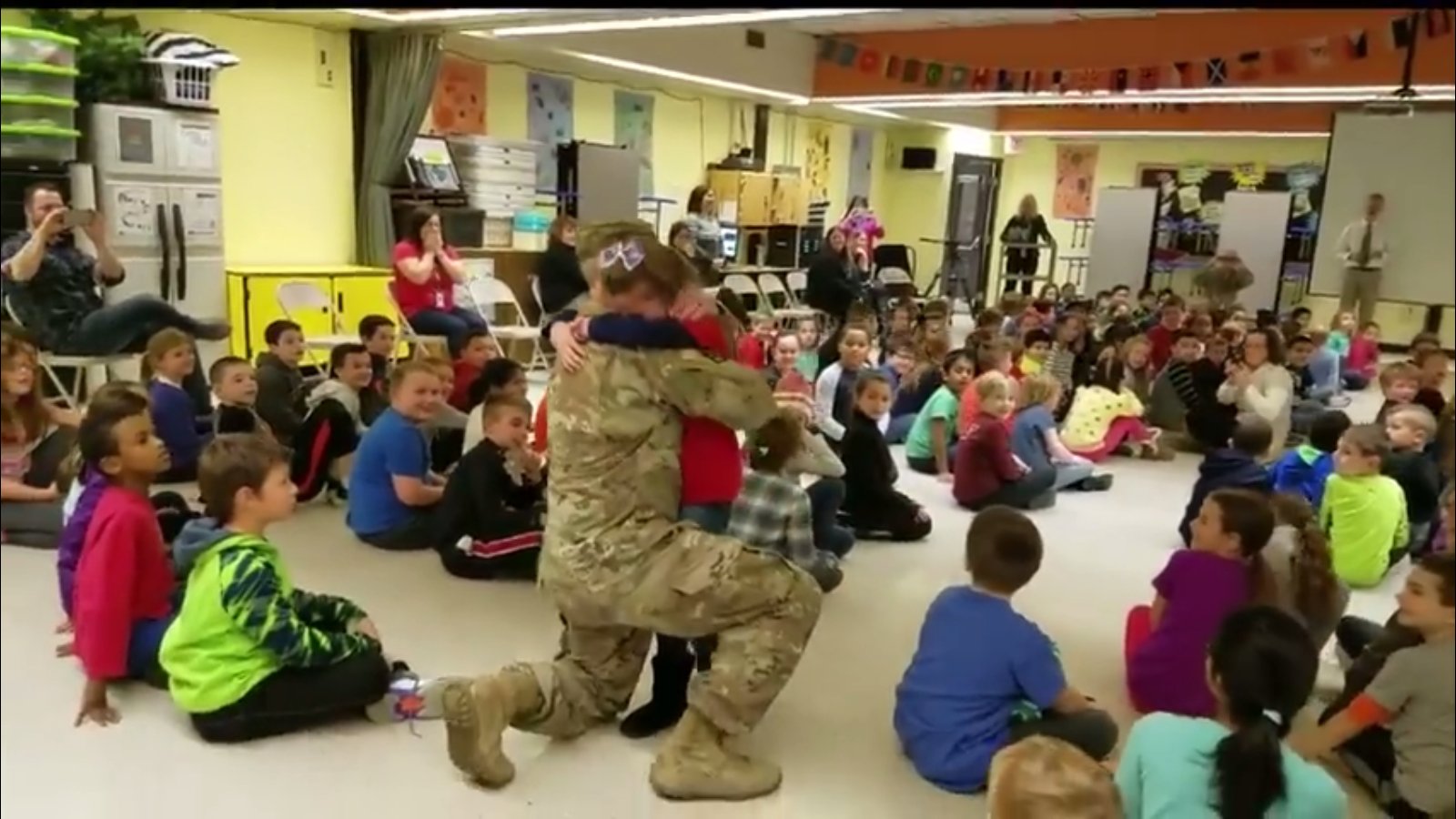 The room was filled with emotions as the rest of the audience watch the two reunites in tears of happiness.
According to how Natalie behaved and from her own words, her dad's homecoming could not be compared to any other thing in this world. She cherished it with all her ability. She loves her dad, and he also replicates the same. It is beautiful to see how a family is tied together by a strong love bond even if the other one stays away for that long. The reception was just incredible!
Keeping the surprise undiscovered was the hardest part of it. Natalie is known to be so inquisitive that she would know even the slightest piece of information, but credit goes to everyone who contributed to make it an ultimate surprise.
The good news is that John-Paul has a two-year holiday until his next deployment. Natalie is already planning on how to get the best out of him to make up for the lost time.
As for all other kids who are also going under the same experience of their parents being deployed, they should just keep hoping and patiently wait that they will return just as Natalie did.
She advised, "be strong and have no worries… They will be safe."
Enjoyed the article? Check out another interesting story below ▼
---

Share this story with your friends and family!
---