The French president has suffered a huge defeat in the French municipal elections yesterday, adding more disasters along the way for his power drive in French politics, while Green party, based on socialist democracy principles.point 194 | The ecological candidates and the Left-wingers created a joint political endeavor, effectively swiping out the centrist candidacies.point 310 |
The political figure who came out strong in the last night's election was Anne Hidalgo, now the second-term Mayor of Paris who will lead the city's municipal administration for another six years.point 176 | She has gained a staggering 50.point 202 |
2% in the exit polls, defeating Republican Right wing candidate Rachida Dati.point 66 | 1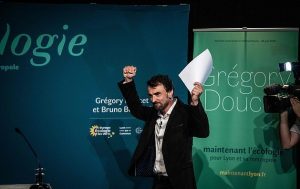 Agnès Buzyn, from Mr Macron's LREM party (The Republic on the Move!) was pushed into third place, with only 16 per cent.point 294 |
Ms Hidalgo's has allied with the Greens leader David Belliard, of the Europe Ecology-Greens.point 81 | Ms Hidalgo has pledged to continue her ambitious programme to cut pollution, encourage cycling and expand green spaces, while creating more pedestrian roads in Paris.point 223 |
Exit polls in Strasbourg and Lyon also suggested that they had been won outright by the Greens.point 79 | 1
The spread of Covid-19 has slowed significantly in France, following nearly 200,000 confirmed cases and 29,781 deaths. By 5pm on Sunday, voter participation was at just 34.67 per cent, compared to 38 per cent in March. This is much lower than the participation rates during the 2014 municipal elections when it was already above 50 per cent at 5pm. The polls are seen as a key political indicator ahead of the 2022 French presidential election.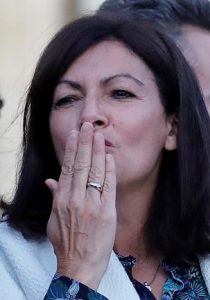 Paris is a major battleground, because the mayor will oversee the 2024 Olympics.point 182 | Mr Macron's three-year-old centrist party fielded municipal candidates for the first time but lacks deep rooted support.point 288 |
His government has faced criticism during the pandemic over mask shortages, testing capacity and a lack of medical equipment.point 107 | Despite this, Mr Macron's prime minister, Edouard Philippe, won the post of Mayor in his hometown of Le Havre on Sunday night.point 214 |
A government reshuffle is expected to be carried out by Mr Macron in the wake of Sunday's result.point 82 | 1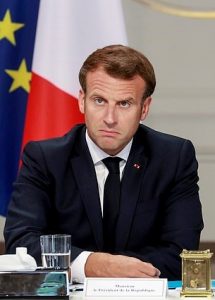 Opinion polls currently show Mr Macron's popularity rating is hovering around 40 per cent – higher than before the virus outbreak. The anti-immigration, far-right National Rally, led by Marine Le Pen, was focusing on consolidating its 2014 results, when candidates backed by the party won in 12 towns.
If you liked this article, please LIKE SHARE AND COMMENT below! And don't forget to check our other articles along the way!
RECOMMENDED VIDEO FOR YOU!
"Husky Howls In Protest While Recovering From Anesthesia"