A shocking footage showing a fight that took place at a McDonald's in DeKalb, Illinois has gone viral after it was shared on the internet.
The incident is second of its kind to happen within a month as another customer got engaged in a fight with an employee at the Nevada Branch of McDonald's just weeks before.
Though the actual reason for the latest conflict remains unclear, the footage shows two ladies physically quarreling behind the counter of the restaurant.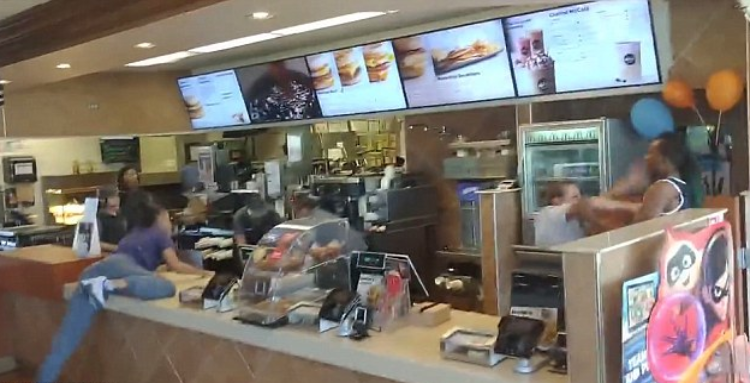 As the two ladies engage in the not-so-friendly activity, a bystander wearing a Chicago Bulls NBA Jersey can be noted provoking the quarrel as he tries to egg the brawlers on.
In the footage, the man can be seen shoving and barking expletives at another employee as she attempts to remove him from the perimeter.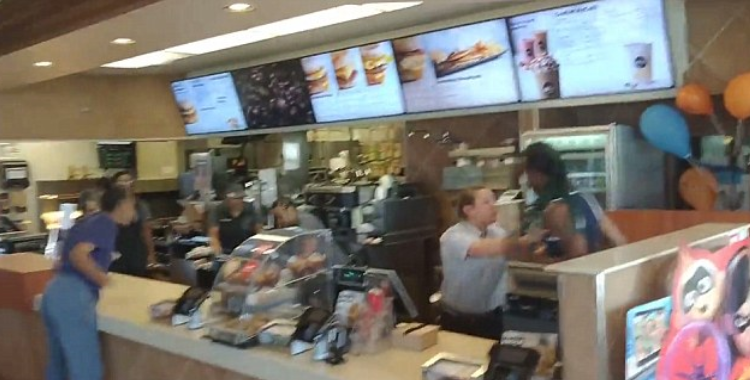 However, the man overpowers the McDonald's employee and reaches the fighting ladies only to further aggravate the situation. He grabs the hand of the customer, who is apparently familiar with him, and pulls her out from behind the counter.
In the meanwhile, the McDonald's employee gets her arms around the man's waist and takes him out of the scene.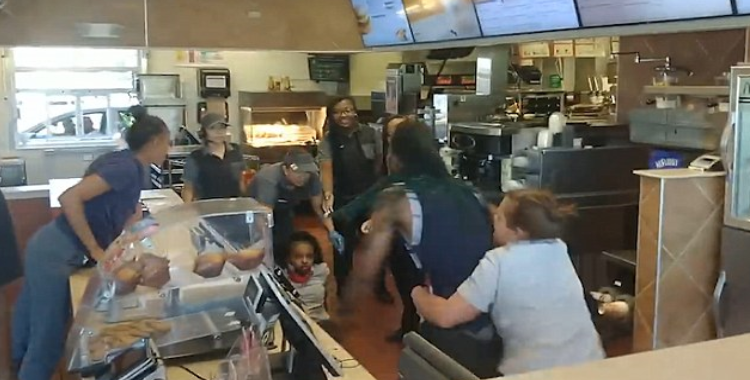 The man continues to bark expletives as he is dragged out of the premises to which the employee he shoved earlier replies, 'You hit a woman.'
'I hit you,' he explodes. 'F**k you shorty,' he says. 'It's on camera,' she tells him before the footage blacks out.
The incident is the second recent occurring of a brawl in McDonald's.
Watch the recent brawl in the video below.
Just a few weeks before this incident, a video of another brawl was posted by a witness Marie Dayag on Facebook and Instagram in which a customer could be seen fighting with a McDonald's employee.
According to Dayag, the fight broke out when the customer tried to put soda in a free water cup.
Dayag captioned the video, 'The lady asked for a water cup and supervisor shut down the soda machine because she wasn't letting her get a free soda.'
In Dayag's video, the two women can be seen arguing before they start a physical fight.
The audio of Dayag's video is not clear but it can be observed that the tussle was over money. At one point in the video, the employee can be heard saying 'since you can't afford one'.
The customer responded saying 'that's why your a** is behind the f***ing counter' and then threw the French fries across the restaurant.
"Recommended Video –"McDonald's Employee And Customer Who Were Shown Fighting In Viral Video Have Been Identified"
Enjoyed the article? Check out another interesting story below ▼
---

Share this story with your friends and family!
---