When responding to a YouTube video, a man laughed saying that the sheep was caught up in a swing trying to escape but instead goes for a ride. The fury video was filmed in the UK, but its precise location is unknown.
Scroll down to watch the video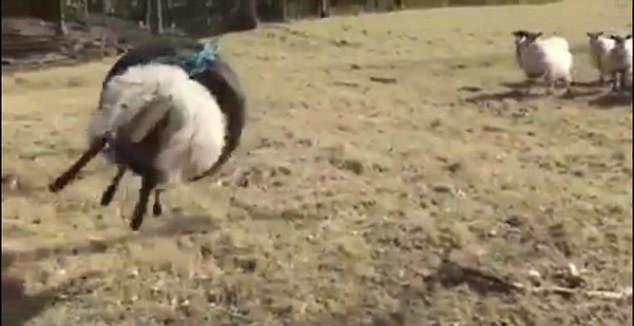 The person who posted the video captioned "Oh my God, it's hilarious," laughs while surveying the situation of sheep.
Video credit: Triangle News
When it was posted online, it already angered the animal rights advocates who said that the person who shot the video should have tried to free the distressed animal instead of making a big deal about it online.
It can be clearly seen that the animal is upset and distressed, there is nothing funny about it, it is pure cruelty said Eunice Ann Greene on Facebook.
Another user, Holly Hunter said that she finds this video disgusting and the uploader should leave the poor kind animal alone and safe.
Well, the video has clearly offended people over the internet. They do not find this video to be funny at all instead; it is just animal cruelty.
People are furious at the uploader and are commenting that it is sad how people are finding this video amusing when all it does is making you feel sad.
The video was also uploaded on Reddit where it received mixed reviews. Some are saying that they think the sheep are trying to have some fun.
Another user wrote that this looks like an episode of Shawn, the Sheep where the mischievous sheep ends up troubling the farm animals.
One user wrote that it is impossible for a sheep to hop on that tire swing. Someone purposely did for humor, but it lacks that too.
If you liked this post, share it with your friends and family.
"Recommended Video – World Goes Gaga Over The Adorable Sheep 'Bacon' Enjoying On The Trampoline In The Backyard"
Don't forget to ▼LIKE US▼ for more inspirational stories!
Enjoyed the article? Check out another interesting story below ▼
---

Share this story with your friends and family!
---