Seven educators from an elementary school in Kansas have become pregnant at the same time.
The fun thing is, they didn't plan any of this – yet they will be welcoming their babies within months and even weeks of one another.
After lining up substitutes to provide maternity leave to the seven teachers, Ashley Miller, the principal at Oak Street Elementary in Goddard, joked that they now need 'a sponsorship from like Pampers or Huggies,' local news station KSN reported.
The pregnancies were announced by the school's Facebook page earlier this week.
'We are so excited to welcome these EIGHT little tiger cubs to our #265 Family! (Yes, we counted correctly),' the school's page said before pointing out how one of the teachers is expecting twins.
'To me, it just becomes comical because it was a lot when there were three of us and then there were four of us and then there were five of us and then there were seven of us,' Tara Johnson, who teaches fourth grade at the school, told KSN.
Owing to so many simultaneous pregnancies, there have been a lot of jokes in the school such as the 'don't drink the water' joke.
'When I actually went in to tell her, I'm like, "By the way, I drank the water,"' said Tiffany Schmidt, who teaches third grade and is also expecting.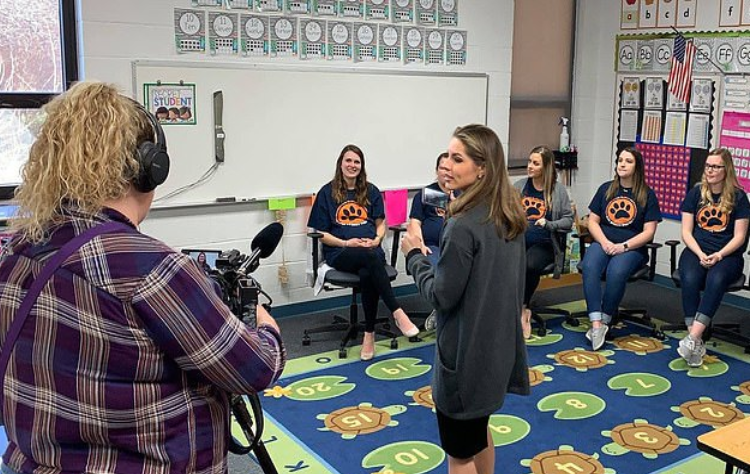 Fourth-grade teacher Kelli Johnson, who's also pregnant, said their synchronous timing reinforces their belief that the entire school is a family.
'To be experiencing life at the same time with these ladies I love so much already is really, really cool and it's a really fun experience,' Johnson said.
The due dates of the teachers range from March to October.
If you think it's a rare, one-in-a-million-type phenomenon, we're telling you, it's not! Because the wives of seven firefighters from North Carolina Fire Department are also expecting at the same time.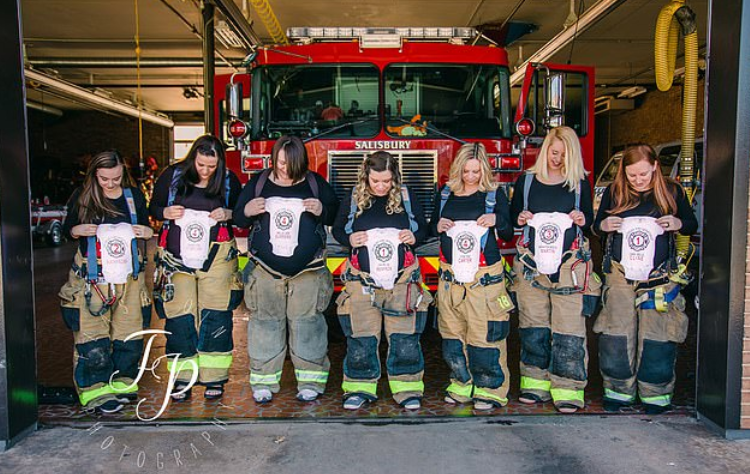 After the news first emerged, photographer Brianna Mitschele arranged a heartwarming photo shoot for the seven mothers-to-be as they posed together in the uniforms of their husbands at Salisbury Fire Department.
Each woman also held a onesie carrying the name of her baby along with the station number.
Mitschele later wrote on her blog: 'We took a bunch of fun group shots during the session and right when we were finishing up, the rescue truck received a medical call and left with their lights flashing and blaring the air horn.'
And you won't believe that nine nurses in the labor and delivery unit of Maine Medical Center are also pregnant at the same time.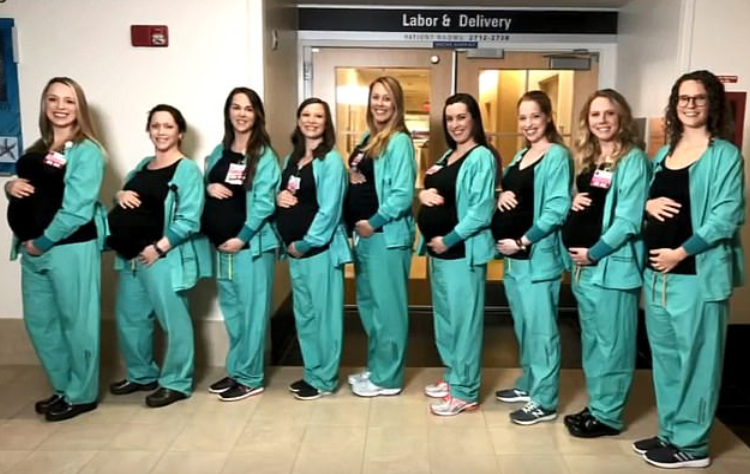 The hospital announced the big news on social media by sharing an adorable photo of the expecting nurses on their Facebook account.
The nurses have their due dates in the next few months, from April to July.
Recommended Video!
"Texas Middle School Teachers Decide To Paint Positive Messages On Bathroom Doors – Here's Why"