Jacob Strickling is a science teacher who believes that science should also be fun. That's why he runs a YouTube channel called Make Science Fun. Dubbed as the "nutty professor" because of his quirky inventions, he makes sure that every science project he undertakes always has an element of fun to it.
Now you may think that having Strickling for a father is a huge stroke of luck, but his children may wonder. One experiment that Strickling did had both of his kids walking away from his contraption because it was "too dangerous." Now, what would it take to get even an adventurous kid to say that?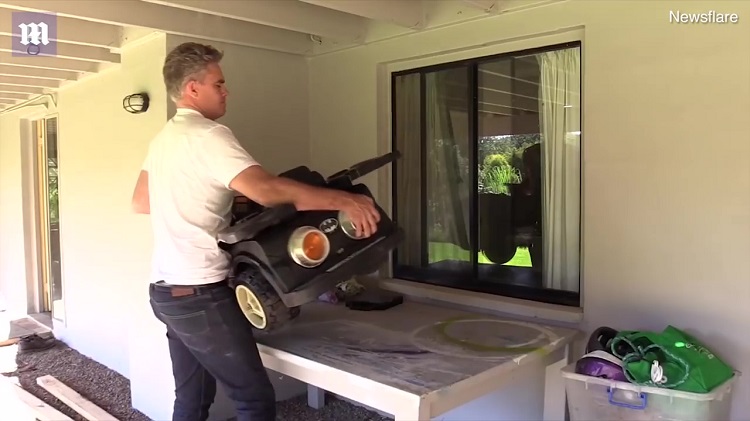 Based on the released video, we see Strickland working his magic on an old Batmobile car. With some power tools and assorted odds and ends, he manages to attach two leaf blowers on the toy car and made it into some sort of carnival ride that his kids could enjoy in their own backyard.
He then strings the ride up a tree and first gets his son Samuel to try it out. After a few revolutions, the car is moving surprisingly fast until it collides with a tree and knocks off one of the makeshift engines.
Samuel promptly gets off and refuses to try the ride out again.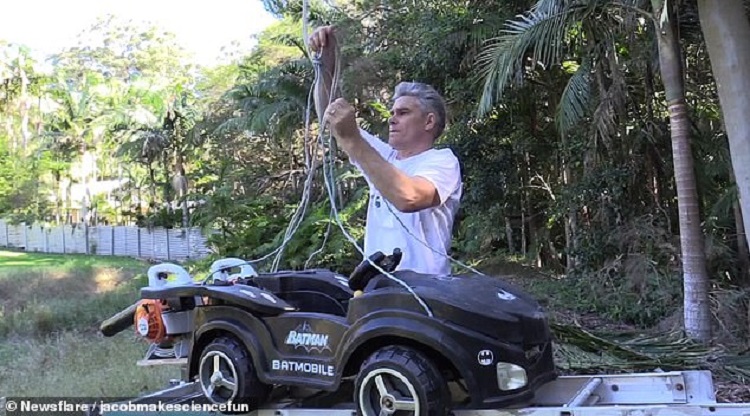 However, Strickling manages to convince his daughter Mikalah, 11, to try it out. But after several trips around, she, too, quickly jumps off the vehicle and decided that she had seen enough.
"All's well that end's well," said Strickling, "although the neighbors' kids won't be allowed to use this particular ride!"
For all his wacky inventions, Strickling is a qualified science teacher in Australia and is a mechanical engineer by training. He has been building all sorts of science-inspired toys for his children although their apparent skepticism seems to point at a few failed experiments.
Watch the video below to see Strickling's amazing ride!
Strickling was once able to make a rocket using Diet Coke and liquid nitrogen. The resulting backblast, filmed in slow motion, was enough to knock the professor on his backside as the contraption flew off.
And at one time, Strickling also attached three lawn mowers to the back of Samuel's solar-powered go-kart. The reason? To more efficiently cut grass. Figures.
Still, it's amazing to see how one mans science skills are going a long way to making fun contraptions.
Recommended Video!
"Father-Son Interesting Duo of Doing Activities like Superheroes"
Enjoyed the article? Check out another interesting story below ▼
---

Share this story with your friends and family!
---