For past so many years we had been listening from concerned people, our teachers, and others that one day the air will get so polluted that we would have to buy oxygen cylinders to survive.
As kids, we used to think that the day will never come and that it is just a warning to scare us. But it was not just a warning.
For Thailand, the days are not going as great as they would have thought because there is no love but just the pollution in their air.
Thailand's capital city is having the worst days as the pollution levels have raised so high that more than 400 schools in the city have been shut down to keep the kids protected from getting harmed by the pollution in their air.
The schools will remain closed for the whole week as the city is facing the days of it's worst pollution because of ultra-fine dust particles called PM 2.5 have filled up the entire city.
To blame the situation on, one can name various things like the pollution caused by the traffic and factories, burning of crops, construction works, and lack of concern by the people.
Authorities of the city have tried several ways to reduce down this hazard but all their attempts have failed to reach the required amount of result that will be able to make the air clean and breathable again.
The authorities have tried to reduce down the traffic by making strict rules, they tried seeding rain clouds, and they have tried hosing down the streets but the results are just not enough.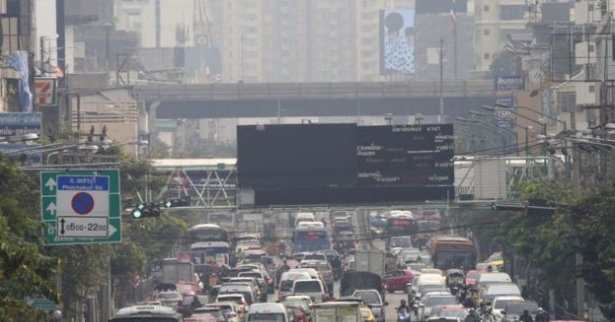 To make a little more effort to protect the air from getting even more polluted, the authorities have asked people to not light incense or to burn any firecrackers on the Lunar New Year holiday.
The air quality index of Bangkok is currently at 170 making it humanly unhealthy. But it still remains lesser than India's capital New Delhi. The air quality index of the city has reached 390 and it has become 'hazardous' on the levels of pollution.
Share this post with your friends and family.
Recommended Video!
"The Footage Reveals Car Thief Flying Through The Air As The Vehicle Crashes During Police Chase, And He Ejected From Car"
If you liked this post, we would love to hear from you:)
Enjoyed the article? Check out another interesting story below ▼
---

Share this story with your friends and family!
---