Distressing photos of starving and emaciated grizzly bears emerged showing the animals desperately looking for fish one month before they are supposed to hibernate.
The images of the hungry animals were taken near the shores of Knight Inlet by Canadian photographer Rolf Hicker, who shared the photos on Facebook last month.
One mother bear can be seen hunting for salmon along with her two cubs, her body and face gaunt and the muscles and contours of her bones visible through her fur.
Fishermen in British Columbia said this year is the worst salmon season in almost five decades.
According to experts, human activities such as salmon farming and climate change have contributed to the decline of fish population.
"Here in the Broughton there is no salmon left for the bears," said Hicker. "Advertising still shows the happy bears feasting on salmon, well, sorry to say – not here."
The heartbreaking photos are a far contrast from bears preparing to go into hibernation by eating lots of food.
"I have not seen a single salmon in a river so far. The bears are starving and it breaks my heart seeing this unfold," Hicker expressed.
"We saw this sow with her two little ones a couple of weeks ago and then we saw her again only a few days ago. I have no idea how she would make it through the winter without salmon," Hicker said. "I sure prefer to show you beautiful nice wildlife and nature pictures but it is important and my duty as a photographer to show you this side too."
A report published by Fisheries and Oceans Canada warned that the climate in the country is warming two times as fast as the global average.
"Marine heatwaves, warmer rivers and lakes, food web changes, increased floods and droughts, and other freshwater habitat changes are all affecting salmon," said the report.
Alarm has been raised all over the world regarding the health of salmon populations.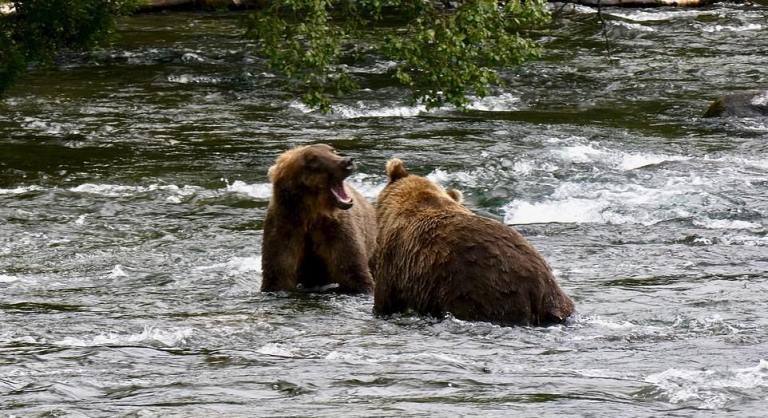 What are your thoughts on this? Let us know in the comments section and SHARE this post with your family and friends!
Recommended Video For You!
"This Is The Only Man In The World Who Can Swim With A Polar Bear"