Kristin Harkness 33 years old and JayYonz 35 hailing from North Carolina adopted a disabled sheep named Moko along with a giant micro pig Ziggy, last year shortly after their trip from the US. Moko had a disability and could not walk he had to rely on the prosthetic limbs and was unable to use hooves.
Watch couples who postponed their wedding after spending on a disabled sheep
They both had the idea that if they will care for Moko it will cost them much but still, they continued to do because if they would leave him at farm then it was predicted that he might die. They had to postpone their wedding as they spent $40,000 on Moko.
This amount covered the vet bills and all other expenses of Moko. Upon that Moko needs to be cared for and looked after for the whole day. They kept Moko for almost a year and the money which they were going to spend on their wedding was spent on Moko.
They tried to make the disabled sheep comfortable and happy and for that matter, they took him with them while taking baths and even Moko used to sleep in their bed. They are so much in love with Moko that they do not disturb him when he is sleeping in their bed.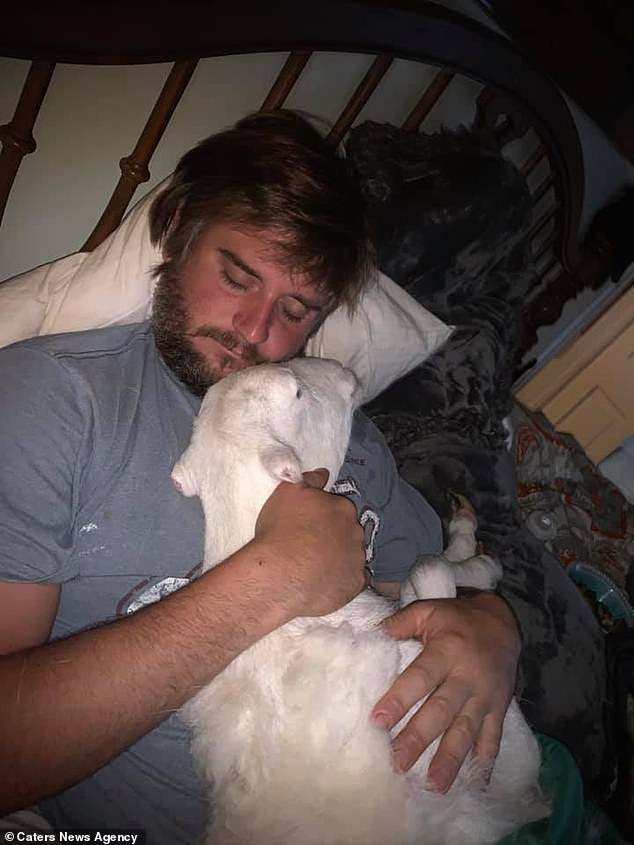 They thought that Moko struggles with walking and suffers prosthetics so it would be better to take care of him rather getting married or going abroad.  So they decided to spend thousands of dollars on Moko.
They also own an animal refuge and they have rescued farm animals from meat farms as they themselves are vegan.  After spending on Moko and not getting married they still feel a sense of blessing and the money covered her bills along with the custom prosthetics so they gave Moko a comfortable living.
The pig ziggy which they have has become a personality and has a huge fan following over 9,000 followers on his social media account and the pet s they have are, seven goats, four sheep, one donkey, eight horses, 33 pigs, 3 cows. Two ducks, three chickens, one dog, and two cats.
Till now they have rescued 62 animals and have cared for them by providing them facilities and permanent home and for that matter, they have stopped traveling.
Recommended video!
"Couple Live With 200 Plastic 'Children' | TRULY"