Winters are still a few months far and stores are full of pumpkin-flavored everything or caramel apple flavor. Right now, while it is still hot, absolutely no one would be thinking about Christmas right now.
But Häagen-Dazs has already started gearing up for the chilly season.
The ice cream brand has recently announced that it is bringing back its Peppermint Bark flavor to the stores soon, both in ice cream bar and pint version from October 1.
This means that you can gorge on this chocolatey, minty ice cream for three months until Christmas.
According to the brand's website, the ice cream flavor magically combines white chocolate ice cream with peppermint candy pieces and crunchy peppermint bark and will have your dreaming about the holidays.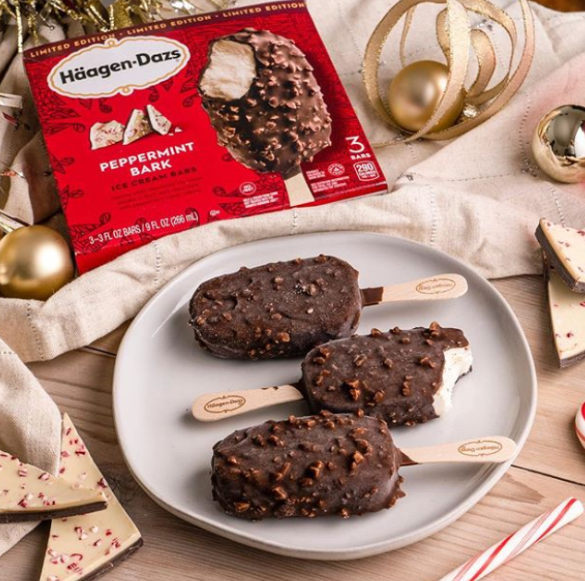 However, it is a limited-edition flavor, which will sell in a box containing three dark-chocolate dipped ice cream bars and a classic pint option.
The pint will reportedly be sold for $5.29, and so will be the box of yummy-treats.
The pint will be a concoction of crunchy, chocolatey peppermint bark pieces with white chocolate ice cream and peppermint candy pieces.
While the bar will have a white chocolate ice cream bar covered with dark chocolate and will have peppermint candy pieces sprinkled on it.
To add a little more holiday feels to your ice cream, Häagen-Dazs' boozy ice creams, called the Spirits Collection, are being sold since February. The line of boozy treats are infused with alcohol like rum and bourbon.
The flavors include Bourbon Vanilla Bean Truffle, Rum Tres Leches, Irish Cream Brownie, Stout Chocolate Pretzel Crunch, Non-Daily Amaretto Black Cherry Almont Toffee, Bourbon Praline Pecan, and Irish Cream Cookie Squares.
You can indulge in these ice creams freely as they contain less than 0.5% alcohol.
Share this post with your friends and family.
Recommended Video!
"Forget jelly and ice cream – birthday party bus for seven year olds promises makeovers"
If you liked this post, we would love to hear from you :)