LIKE OUR PAGE

The most recent phone scam has taken a trend where your phone seems to be receiving calls from yourself.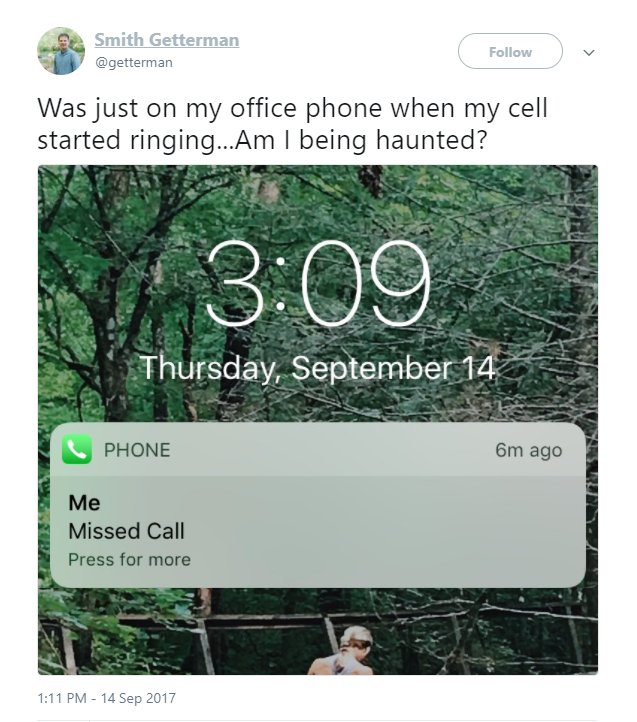 "My phone began to ring late in the night. I was alarmed as I never expected a call at that hour. I looked at the caller, and it was me. I wondered how it was possible for me to call myself. I again looked my phone, and there was no one there. Then it hangs up."
Claxton is not the only person who has had an experience with a phone getting a call from your number.
Anson Massey from Texas also shared his experience with the KXXV saying:
"I received the call, and someone was speaking from the other side. He claimed that my account was compromised through the AT&T."
Massey didn't fall into their trap. He thought that it was an odd to get a call from your number, although confirmed that he normally gets calls from strange numbers which also inquire about their security details claiming that his account has been compromised.
So, he made up his mind to record the call.
"Your account has been blocked for security reasons. After the tone, kindly enter the last four figures of your primary account holder's social security number."
Massey just made the right choice that saved him from the scammers. He ended the call without entering the requested digits. Instead, he contacted AT&T immediately. The attendants on the other side confirmed that his account was safe and also complimented him for not sharing his social security details.

What happened to both Claxton and Massey, and is happening to very many people across the United States, is termed as proofing.
Phylissia Landix from the Better Business Bureau defined and explained to WFAA what spoofing is all about and the processes involved.
"Spoofing is when an unauthorized person takes a computer program that is capable of disguising a telephone number to make it look as if you are calling yourself."
According to the information given by Landix, spoofing can assist the scammers in two main ways. The first one is that they may attempt to trick you into leaking out your social security details by pretending that they are your service provider company. The last trick is to use the technology to put fraudulent charges onto your upcoming calls so that the extra bill goes to them.
Landix said that:
"the longer you take to communicate with them on the phone, the greater the chances that you are giving them to install the fraudulent charge."
However, there is still something that you can do to prevent these issues from happening to you.
Do not answer any call from an unknown number or any odd-looking number when you get such phone calls.
If it is within your capacity, then make it your choice to be added to Do Not Call registry
You should constantly check your monthly bill so that you can identify any fraudulent charges that were added.
Contact the Federal Trade commission whenever you get a call from a suspicious number.
Unluckily, there isn't much that you can do apart from just ignoring the calls. Adam Price, a member of Better Business Bureau, told KXXV:
"Most of these scammers and cons are not U.S. citizens. They operate outside the authority of the United States government."
The scammers are also using the data breaches to make their communication legitimate, and get information.

Stay out of the problems by never sharing your social security details with anyone over the phone not unless you are very sure about that person. Preferably do so if you are the one who dialed that number. Don't be afraid of leaving the calls from strange numbers to get the voicemail. If someone needed you, then they would leave a message.
Share your call experience with us if you have also received a call from yourself. Just comment it on this post and also feel free to share it to save someone from spoofing.
Don't forget to ▼LIKE US▼for more inspirational stories!
LIKE OUR PAGE