Watch the spine-chilling video below:

Video Credit: Evgeny Khmara/Youtube
Have you ever suffered from the torture of your flight getting delayed, or even worse, canceled? If you have then you must know what extremely severe torture it is to keep waiting at an airport is just the most orning thing to do.
All you can do is sit in your seat and wait, wait, and wait until you get on your flight.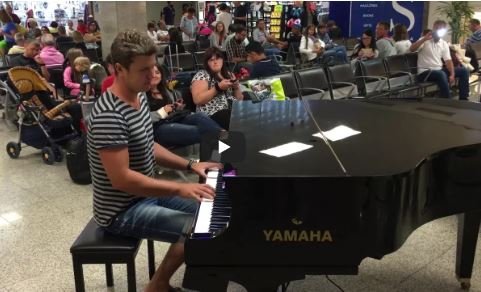 the same will not be a torture if you are stuck at Singapore airport because that place is just phenomenal. The airport has a theater, a garden, a spa, and whatnot inside it.
But we all are not lucky enough to be stuck there. All the other airports are just not the same. They are regular and borning. Only the person waiting can actually understand how boring it is.
It was a regular day at the airport of Malta and as usual, the waiting area was filled with people who were waiting for their flights. they were having an extremely boring day until this young man decided to come and entertain them all.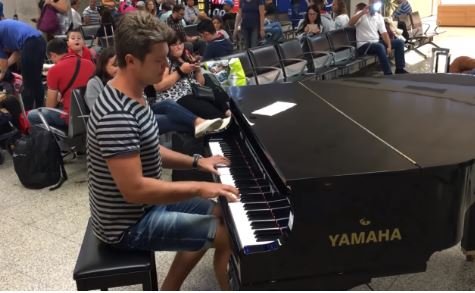 Music is one of the greatest source of entertainment as well as relaxation. Music helps people get free in their mind and as well as relaxes their bodies.
So when this young man saw people suffering at the Malta airport, he decided to give them all a surprise they have not been thinking off.
The man who came forward was just in his slippers and a T-Shirt and long shorts. He pretended to be just another tourist at the airport.
He came near the piano on the airport and unheld the cover.
He then played his fingers on the piano and then there was. The music notes he hit had the perfect tone and the people at the airport were just blown by it.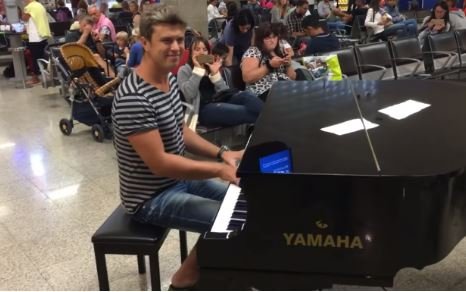 People came near him and covered him from around. A man was standing near him with his baby in the arms. A woman came in front of him and sat just right there.
But there was no disturbance from his side. He concentrated on his music.
It is then when people realized that he is just not a random tourist but the man is a music composer and YouTuber who has 70,000 people following him on YouTube where he gives out his original compositions.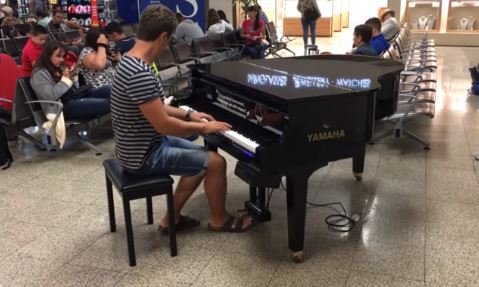 Share this post with your friends and family.
Recommended Video –"Mom Sings Impromptu Karaoke At Sam's Club And Becomes Viral Sensation Overnight"
Don't forget to ▼LIKE US▼ for more inspirational stories:)
Enjoyed the article? Check out another interesting story below ▼
---

Share this story with your friends and family!
---