LIKE OUR PAGE

After the abuse of her son, Erica Hammel swore not to let the same thing to happen to other people's children in the future.
Erica lives as a single mom in Michigan after separating with her husband legally. They had an equal share of their infant son, Wyatt's custody. However, Erica was never satisfied with the decision as she became more suspicious of the new ex-husband's partner, Rachel Edwards. AS Fox 17 reports in their interview with Erica, she was afraid for her son.
Erica's suspicion sent her searching through the internet as well as the court records in an attempt to justify her claims. Unfortunately, she got nothing in her favor, and so she had no alternative but to let her ex-husband get his share of Wyatt custody.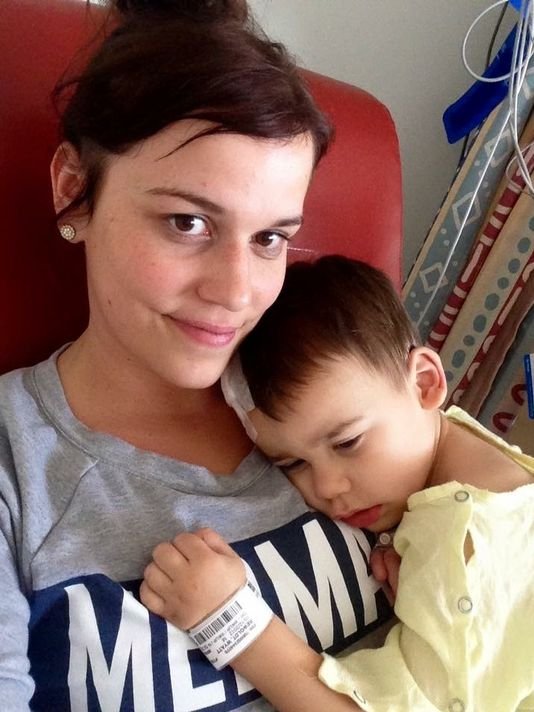 Explaining to the same Fox, she recorded her suspicion when the time for Wyatt to spend nights next to his father. It was not for any other reason but for the woman his father was dating at the moment. What could she do? She was unfortunate as she had no proof hard enough to present in court that could nullify the previous ruling that they both have an equal share of Wyatt's custody.
Days came and passed with Wyatt still staying with his father. Erica was anxiously waiting for the day that she feared most in her life. She knew that the day would come but wasn't sure of the exact day.
Finally, the fateful day came when Erica's claims were no longer claims but realities. Wyatt ended up in an ICU under a severe condition, courtesy of Edwards. She didn't believe what happened to her son. She received the news in great shock!
In an interview, Erica reports that she was surprised by what she saw and she just dropped and laid on the ground. Her son had had tubes connected to every opening in his body. She has never seen her son in such a situation before. She could not believe her eyes, but there he was, abused next to death by Edwards.
As she can recall, Erica said that the doctors alongside child protective services dragged her to the side and told her that Wyatt's injury might not have been accidental. Erica realized later after her son's severe injury that Edwards was an expert in conducting professional child abuse. It was not the first time that Edwards was reported to have been involved in a child abuse.
"If I had this information beforehand, Wyatt wouldn't have to go through the complicated medical condition," Erica said regretfully.
After the ordeal, Wyatt was incapable of eating, talking or even walk. He was blind with both eyes affected. His condition was so worse that it took another dimension when the victim was taken the court to face justice. The prosecutor who first received the case as child abuse had to change it to homicide following the doctor's statement that Wyatt would not survive.
The life of Wyatt and his mom changed completely from the one they used to have before the fateful day that resulted from Edwards. Presently, they spend much of their time attending appointments for occupational, physical, and speech therapy.
Erica was never settled after that. Instead of just looking after Wyatt as many expected, she turns her son's story into a weapon for amending the law.
She is set to let a law called Wyatt's law passed, which would fall under the registry of child abusers. It is her firm belief that if such law would have been in place before their separation with her husband, then her son would have remained safe. It pains her for a woman to give birth to a normal child with all senses and organs functioning normally, and then another heartless human being takes it away. Though her son now suffers serious brain damage and other injuries, she won't give up on it. With Wyatt's law passed, such cases of child abuse will reduce greatly.
"Although Wyatt recovered a bit and was able to eat, see, walk, and talk, not everyone will be as lucky as him." She told the fox.
She wishes to prevent future injuries that might result from the same reason. In May, Erica in the company of pediatric doctors from the American Academy of Pediatrics and legislators held a meeting in Michigan, hoping to make progress in passing the Wyatt law.
Erica went an extra mile to create a Facebook group, 'Wyatt the Warrior', where she could post any new updates associated to the cause on her Twitter account. On the same page, she also shares Wyatt updates on his medication process. She shows an ending love to her son and undying hope of preventing the same from happening to anyone else.
Feel free to drop your comments regarding various issues that have come up in the story. Also, never forget to LIKE US ON FACEBOOK.
LIKE OUR PAGE