If you thought your mom was strict when you were a kid, at least be thankful that she didn't fine you whenever you made a mess inside the house. One frustrated mom was so fed up with her teenage kids being slobs that she made them sign cleaning contracts that would fine them if they broke her rules.
Watch her present these contracts in front of her dismayed kids:
Video credit: Rumble
Katrina Neathey, 36, who runs a cleaning business with her twin sister Natalie, had always cleaned up after her children, Hayden, 19, Joshua, 18, and Olivia, 13. But when she found mud on her new £1,200($1600) carpet, she just about had it with them.
Hauling the three teenagers into the dining room, she presented them with their individualized contracts. Among the things they are banned from doing are eating in their rooms and leaving their dirty laundry on the floor.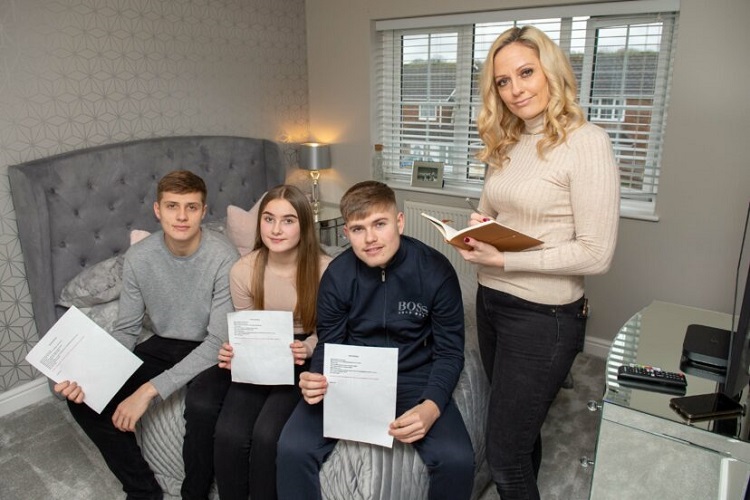 The two eldest agreed to be fined £5($6.50) for every rule they break while Olivia would have her phone confiscated for a day per infringement.
Her 'harsh but fair' solution has yielded only £20($26) in fines so it seems it's working.
Katrina said that before she instituted the contracts, she started with 'basic ground rules' to keep her teens in line after the £4,000($5200) renovation of the upstairs of their house. But 'after a few days, they were falling back into old habits.'
Katrina, from Horsham, West Sussex, explained:
They'd hide dirty clothes or plates at the back of their wardrobe when I told them to tidy up. It's as if they forget I'm a cleaner. I know exactly where to find things.

We had a talk during the family meeting and I knew something needed to be done. When I first mentioned it to them they just thought it was hilarious.

But I thought the only way they will listen is if I fine the older boys with money, as they work, and for Olivia to lose her phone. I know the boys are only on apprenticeships and don't earn that much so they'll notice when £5 has gone out their pocket.
While some people may think the contracts are 'heavy,' she thinks it's a good way for her children to give back after all the care she has given them.
She explained:
I just think it's time they learn the hard way. When they started school they were really good because I encouraged them to put all their toys away in their rooms. They never ate upstairs because I was controlling that as the adult.

It was when I started the business and begun working longer hours that things started to creep in. They started getting into football and dance so all of us were rushing in and out of the door.

As they grew older and technology and phones came into play, they would just be prioritizing chatting to their mates than helping out with the housework. Plus I started doing it for them.

Countless time I've told them I wasn't their slave but that was always short-lived and they would hide things instead. The worst was when I found a used chopping board in the wardrobe. I've also found other things like forks, bowls and milk bottles left to go off, all tucked away somewhere in the hope I wouldn't find it.
The worst offender is Josh, a carpenter apprentice, with three fines. They all occurred in one day because of two food wrappers he hid in a shoebox and at the side of his bed, and for clothes that he just tossed into his wardrobe.
Olivia only had her phone taken away once, for a wrapper in her room. 'She still got to take it to school for safety reasons so I just banned it for two evenings in a row,' she explained.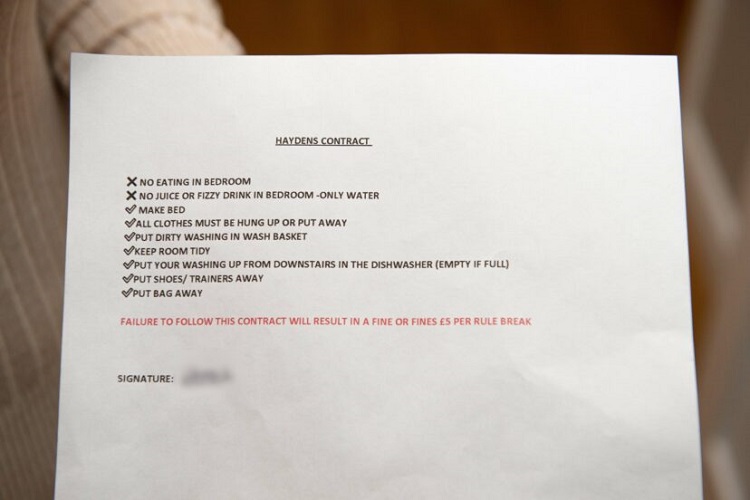 Meantime, Hayden, a plumber apprentice, only got one fine for leaving his bed unmade. Katrina explained: 'I think he was testing his luck because I was going to London for the day, which means I'm usually back really late but on this occasion, I actually got home before him.'
She added that she and husband Gareth 'work hard to give them the best [they] can' as parents, so that makes it 'easy for them to take advantage of [their] generosity.'
This is why Katrina is 'really pleased' with how the cleaning contracts have made her life 'so much easier.' What makes it even better is that she has no need to nag which is 'great for everyone.'
Recommended Video For You!
"Grateful Son Surprised Mom With Brand New House"