A brave 10-year-old boy rescued the life of his mother and his baby brother by playing the role of a midwife. It was on August 11th that Jayden Fontenot was crowned a family hero after helping her mom to deliver safely. By then, his mom, Ashly Moreau, was in her ninth month of pregnancy when she suddenly started feeling the labor pain.
The two were at their residential home in Sulphur, Louisiana, when the unexpected happened. Ashly was in the bathroom when the whole story started. Well, she wasn't ready as it occurred way ahead of schedule.
Right on the go, Ashly noticed the abnormality. With only her 10-year-old son at home, what could she do? Poor mom!
Ashly's delivery indeed came earlier than the anticipated date, but that was not all. She was bleeding too. Quoting from her words in an interview conducted by KPLC TV, "My water broke. I saw my son's feet hanging out when I looked down."
The ordeal only found three souls at home: Ashly, Jayden, and 11-month-old daughter. Ashly's fiancé went out shortly before things turned out blue. Who could help? She admitted that it was the daunting experience that she ever had in her life. Neither Ashly nor Jayden had the experience to help in child delivery. Even if she had, but a doctor cannot treat himself.
No one was in confusion than Jayden. He was the only option, whether he had an experience in such matters or not, he had to do it. He ran to his grandmother's house which was the next door to seek help. However, the luck wasn't on his side on that day. His grandmother had gone through a surgery and was unwell to undertake the operation, not even attempting to do it. All she could do was to dial 911 to inform them of the emergency.
Jayden got back to his mom only to find out that the situation has worsened. His mom was bleeding profusely, and the baby brother was breathless.
Moreau reported how it all happened, one step after the other. She explained that Jayden took a deep sigh of relief when he got to the bathroom to gain confidence and said: "Okay, mom, just instruct me on what to do to help." The boy was brave. There was no tremor in his voice, so her mother knew that he could do it. She told the boy that they needed to get the baby out as quickly as was possible to save his life. Remember that the baby wasn't breathing by then.
Jayden took the bull by the horns. His mom reported that he maintained calmness throughout the whole process. He exercised the expertise that her mother transferred to him, gently and carefully pulling his brother out to safety. It was not over yet.
Ashly was still bleeding heavily, and the baby could not breathe yet as there were some obstructions in his nose. Quickly, Jayden figured out a plan. He went straight to the kitchen and grabbed his little sister's nasal aspirator. He used it to get his brother to have his first breath. Many congratulations!
KPLC TV reports that Jayden was amazed at what he did. He had no idea that he could do it but he made it! He never wanted to lose neither his mom nor the baby brother, luckily, he saved them both. However, he had almost nothing to do to stop his mom from bleeding. His mom needed an immediate response from the rescue team.
EMS arrived just in time to take over the whole operation from Jayden.  They rushed both Moreau and her newborn baby boy to the hospital where the duo recovered after treatment. Kelsey Richard, Moreau's fiancé, arrived at the hospital a few minutes later to check the whereabouts of his wife and the new family member.
Doctors said that had it not for the Jayden, Moreau could have bled to death, and her son could have never had a chance to do his first breath.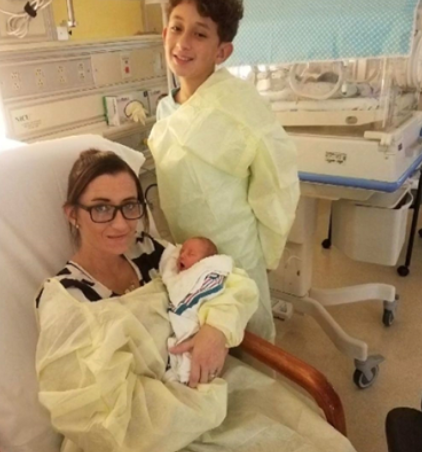 All praises now go to Jayden for doing such a heroic action. The first one to heap praises on him is his mom. "… I am proud of him for his bravery and strength. He is my hero." Moreau said. His grandmother's reaction was no different from his mom's. In fact, anyone in their family circle had a similar thought. They crowned him a hero!
The baby boy, whom they named Dax, was discharged from NICU a few days later.
Jayden got recognition from a city mayor in an assembly held at the school. As an honor, he received a proclamation and the city key together with a day given a name after him.
Who cannot be proud of such a boy? Let us hear your thoughts in the comment section. Also, don't forget to LIKE US ON FACEBOOK.
Enjoyed the article? Check out another interesting story below ▼
---

Share this story with your friends and family!
---