LIKE OUR PAGE

Mothers usually emerge as superheroes in many instances. In this case, a woman from Greeley, Colorado named Jenifer Flores emerges as a hero of the story.
Flores was leaving a healthy life with her husband and six kids until the day that she met her fate on June 4th, 2015. She had an attack form brain aneurysm that made a turning point in her life. From that fateful day, she has never remained the same.
kj
KUSA TV did invest time in this inspiring story of Flores. It reveals the kind of mindset that she has and her determination was commendable. Flores lived to defy all the odds, she proved tough and never to let her family suffer for the sake of the illness. Even the doctors could not believe her will. She was just unstoppable.
A further investigation by KUSA reveals that Flores had gone through more medical procedures in two years than many people have to do in their lifetime.
Revelation by the recorded video clips shows Flores living happily with her kids. They liked playing football outside their house and Flores would participate actively. Together, Flores and the kids would enjoy the game.
According to KUSA reports, Flores remained confident in life, and her six children formed the center of attention. The children, aware of their mom's medical condition, did their best to keep her company and make her feel like part of the family in every aspect. "… It is a blessing…they keep me going." Flores told KUSA passionately. Her kids helped to overshadow the toughest time that she was going through in her life. They were a real source of joy to their mom.
Reliable sources that KUSA gathered describe the previous moments before the fateful day. The eldest son, Anthony, was at home when all hell broke loose. Anthony told reporters that he heard his mother let out a loud scream. He was scared as he loved his mom so dearly and it just became very horrified. He realized that something was wrong, but what was he to do? Luckily! He reached a phone and dialed 911 who never hesitated to respond.
Flores was airlifted to the hospital by a helicopter and then put into a coma by an injection. She stayed in that condition for two weeks. She did not realize herself when she woke up. She saw nothing but a shadow of herself. She could not even remember her husband and the kids. She broke into tears when the reality dawned on her.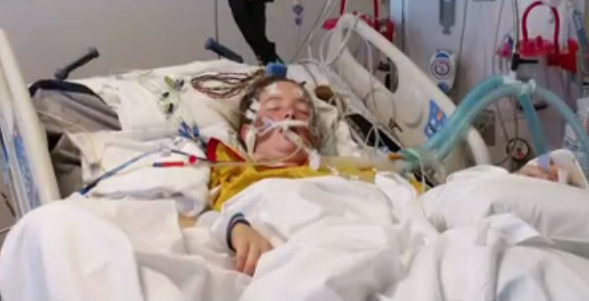 She went through a full year of medical procedures, countless visits to the doctor, and physical therapy. It was during this time that life got even more challenging. Her husband divorced her and she was left to provide for all six of her children and be their only caretaker despite having little strength.
She asked her therapist to allow her to go home to her kids, but she received shocking news. "… I don't think you will make it back ever, and if you do, you won't be in a position to take care of your kids by yourself ever again." One of the therapists told her. She received the news in disbelief! She was depressed and wonder the fate that has befallen her.
However, Flores never gave up in life. She vowed to turn her therapist's words the other way round to courageously face the odds.
She went through a whole year of therapeutic doses and many visits to her doctor as well as physical therapy. That was not all but the beginning of life nightmares as she receives a legal divorce from the husband. All went blue for her. With all the medication that she had gone through, and now six kids to take care of on her own. Why is God so unfair?
Flores felt weak and reached the moments that she could give up, but no! She had to live, not for anything else but the children. "It was tough… all around, it was tough." She admitted. "The best thing to tell my kids now is that nothing is impossible." She added to the KUSA reporter who by then got carried along in the story.
She had to begin from zero to rise again after having experienced paralysis, divorce, and a single mom of six children. One thing she never stopped doing is advising her kids. She loves them so she kept reminding them to keep fighting for what they wanted for they would get it.
Flores determination finally paid off. Two years have passed since the attack and Jenifer are not only taking care of the kids but also makes her life better. She graduated from Aims Community College. Something that everyone knew was an impossibility, including her doctors. She is proud of her achievement, and she deserves it.
There is still hope. Never give up in life. Turn your problems into your strength.
Please leave a comment. And also, don't forget to LIKE US ON FACEBOOK.
LIKE OUR PAGE