Life is uncertain. Anything can happen any moment. For a family of four that went on a road trip together, life had something else planned.
An SUV was found in a river last week which was the same SUV that belonged to a Californian family. The members of the Thottapilly family were reported to be missing. They were – Sandeep (42), Soumya (38), and their children Siddhant (12), and Saachi (9). The family was traveling to Portland Oregon when they lost contact. They were supposed to visit San Jose where their relatives lived on April 6. But they never really arrived.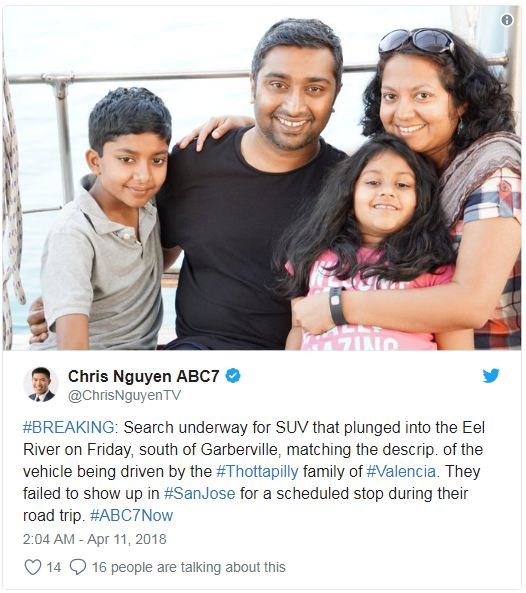 A report was filed on the 8th of April by their relatives. A "missing" poster was put up to trace the family members. Their last known location was found to be Klamath in Redwood National Park.
They were traveling in a maroon colored 2016 Honda Pilot. The license plate of the vehicle read '7MMX138'. The San Jose police department was working with the Sheriff's Station in Santa Clarita to find the missing family members.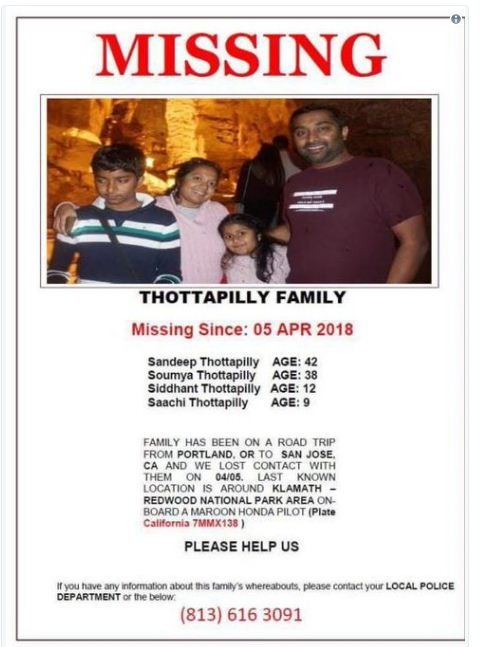 The CHP (Californian Highway Patrol) hasn't linked the missing SUV to a vehicle that they had found in the Eel River in Humboldt County. The vehicles do share some similarities though.
Report of a traffic collision was received on April 6th and one vehicle plunged into the Eel River. The vehicle had been completely submerged in the river owing to the heavy rains and they aren't able to locate it.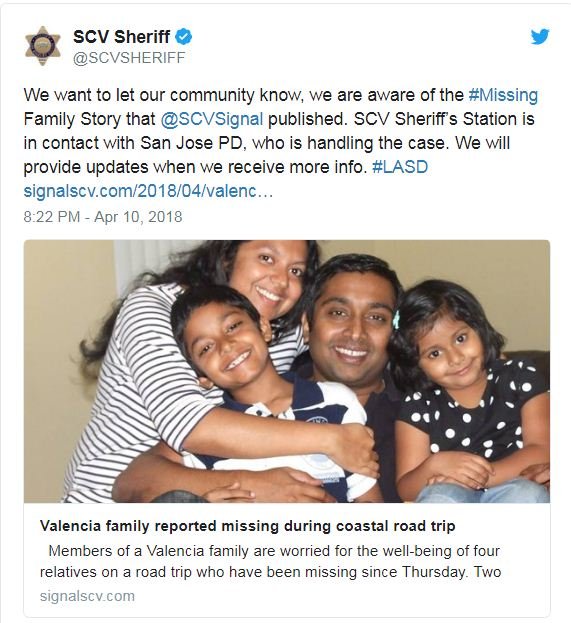 Only time will tell whether the two vehicles are actually one. The police are leaving no stone unturned to get into the depth of this matter.
The Thottapilly family was excited about them having the road trip. They were worried about the family's welfare.
Sandeep's brother will meet the law enforcement officials on his travel to Northern California.
"Recommended Video -Missing dog and owner reunited after 9 years apart"

Don't forget to ▼LIKE US▼ for more inspirational stories!
Enjoyed the article? Check out another interesting story below ▼
---

Share this story with your friends and family!
---