Watch the video below to check out her visit.
Meghan Markle visited Smart Works at St Charles Hospital in North Kensington, West London which provides high-quality interview clothes and training to unemployed women in need.
She gave fashion tips to women at a charity helping the long-term unemployed and vulnerable – one of her four new patronages announced today – and declared: 'I'm so happy to be here.'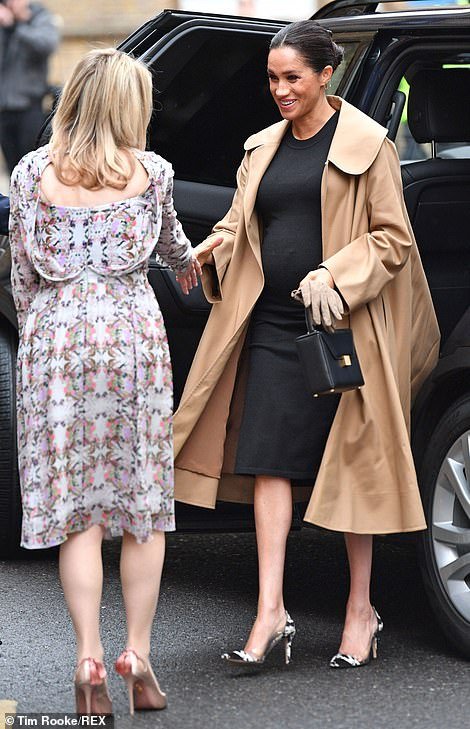 The 37-year-old former actress donned a £2,600 coat by Oscar de la Renta, a £179 dress from maternity label Hatch and £315 Kimai earrings as she helped employment hopefuls choose an outfit.
She accessorized her look with a Victoria Beckham Vanity Box leather tote bag worth £1,695 and Giovanni Rossi PVC pumps.
Meghan told the group, which included two former clients: ''I'm so happy to be here. You guys know I've been quietly coming by… close to a year. It's nice to be able to now do it publicly and really talk about the work that you do.''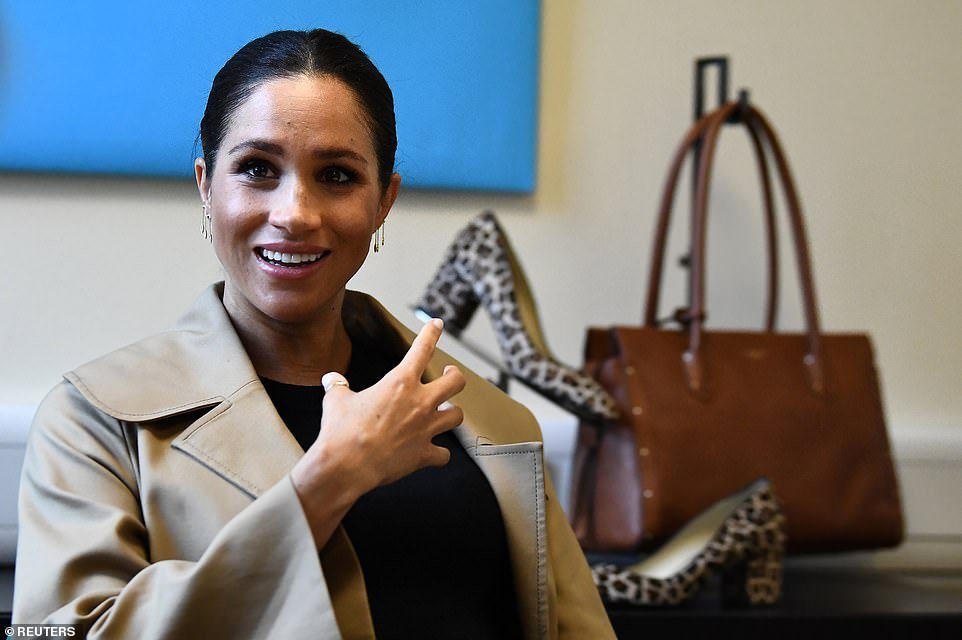 Kensington Palace announced that Meghan has also taken on honorary roles with the National Theatre and Association of Commonwealth Universities – patronages both previously held by the Queen.
For the past 45 years and the ACU for 33 years, the Queen has been the patron of the National Theatre. The Duchess will also be the patron of Mayhew, an animal charity based in Kensal Green, North West London.
The Duchess of Sussex picked out a black handbag and tan cape for Patsy Wardally, who got a customer-facing role at London Gatwick Airport after being helped by Smart Works.
''Green seems to be the color,'' she jokingly said.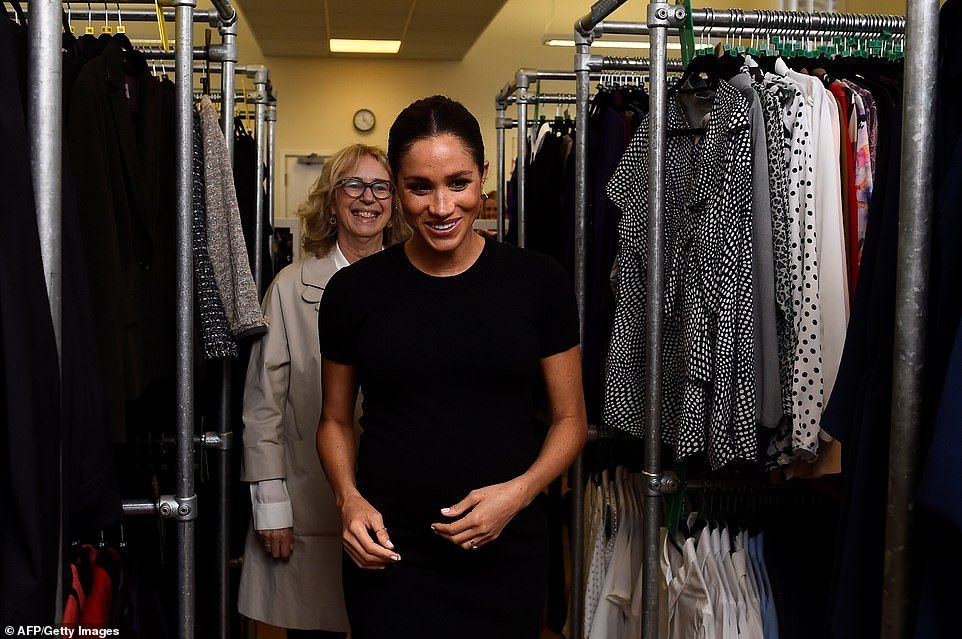 Meghan then chose a tan cape and a black shoulder bag to go with a red and white patterned dress. She left the centre after 50 minutes. Mrs Wardally said she felt 'exhilarated' to have met the Duchess.
She was wearing a red and white dress while Meghan picked out a camel cape from Hobbs, a black bead bracelet tied with ribbon, which the duchess called 'quirky', some simple pearl earrings and a black handbag.
When asked how she felt in the new outfit, she said: ''More confident, more beautiful, I looked in the mirror and I know it's me, but the difference in my esteem and everything has just shot through the roof.''
Mrs Wardally said: ''I'm so happy, I look forward to going into work every day, and I will be honest, Smart Work taught me to dress and it's because of them that I got the confidence to go for the interview.''
''She (Meghan) has a lovely little bump. Very nice. She was just making sure the clothes – the dress – was sitting properly.''
Last March before the royal wedding, Meghan secretly visited Smart Works and has been back five times since to help in choosing clothes and coaching for women who have a job interview.
Chair Juliet Hughes-Halley said: ''She's been to see us privately a number of times and was very hands-on, not just with the clothes but with the interviews.''
''She has fantastic empathy and has been helping to coach some of our clients. She has a natural and has already made a big difference.''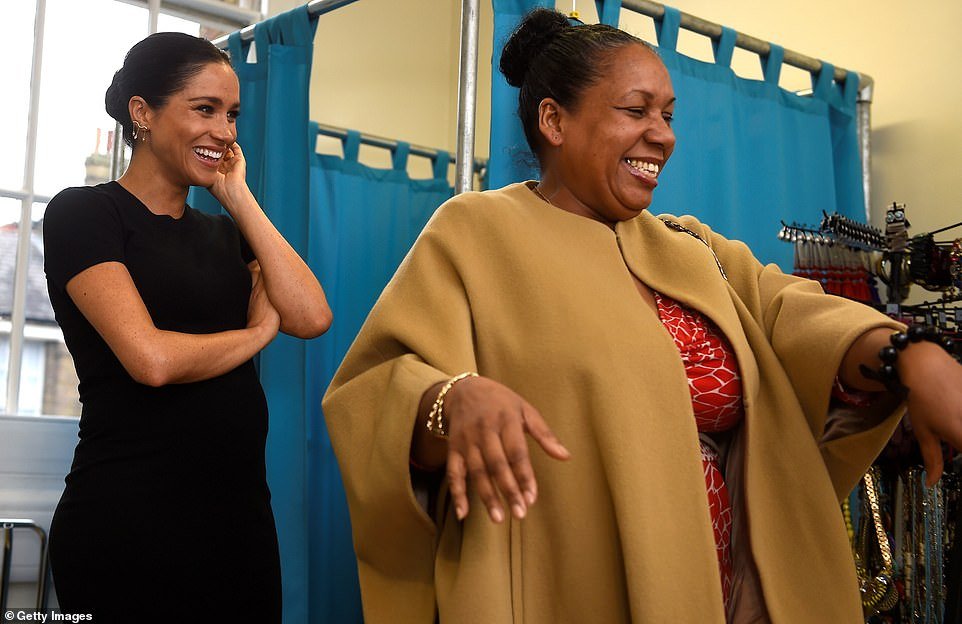 After arriving Meghan sat down with Ms Stephens, Lady Hughes-Hallett, interview coach Marine Novis, dressing volunteer Louise Warner and two Smart Works success stories in Sarah Barrett and Ashoka Davey.
Meghan told them: ''It's not just donating your clothes and seeing where they land but really being part of each other's success stories as women.''
''So that's in the tools that you give, the interview prep that's happening, that every piece of it… you do an edit or decide what you're going to send to Smart Works.''
''It's not just hand-me-downs, it's saying 'OK this is the blazer that I wore that helped me land that interview and I want this to be the piece that helps this woman have that part of her story' so to know as a woman coming in that you have so many other women believing in you on all the next phases, it's this piece that makes it so special.''
New mother Sarah Barrett, 38, from Islington, North London told Meghan, ''Coming here gave me the confidence to be able to change my career.''
Meghan replied: ''It's amazingly how you feel when you're in here. It's one of those things immediately when you come in… is incredible. It turns it around in a second. You come in feeling so low but you're reminded of your value.''
Meghan giggled as Sarah exclaimed: ''You feel like royalty!''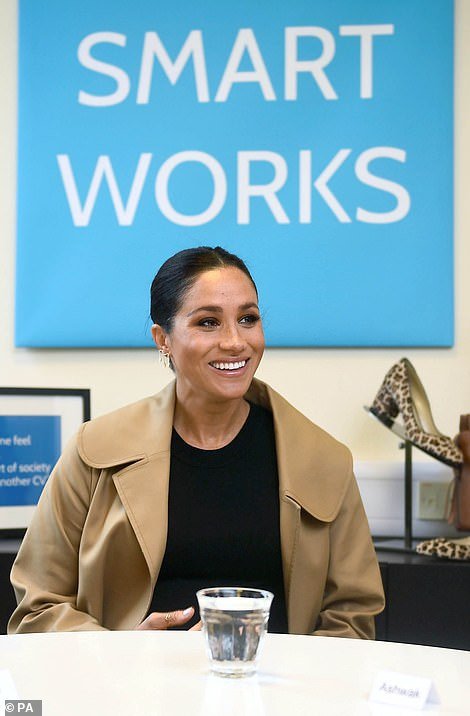 Ms Barrett continued: ''The experience coming here saved me. I wasn't feeling so good about myself and I came out of here feeling a million dollars.''
She also told the Duchess she'd recently had a baby, Grayson, 16 months. 'Congratulations' said Meghan. 'And congratulations back to you' laughed Ms Barrett.
Meghan also highlighted how important the interview coaching was.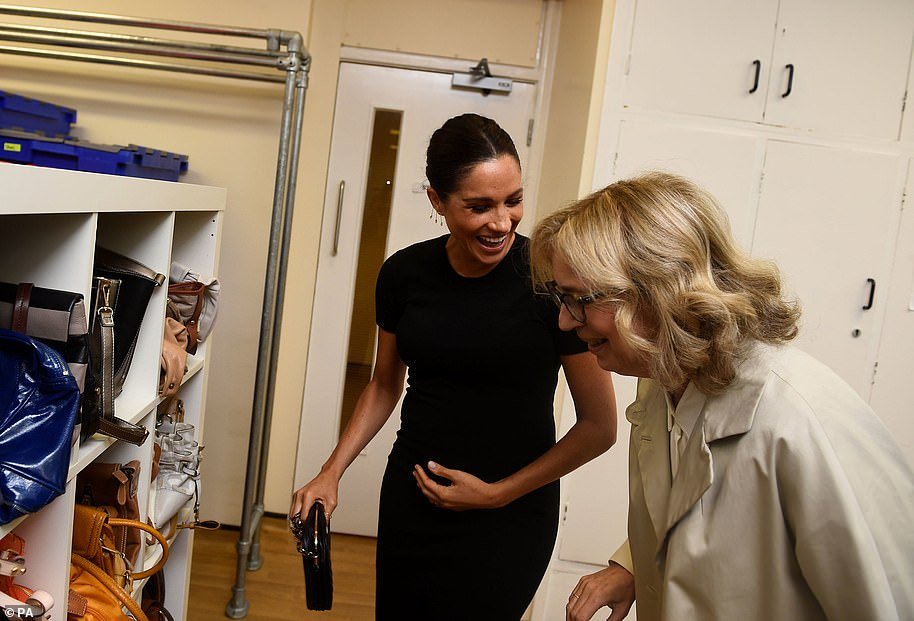 ''And in the second phase of it, doing the interview prep is so key, giving all these women the tools to make eye contact, to remind this company why they would be lucky to have them. It's so key this kind of trading you do to help them feel confident.''
Meghan then got hands-on with two ladies, Mrs Wardally and 50-year-old Dionne Johnson in the wardrobe room.
She told Mrs Wardallyshe 'loved' her first green dress and told her the wrap style was great as 'you can play around with it'.
The Duchess will visit Mayhew on January 16 to meet with staff, volunteers and beneficiaries, and hear more about the animal welfare charity's initiatives, from community engagement to international projects.
Recommended Video!
"Meghan Markle Holds An Umbrella For Prince Harry During The Rain While He Delivers An Inspiring Speech To Drought-Hit Australian Farmers"
Enjoyed the article? Check out another interesting story below ▼
---

Share this story with your friends and family!
---