In a shocking footage temporarily uploaded to Instagram by Nevada-based Marie Dayag, a McDonald's customer was seen getting brutally beaten by the employees after attacking one of them by throwing milkshake and hitting her with a tray.
The customer who sparked the massive brawl was allegedly upset because she wasn't allowed to fill up her water cup with free soda.
Scroll down to watch the video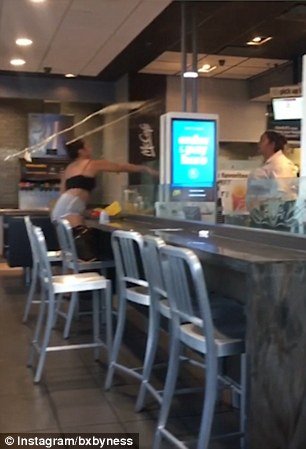 "The lady asked for a water cup and supervisor shut down the soda machine because she wasn't letting her get a free soda," Dayag explained.
Video credit: bxbyness/Instagram
Infuriated by their decision, the female customer picked up her milkshake and threw its contents towards a female employee. She then also picked up her tray and slammed it into the face of that same employee.
According to Dayag, the customer and the employee were verbally arguing prior to the physical fight. Apparently, the employee told the customer she can't get free soda  "since you can't afford one," while the customer retaliated by saying "that's why your a** is behind the f***ing counter."
After that, the customer lost it and attacked the employee with her milkshake and a tray. The employee, who had also heard enough by then, grabbed the customer in return, punched her in the head several times, and threw her around the place.
Even after getting separated by another employee, the customer still didn't have enough. She challenged her as well and restarted the brawl.
Eventually, the customer even picked up a chair in an attempt to get back at the employees but gave up as soon as she was disarmed by her opponent who was bigger and stronger than her.
While harsh words were flying across the room, the employee who got attacked was heard saying "my momma ain't dead, you respect my momma," after beating the customer.
After that, everyone seemed to have cooled down enough to stop the fight for good.
What are your thoughts on this customer's behavior and the McDonald's staff's reaction? Let us know in the comments and don't forget to SHARE this post!
"Recommended Video –"Burger King Branch Shuts Down After A Video Of Rats Running Inside The Bags Of Buns Goes Viral"
Enjoyed the article? Check out another interesting story below ▼
---

Share this story with your friends and family!
---