MIK Corporation, a Kitchen equipment manufacturer from Japan has released an automatic Wok in the markets. In these Woks you don't need to go through all the hassle you do to cook the dishes like fried rice. This automatic will do all the work for you; you just need to add the right ingredients at the right time. More than 1000 of such machines have been sold in Japan.
This automatic Wok is just one of the automatic machines the MIK Corporation has produced. These machines that are available with this corporation are used by not only the common people but the large Chinese restaurants also use these machines.
This video is a must watch to see how cooking is made fun automatically!
Video Credit: Rocketnews24movie
Rice Robot
Just press a button and you will be served with perfect quality rice. This machine measures the exact amount of rice you would need, washes them quickly, softly and perfectly, adds the right amount of water and make use of ample steaming environment to produce the perfect quality of rice. For added security, this robot has a liquid crystal display that shows how far the process is completed and the time required to finish the cooking process.
Maki Sushi Robot'
The process of making delicious sushi does not have the easiest recipe in town. But the MKI Corporation has made this intricate process so much easier; they provide many sushi making types of equipment that keeps the hassle to minimum levels whether you love nigiri rolls or the maki rolls.
Vinegar Mixer (Shari)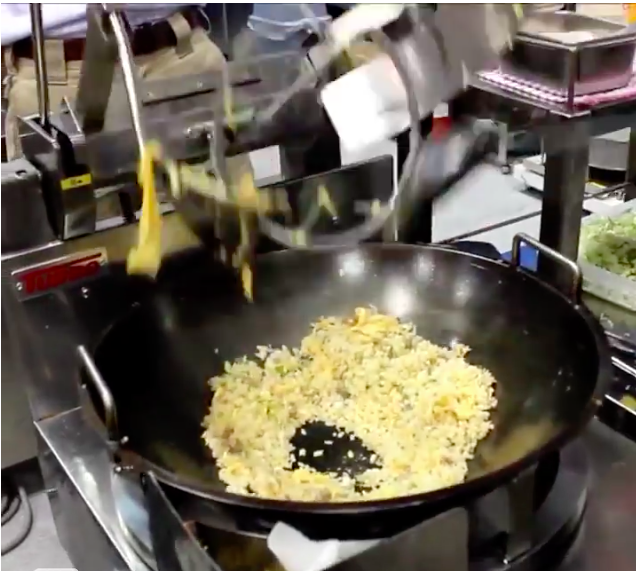 Pitch the cooked sushi rice with vinegar, salt and sugar to achieve a distinctly sweet and slightly tangy flavor which everyone loves. MIK Corporation has created a vinegar mixer for this very purpose; you can complete this process in record time using this automated machine. Simply put the rice and vinegar in a tank, press a button and you are done. When the mixing is done use the fan, which is installed in the machine, to cool down the rice to a temperature that you prefer and begin rolling the sushi.
Use these automated machines to make the cooking fun!
If you liked this post, share it with your friends and family.
"Recommended Video –The Reason Why Elephants Poke Each Other's Anus With Their Nose"

Don't forget to ▼LIKE US▼ for more inspirational stories!
Follow

@smalljoys_of_life
Enjoyed the article? Check out another interesting story below ▼
---

Share this story with your friends and family!
---