Does your child love to jump in the puddles? Well, every kid does and keeping in mind all the notoriously cute activities little children love to do, London has an outdoor nursery.
Watch the video below to see what happens there.
Video Credit: LittleForestFolk
Outdoor nursery, sounds surprising? Little Forest Folk is London's first outdoor nursery where your children do all those things, which you would never let them do. However, parents send their kids to this nursery and the nursery has a waiting list as well. This means you are being over conscious about your child.
Leanna Barrett, a mumpreneur, and co-founder of the Little Forest Folk say that children love rains and puddles, its adults who don't. "Children don't notice the weather as much as adults do!" She added. The nursery sends an email to the parents every week, telling them about the weather coming week. "There is not a thing like bad weather, an only bad set of clothes—it is a Scandinavian proverb, and we agree with it," Leanna said.
She is not the only one who thinks like this, many people have talked about letting the children do what they know best—running, jumping, climbing, skipping, and scooting. Leanna and her husband, also the other co-founder, James have a file in which there are a few letters kept, all those letters are from Sir David Attenborough who wholeheartedly supports Leanna's efforts.
The nursery has a waiting list of 2100 people, and they received 2018 Queen's Award as well. The story of how it all started is very interesting. Leanna said it was in 2011 when her daughter Ella was three months old and wanted to spend her all-time in the garden playing. Leanna and James wanted to give Ella the kind of life they enjoyed back in Scandinavia, but they did not want to move back to their country. So they were looking for a nursery where Ella could get that type of environment. She said, "No such thing existed in London, and we searched really hard." They had to let that go, but when their son, Jack was born in 2013, they decided not to give up and do something about it.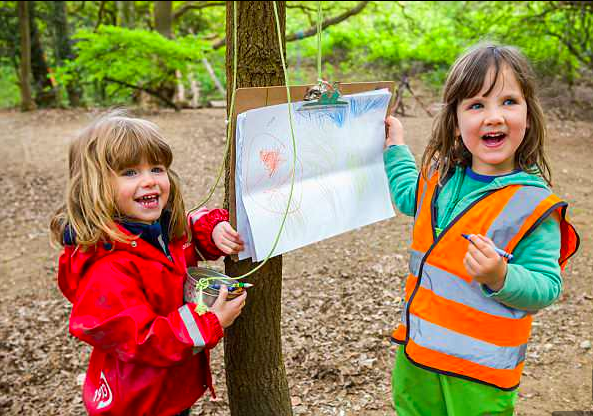 "I gave up my job and started developing this business plan; my husband did not leave the job, though. He helped me with everything in the night time." Although, their friends and relatives like this idea they said that they would never send their kids to such a nursery. "Neither the bank was giving us the loan, nor the government start-up agencies because the trading period of three months was must, which could not be possible in our case." So they decided to remortgage their house, their thinking was simple, that if the plan didn't work, then they would sell the house and leave the country to give their children an outdoor life.
With their desire to do it, they were almost succeeded, but the problem was of a suitable place, so they kept in touch with the Merton Council. Eventually, in 2015 they were successful in opening the nursery in Wimbledon, with ten children, and three staff.
In January 2019, they are planning to open a project-based primary school, and the branches of their nursery have now opened in Fulham, Barnes, Wandsworth, and Chiswick. If you liked this post, share it with your friends and family.
"Recommended Video –"Man Tries Hard To Make Husky Swim But What Actually Worked Will Make You Laugh Out Loud"
If you liked this post, we would love to hear from you:)
Follow

@smalljoys_of_life
Enjoyed the article? Check out another interesting story below ▼
---

Share this story with your friends and family!
---