YouTube channel Tech Insider gives us a glimpse of the future in the form of an artificial womb where a lamb fetus was successfully grown. A premature lamb fetus was placed in the artificial womb for four weeks and scientists observed that the beginnings of a wool coat started to show, the fetus gained weight and even opened its eyes.
What does the experiment ultimately hope to achieve? Is this where the beef for our hamburgers and steaks be eventually sourced from? Not really. The test was conducted at Children's Hospital of Philadelphia (CHOP). The overall goal is to find a way to bring premature babies to term through the use of artificial wombs.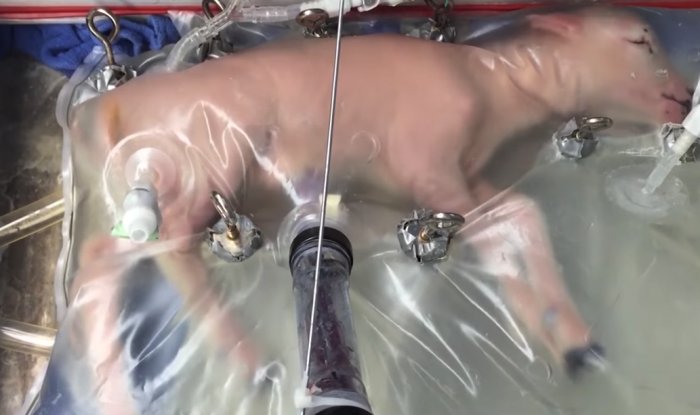 The problem that prematurely born babies face is that once they take their first breath of air, their lungs stop developing. This leads to many respiratory-related problems as they grow up. If doctors can continue the premature baby's growth through the artificial womb, it will go a long way towards ensuring a healthy growth period for the baby. With 30,000 Americans born at 26 weeks or earlier every year, that's certainly good news for parents.
A premature human baby can only be sustained in the artificial womb from 23 weeks onward, so we're not quite at the Matrix level just yet.
So when are human trials expected to commence? Watch the video and find out:
Recommended Video – Baby Born in Amniotic Sac in the Car!
Recommended Video – 5 Secret Footages NASA Doesn't Want You To Watch!
Recommended Video – Teen Claims She's 9 Months Pregnant With Baby Jesus
Enjoyed the article? Check out another interesting story below ▼
---

Share this story with your friends and family!
---