Watch the video of The Duchess of Cambridge making pizza with the kids.
Video credit: Royal Reviewer
The Duchess of Cambridge has returned to work with her first engagement on the New Year today. Kate visited King Henry's Walk Garden in Islington to see how the project brings people together through gardening and food growing.
The garden has been run for more than a decade by community volunteers with support from Islington Council.

It contains allotments and a 'from plot to plate' area for children, which enables them to grow ingredients to put on their own pizzas.
As she worked with them, Kate said: ''They are some of the best things to make, pizzas at home, aren't they? It's such fun. You can choose what to put on them….all the different toppings.''
''Cheese and cumber!'' Interjected Patrick.
'Cucumber?' exclaimed Kate. 'I've never had cucumber on a pizza!'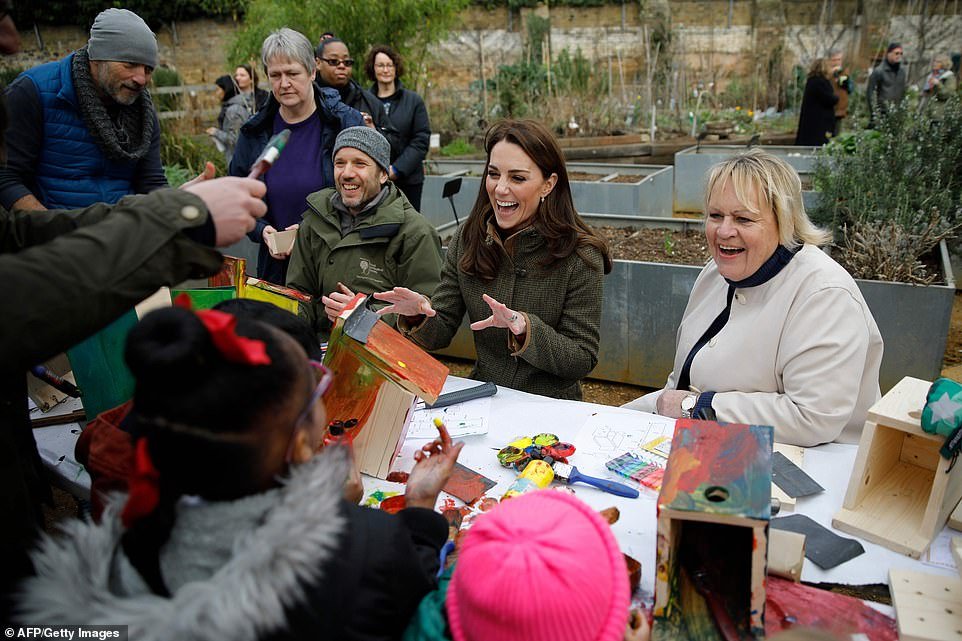 'What would be your ideal pizza topping,' she asked.
'Cheese and mozzarella and tomato sauce,' Patrick replied.
'Has anyone ever put bacon on a pizza? ' the Duchess asked.
'Why would you ever put bacon next to tomato sauce?' Patrick asked indignantly.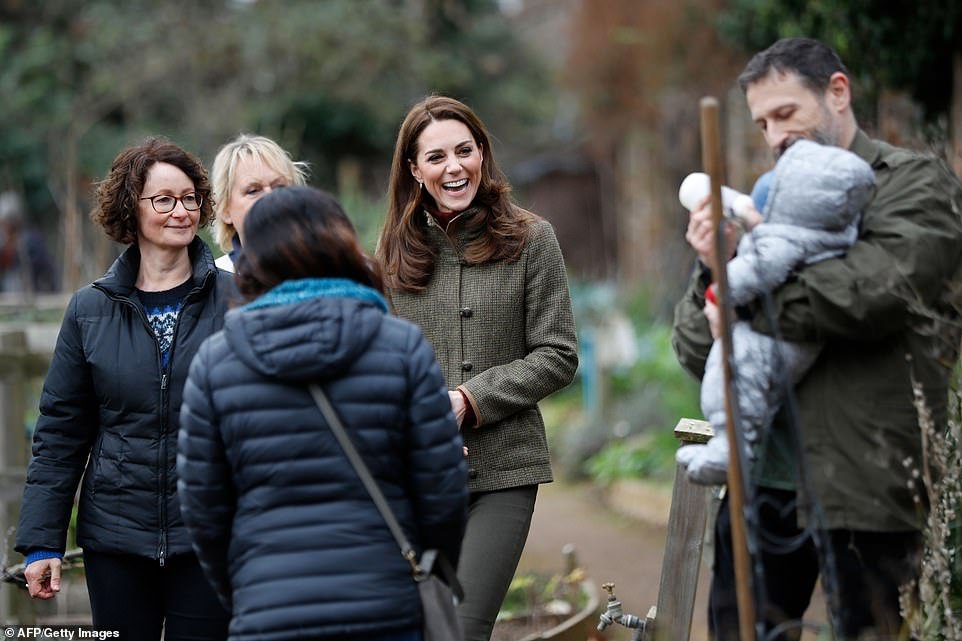 'Don't you think that sounds good?' said Kate. 'I quite like that. It's like having pepperoni but not so spicy. ' 'Do you like learning outside?' asked Kate.
'I think that's where George and Charlotte would love to be. Learning outside the classroom, not inside. It's still fun inside but it's much better outside.'
Kate received a gift of bird feeders from two of the children she had worked with today which she said she would put in her own garden.
Thanking them she said: 'I love this, thank you very very much. Aren't these illustrations beautiful? I've had such a fun time.'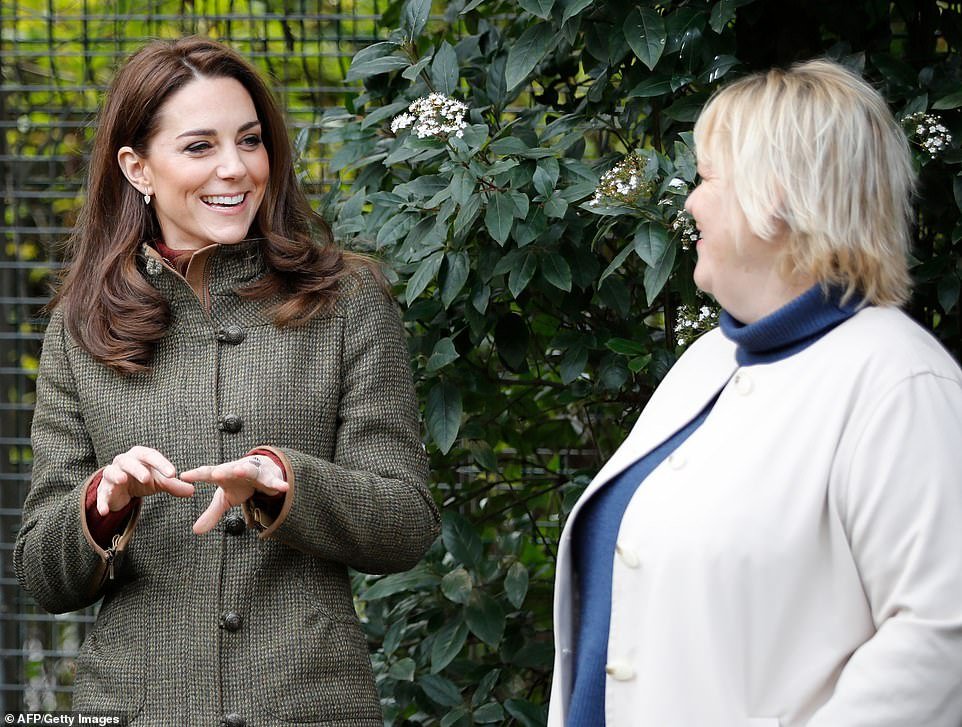 Kate donned a khaki tweed jacket by Irish brand Dubarry costing £399 which she paired with skinny jeans.
The 37-year-old was introduced to an open-air pizza kitchen as she visited the community garden in North London.
''Pizza outside sounds like the coolest thing ever'' said Kate as she spoke to local school children as she helped to make bird feeders with them.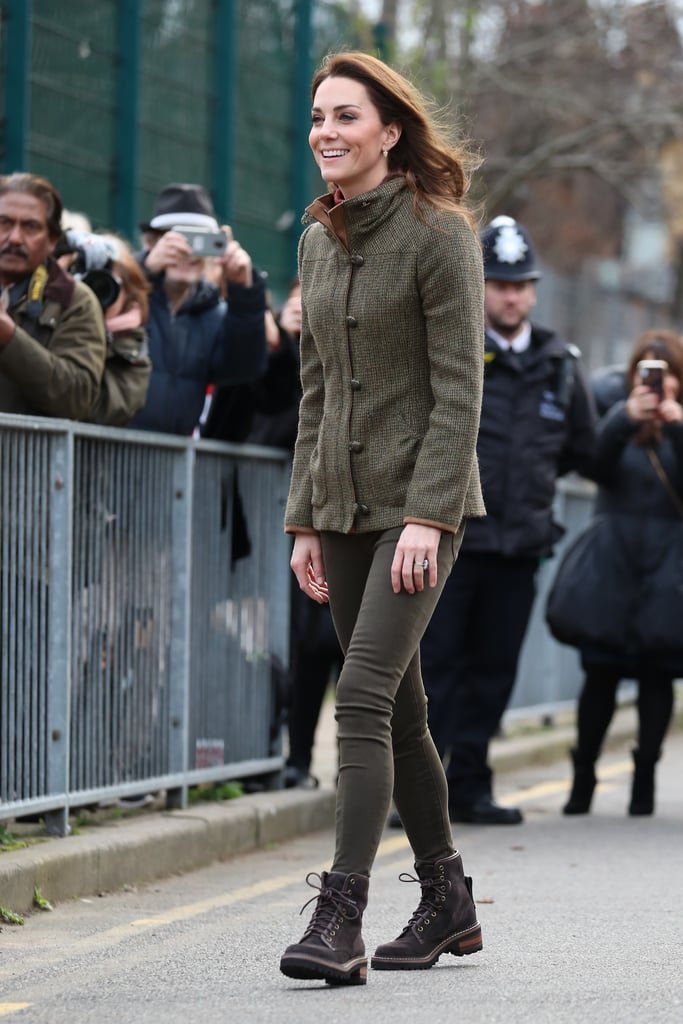 She told that her own children would be jealous while making pizzas with a group of school children from nearby St Jude's and St Paul's Primary School to make pizza which was then fired in an outdoor oven.
As she rolled out her dough, chatting with a group of Year 4 youngsters, Nadirah, eight, asked her: 'Has the Queen ever eaten pizza?'
'That's such a good question, I don't know,' smiled the duchess. 'Maybe next time I see her shall I ask?'
Emboldened, her classmate Patrick, eight, said; 'Here's my ideal question. Can I see your children?'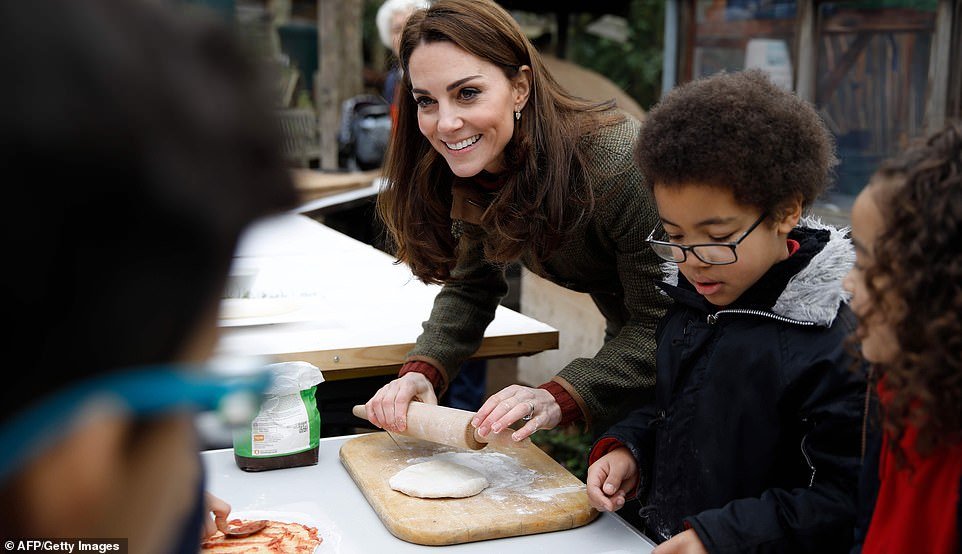 Kate replied: ''They would love to come and do this with you. They will be very sad that I've been out here waking pizzas with all of you and they haven't been here. They are in school.''
''What school do they go to?'' Another child asked.
''They are in a classroom. Their school is called Thomas's. George is at a school called Thomas's. He's learning about space. Have you all learnt about space?''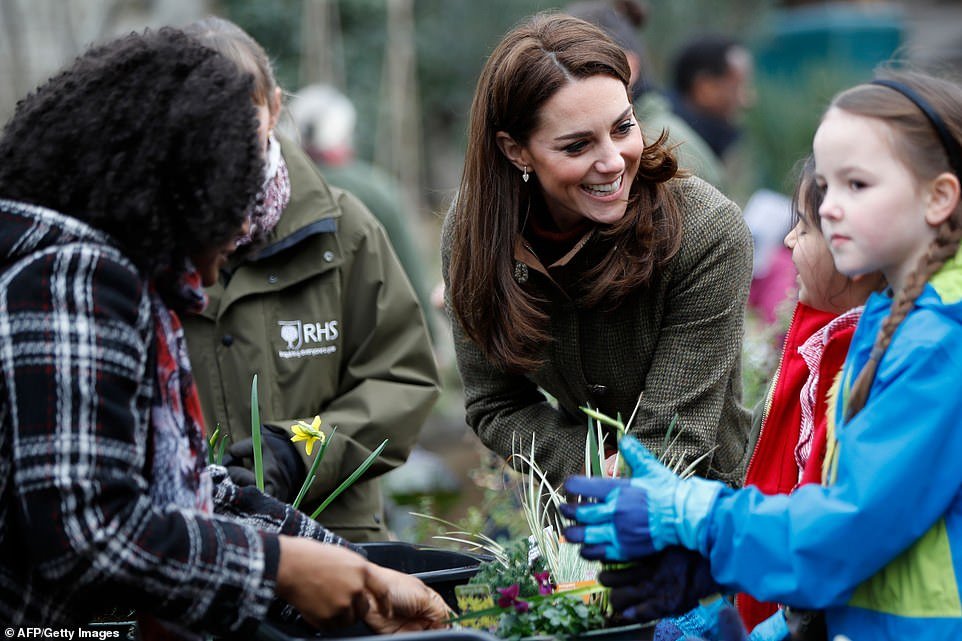 Kate was last spotted attending Sunday service with Prince William on the Sandringham estate just over a week ago but her last official engagement was back in mid-December.
The Royal couple visited the Evelina London's Children's Hospital together on December 11 making it over a month since Kate's last engagement.
Recommended Video – "Everything you need to know about the royal baby Prince Louis"

Enjoyed the article? Check out another interesting story below ▼
---

Share this story with your friends and family!
---