Author and writer, JK Rowling have supported tennis legend Serena Williams after she fell victim to a racist slur in a newspaper cartoon following her loss at the US Open finals.
Yesterday, it was revealed that Williams will have to pay a hefty fine of $17000 for breaching the code of conduct during her US Open match.
The authorities decided to fine the tennis legend $10000 for verbal abuse against Carlos Ramos, the chair umpire, $4000 for receiving coaching during the match, and $3000 for breaking her racket.
Serena locked horns with Ramos after she was warned by the latter for receiving coaching during the second set's second game.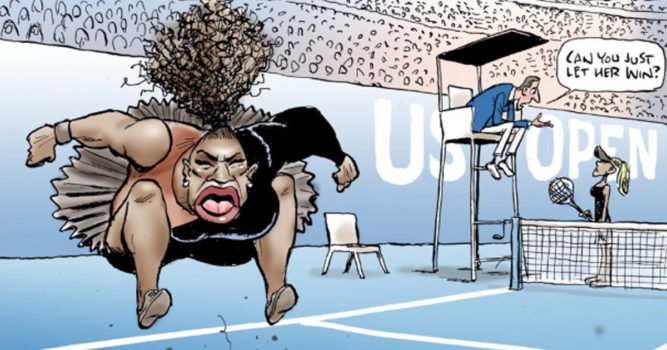 Now, Herald Sun's Mark Knight has parodied her argument with the match referee, who apparently, hasn't portrayed Serena in the most positive light.
However, the cartoon depiction that Knight shared on his Twitter handle is getting roasted all day and intellectuals and celebs like JK Rowling are not happy with what Knight has shared on social media.
Harry Potter fame Rowling in response to Knight's post wrote:

Serena has opposed the referee's calls of her cheating in a relatively matured but heated manner. But this is something that is nowhere to be seen in Knight's cartoon. He has made a legendary tennis player look pathetic and vulnerable.
Patrick Mouratoglou, William's coach told ESPN that he tried signaling Williams but she actually didn't saw him. He added that he believes every player gets coaching and instructions from their coaches during matches.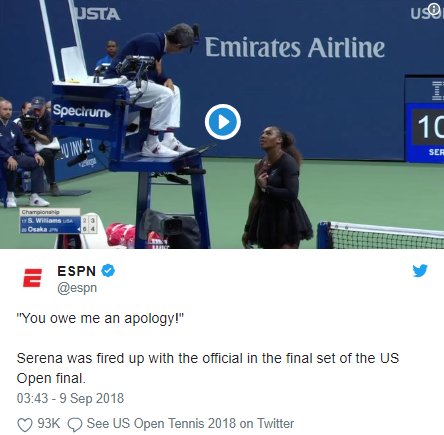 Williams said to Ramos during the match that she has never cheated in her entire life and that Ramos owes her an apology. She said that he is a thief too as he stole a point from her.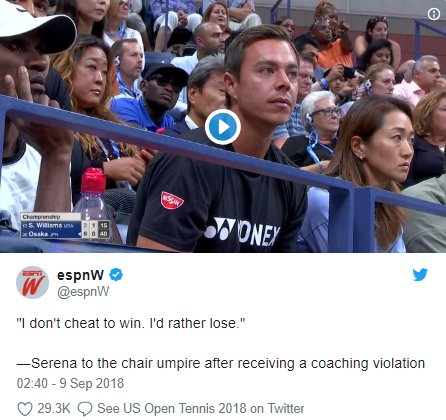 In response, Ramos issued Williams a third code violation that ended up her losing the game. Serena said that whatever happened was not fair and it has happened to her so many times.
Naomi Osaka of Japan went on to become the first Grand Slam champion from the country after winning the US Open title, beating Williams 6-2, 6-4.
If you liked this post, share it with your friends and family.
"Recommended Video –"Two Young Boys Miraculously Survive After Being Buried Under Hundreds Of Bricks While Playing Near Them"
Don't forget to ▼LIKE US▼ for more inspirational stories:)
Enjoyed the article? Check out another interesting story below ▼
---

Share this story with your friends and family!
---