The Marvel Cinematic Universe (MCU) has done a good job of translating the essence of the comics to the big screen. And because of this double source material, movie and comic geeks the world over have practically analyzed every second of every Marvel movie that's come out and posited some pretty impressive fan theories as a result.
But some details still manage to elude everyone, as James Gunn proved to fans when he suddenly pitched in on a Twitter debate about Groot.
WARNING: Spoilers beyond this point!
In case you didn't know: This is Groot.
Reminiscent of the Ents in The Lord of the Rings trilogy, Groot is an intelligent tree creature whose vocabulary is limited to saying, "I am Groot" but backed up by tremendous strength. His eccentric character absolutely caught root in the hearts of fans.
We were introduced to Groot in Guardians of the Galaxy Vol. 1 where he served as Rocket's trusty partner.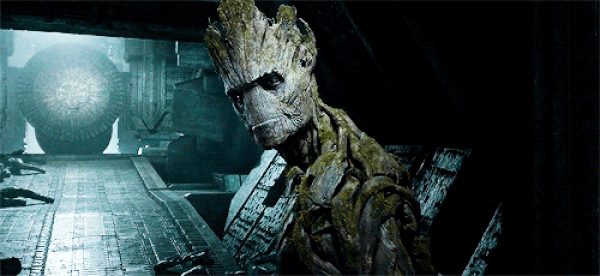 And this little fellow here is Baby Groot.
Baby Groot is all sorts of cuteness packaged into one little twig. While it's easy to imagine cuddling him and protecting him from all sorts of bad things, remember that he's still a member of the Guardians.
After Groot sacrificed himself at the end of the first movie to save our heroes, Baby Groot grew out of his remains.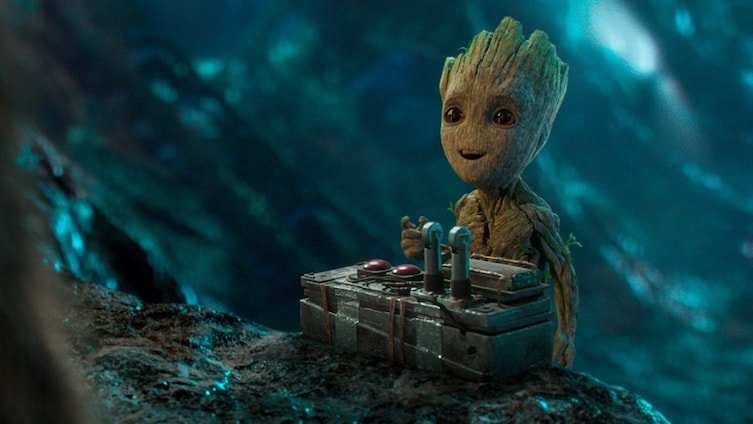 Because Groot was essentially a walking and talking tree, everyone assumed that Baby Groot, who just sprouted from the same body, was Groot himself.
It's a reasonable theory considering that Groot was an alien an no one really knew anything about the physiology of his species.
But James Gunn, who directed the Guardians of the Galaxy movies, proved that fans are just like Jon Snow. We don't know anything.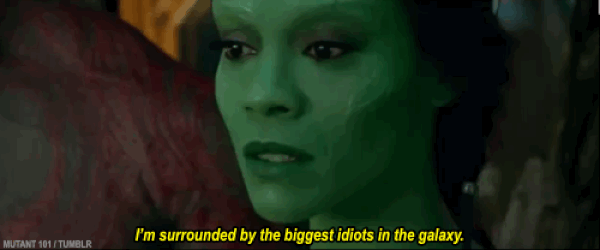 All the brouhaha started when someone tweeted an impossible choice.
Given a choice between saving Baby Groot or a Porg, who would you choose?
In case you haven't watched it, Porgs are those cute little hamster-like creatures that were introduced in Star Wars: The Last Jedi.
Consigning one cute creature to death was apparently not popular and friends and families soon found themselves at each other's throats.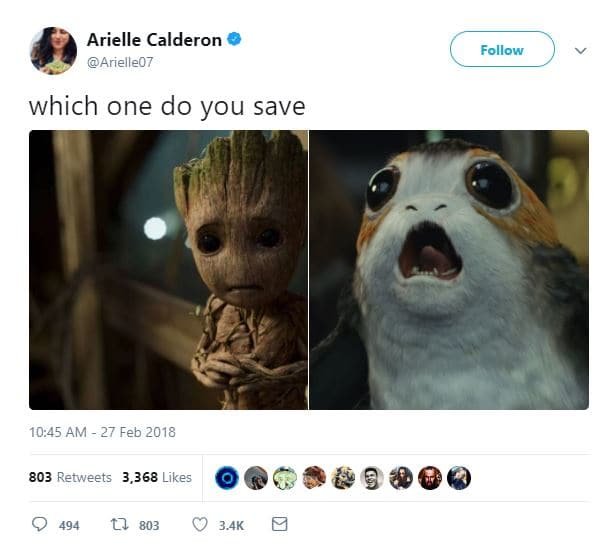 People drew lines on the sand.
The original tweet was obviously asking for trouble because both of these creatures were beloved by fans.
(Incidentally, Star Wars is notorious for introducing minor/side characters that turn out to be almost as popular as the main characters themselves, e.g. Boba Fett).
To the surprise of many, Jame Gunn himself decided to weigh in on the debate.
To Gunn, the choice was obvious. Groot is an "advanced lifeform" while the Porgs are animals.
Groot is an intelligent being who even has his own personality. In contrast, Chewbacca had one of the Porgs for dinner.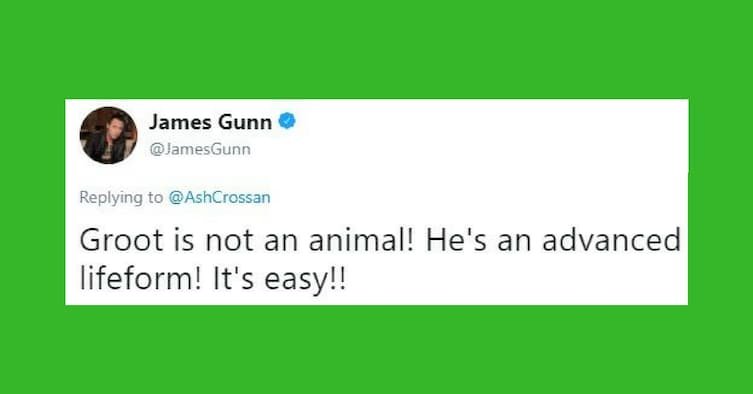 Gunn shot down arguments that contested his position.
A "bird" doesn't hold the same weight as a "being who saved all life in the universe."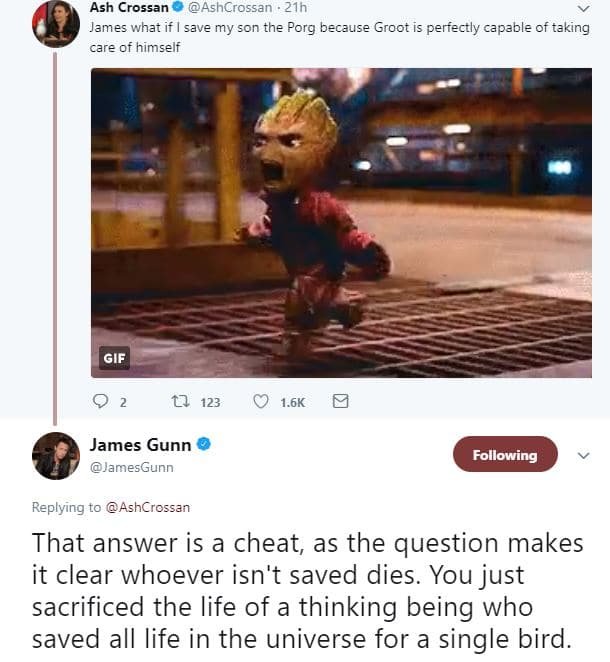 But that wasn't enough to deter people. One user pointed out that Groot could just grow himself back while a Porg would be gone forever.
Gunn apparently had enough and dropped the bombshell: Groot bought the farm in the first movie and Baby Groot is his son!

As expected, pandemonium ensued in the Twitterverse.
One could describe the subsequent replies of fans as ranging from denial, anger, bargaining, depression, and acceptance. In short, the five stages of grief and loss.
On the other hand, it's nice to know that there are no sacred cows and that heroes could really die for what they believed in. It makes Groot's sacrifice all the more valuable.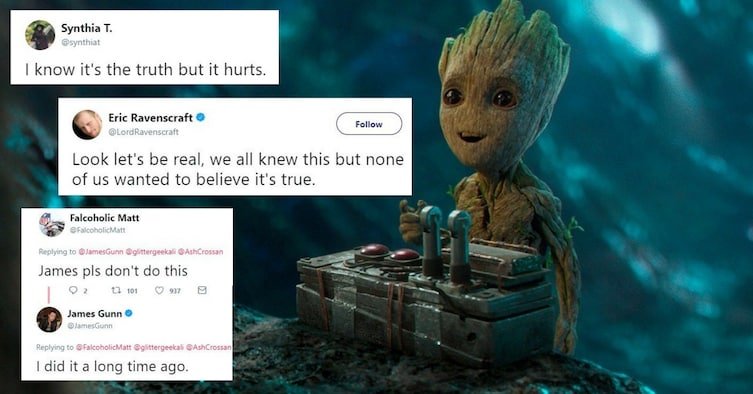 But like some Flat Earth theorists, some fans just refused to accept the original Groot's death.
As confirmations go, you can hardly get more definitive than the director of the movie himself. It's obvious that the news hit some fans hard.

At the other end of the spectrum, there were fans who claimed that they were aware of Groot's actual fate the whole time.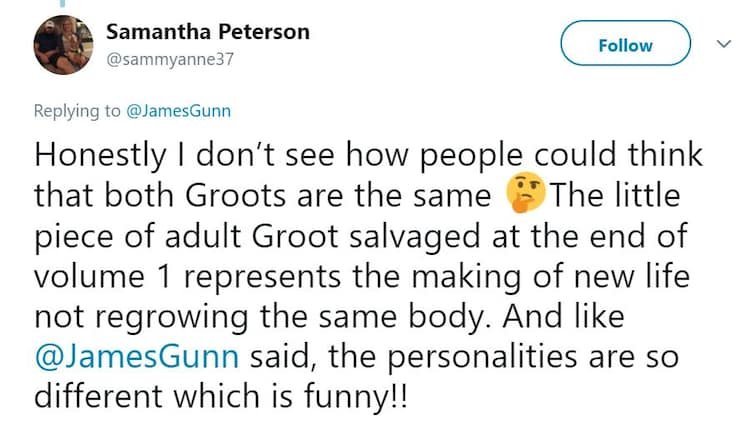 But one fan pointed to Gunn's choice of words as the cause of all the confusion.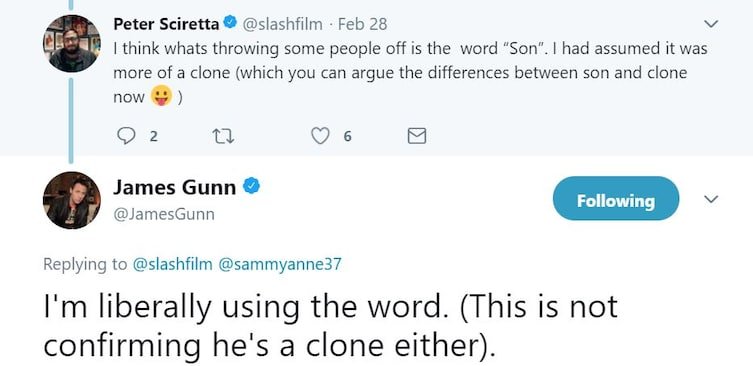 So he sort of is, but isn't. Which one is it really?!
But James Gunn has apparently had his fill of the debate and was quite emphatic about what he said.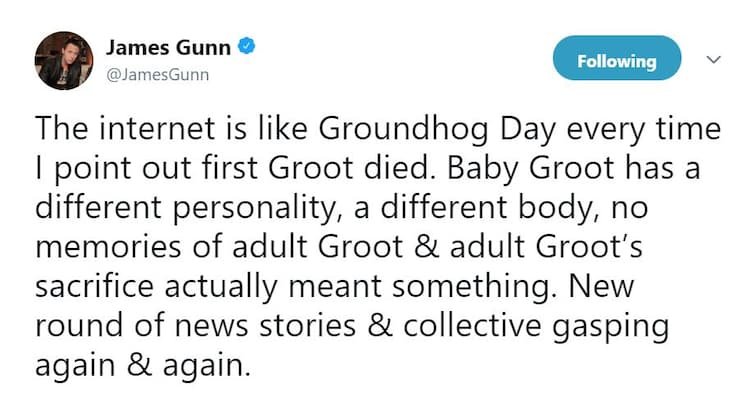 And if that wasn't enough, Gunn did a double-tap.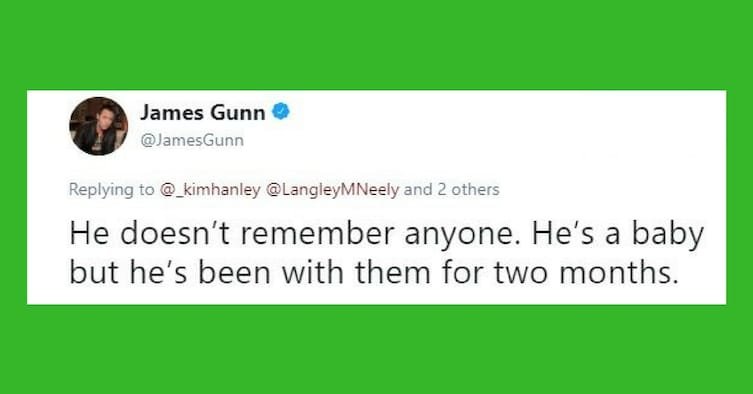 Some fans were placated by this announcement.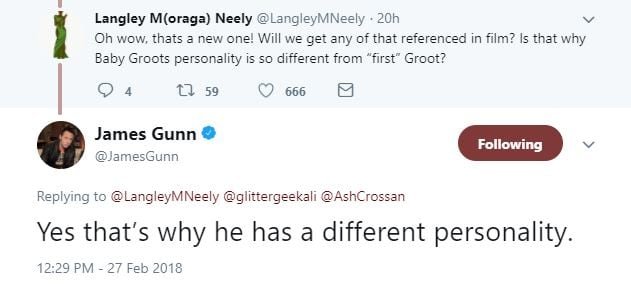 Since Vin Diesel voice-acted both characters (and is set to reprise his role in Infinity War), it's understandable that fans jumped to the wrong conclusion.
Now that we have the Groot question out of the way, we can look forward to the teen Groot's appearance in Avengers: Infinity War.
And people, before posting the next controversial question on Twitter, think twice because we don't know if that will open the next Pandora's Box on fan theory.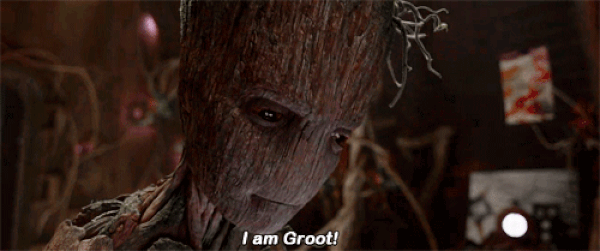 Follow

@smalljoys_of_life
Enjoyed the article? Check out another interesting story below ▼
---

Share this story with your friends and family!
---