Watch the adorable video below.
Video credit: Rumble
Dogs have been beloved and prized pets even as far back as ancient times because of their loyalty and reliability. The passage of the ages has not changed that dynamic at all and even today, dogs fulfill many important roles, whether it's the ancient practice of being a sheepdog, to K-9 units protecting innocents from drugs and bombs.
Service dogs also perform an important function especially at a time when mental health has been brought further forward into public consciousness. This fierce dependability can even be observed in toy dogs who will not hesitate to come to the defense of their owners despite their diminutive size.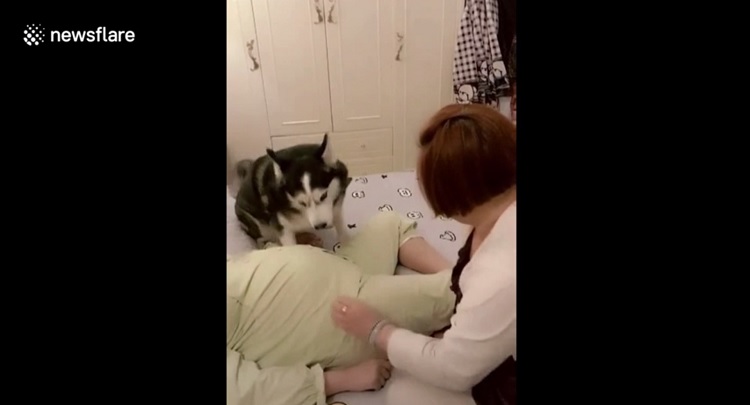 In the following video, we see another adorable example of a dog "defending" his pregnant owner by preventing another person from touching her belly. The footage was taken on December 17 in Harbin City, Heilongjiang Province which is in the northern part of China.
The dog, a Siberian Husky, can be seen hovering protectively beside his pregnant owner.point 74 | A friend of the owner is on the other side and also sitting on the bed.point 130 | Every time she tries to touch the woman's belly, the Husky gives a short growl before attempting to bite the friend's hand.point 244 |
It's not a serious attempt though as the woman is easily able to avoid it each time and the dog stops whenever the woman has fully pulled back.point 122 | But the message is clear: he doesn't want anyone touching his owner's belly!point 198 | 1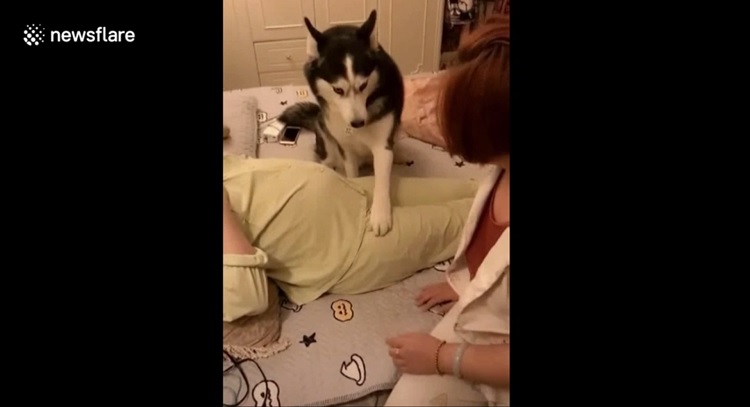 The friend can be heard saying: "Oh my God, I cannot touch. Let me touch it!" The owner rubs her hand on the dog and tells him, "It is OK." But the dog is resolute and still prevents the friend from laying a hand on the belly, even going so far as to place his paw as if to physically block the other woman from trying!
According to local reports, only the woman's husband is allowed to touch his wife's belly. Anyone else is turned away as demonstrated in the video.
It's a heartwarming display of protectiveness and it's clear that the dog is aware of the changes in his owner's body that indicate she's pregnant. And even before the infant is born, the dog instinctively recognizes that this is an important life that he needs to defend and he really takes his job seriously!