A 53-year-old man has left his wife of 25 years after she chose her hoard of rescue dogs over him.
'It's me or the dogs,' Mike Haslam gave an ultimatum to his animal-loving wife Liz but the 49-year-old woman wasn't willing to compromise on her love for the 30 rescue dogs she owned.
She said: 'My husband said it is me or the dogs. I haven't seen or heard from him since. I thought after 25 years, he should know giving up the dogs was not what my intentions were.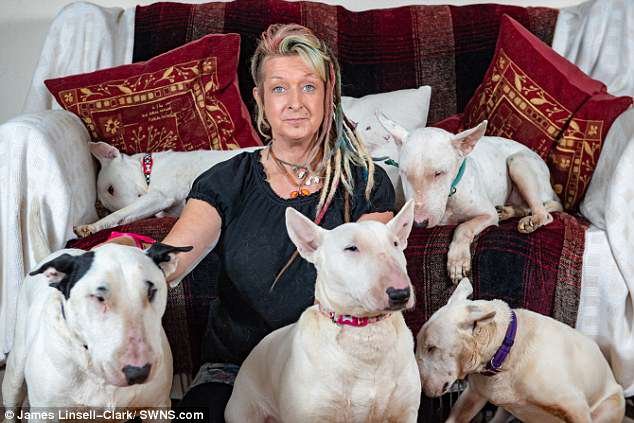 'He just got to the point where he had enough and he wanted to slow down. But I wasn't prepared to give it all up. So he decided to go, and obviously, that was his choice.'
They met each other when Liz was 16 and started living together after she had finished her school. The couple tied the knots in January 1991 and have a 22-year-old son named Ollie.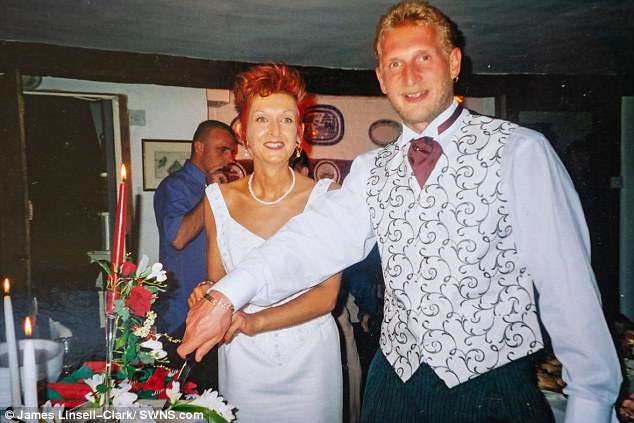 Liz has loved dogs ever since she was a child. Her father owned an animal food business while her mother bred West Highland Terriers, so she spent a major part of her life with dogs before she started living with Haslam.
Liz started a boarding kennel business seven years ago when the couple moved into a 2-bedroom farmhouse in Barnham, Suffolk, with half an acre of land.
After that, she founded an organization named BedforBullies to rescue Bull Terrier dogs. But the increasing number of dogs pushed her husband to his limit.
'We just drifted more and more apart. He was heavily into his work and it left me with nothing to do. I didn't want to be a work widow so I buried myself in my dogs,' the mother-of-one said.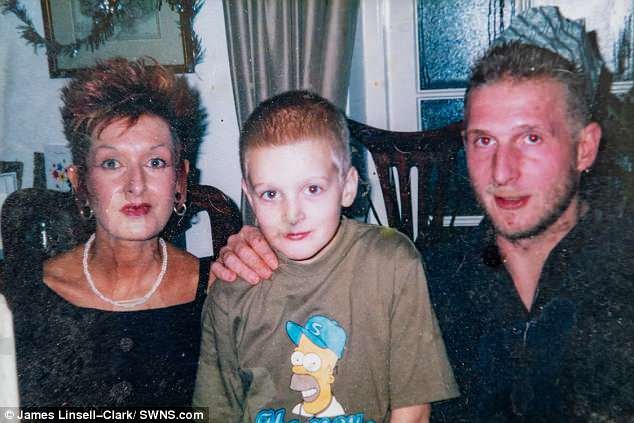 'He knew from the moment that we got together what I was all about. I don't know what he expected. He told me he was going and had sorted out some other accommodation so he packed his bags and went.
'Before we split up he kept saying 'I do not want to be doing this, I want to get a passport and go away'. I said that isn't going to happen so we might as well go our separate ways, which we did.'
The couple didn't contact each other ever since they separated 18 months ago.
'My son's grown up and is old enough to look after himself,' she said. ' If I hadn't buried myself in it I would have just been sitting at home twiddling my thumbs and that's really not me.
'My passion for dogs was far too great for Mike. He decided that it would be nice to do more other things in life. He felt as though he wanted his own life back but I said it is too much of a passion of mine to give up.
'It just got to the point where he was fed up with the dogs and wanted to slow down but that wasn't my intention.'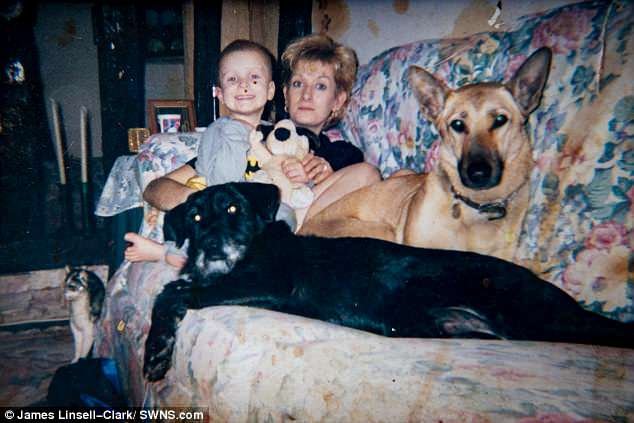 Liz, further revealed that she has taken in more dogs after the separation and is even looking after a homeless man.
'It is very deliberating job, you can't have a day off,' she said. 'I don't sit down till 11:30 pm at night so you can't just go on holiday.
'And I can't just turn around and say I am not going to do it anymore, it is my responsibility, I took the dogs in I can't just stop. They are rescue dogs which cannot be re-homed.
'I have taken them in to look after them, I save dogs from all around the world that have been shot and badly injured.'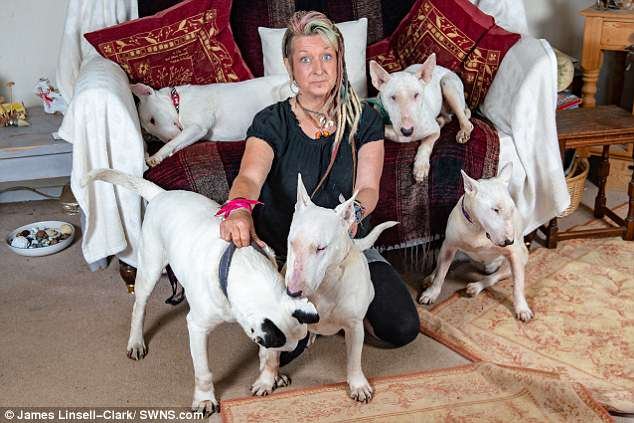 Nearly 15 out of the 30 rescue dogs have extremely demanding needs. One has brain damage, four suffer from defects, three are ex-fighting dogs, two have one eye, and five are deaf. All of them are bull terriers and Liz has names for each one.
Over the years, the woman has rescued more than 200 dogs. Her charity organization BedforBullies takes in dogs that other rescues won't and 'purely relies on donations.'
Her kennel business is successful but it has just 7 spaces to let out so it doesn't cover all of her costs. But Liz is adamant and couldn't be happier – despite the property owner asked her to move out of the house within a year.
Still, nothing keeps her from taking care of the dogs!
She spends hundreds of pounds every month on their medication and other treatments and spends around 18 hours of her day looking after the dogs as she walks them four times a day.
"Recommended Video – The Bonding These Dogs Share With Their Owners Will Make Your Day"
"Recommended Video – This Man Was Distraught By The Death Of Two Of His Dogs, When He Got His Birthday Present, He Couldn't Stop Himself From Crying"
Enjoyed the article? Check out another interesting story below ▼
---

Share this story with your friends and family!
---