An American hunter has sparked outrage after her photo with a rare black giraffe she shot on a hunting trip went viral on the internet.
The debate surrounding trophy hunting is nothing new but with this recent incident, a huge number of people around the world have severely argued against the cruel sport of killing the majestic animals.
When the American hunter Tess Thompson Talley managed to bring down the mighty beast during her hunting trip to South Africa, she proudly posed with the dead animal belonging to a very rare group of giraffes.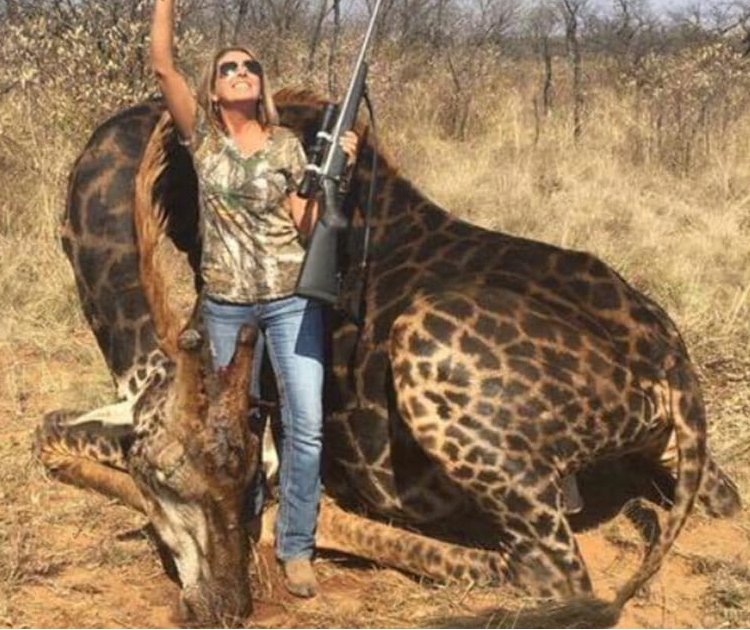 As if it wasn't enough, the woman even went as far as to share the photos online panicking the animal lovers and activists across the globe.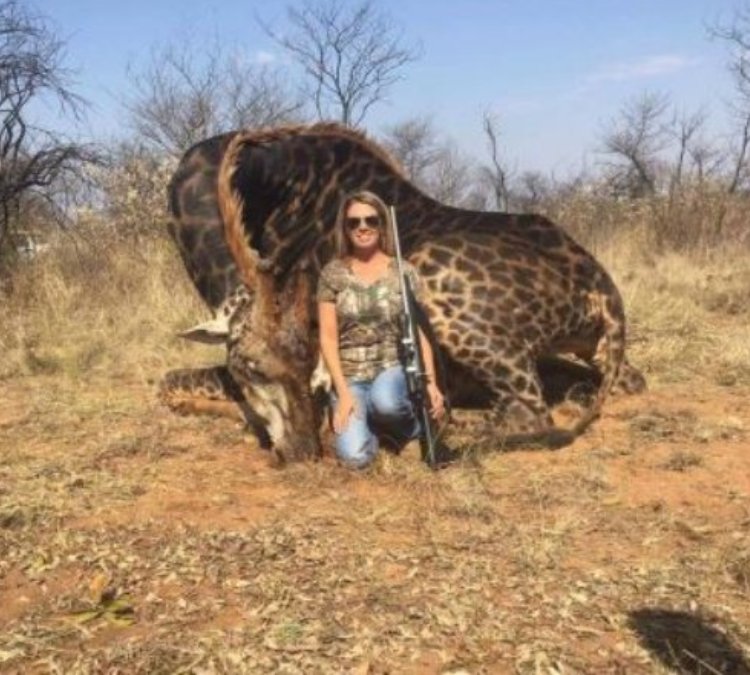 Africa Digest shared the incident to Twitter and wrote: 'White American savage who is partly a neanderthal comes to Africa and shoot down a very rare black giraffe courtesy of South Africa stupidity. Her name is Tess Thompson Talley. Please share.
If our so-called governments can't care for our wildlife then its time we stand up and responsibility of our continent, lands, resources, and wildlife…. share share share! and let's have a united voice against pillage of Africa, it's the only home we have.'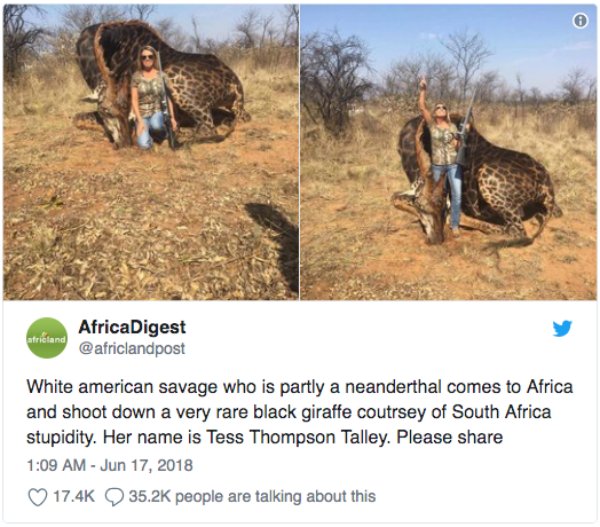 Though it isn't appreciated by nearly all of the citizens, trophy hunting has been becoming an extremely profitable source of income for South Africa. It is, in fact, the biggest factor for the country for attracting tourists from all over the world.
The business of letting tourists kill the majestic animals may be popular and profitable, however, the financial gains are not believed to outweigh the loss of country's precious wildlife.
The situation is no different in many other parts of the world but as the result of severe opposition from the animal rights activists, several countries have either banned or regulated the sport.
France, Australia, and the Netherlands have banned the importation of trophies of lions while India, Kenya, Brazil, and Botswana (amongst many others) have banned the sport altogether.
More than 1,700,000 animal trophies were traded around the world between 2004 and 2014, and nearly 200,000 of those animals were classified to be threatened species by the IUCN.
As of now, South Africa remains open to tourists looking to hunt and kill animals, but let's hope they soon ban this cruel sport like the other countries.
"Recommended Video – Elephant Herd Rushes To Help Baby Elephant As It Gets Trapped In A Pit"
Enjoyed the article? Check out another interesting story below ▼
---

Share this story with your friends and family!
---