Elon Musk has sent his top engineers for helping rescue the 12 children trapped in a flooded Thai cave with their football coach. The team is trapped 2,600 ft (800 m) underground, the equivalent of two Empire State Buildings stacked on top of one another.
On Twitter, Tech billionaire suggested creating an underwater air tube for the children which will allow them to crawl through the cave.
Musk said his boring company which specializes in digging tunnels for advanced transport systems could create an underwater tunnel by feeding a nylon tube into the submerged sections of the cave and inflating it 'like a bouncy castle.'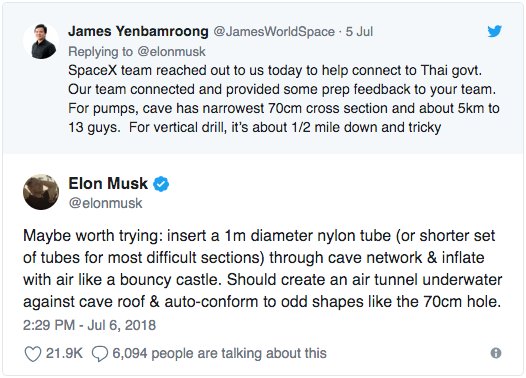 Air pumps and battery packs would be used to inflate the nylon tube after it has been submerged underwater.
The 47-year-old further added that his engineers must be on site to oversee the safe evacuation.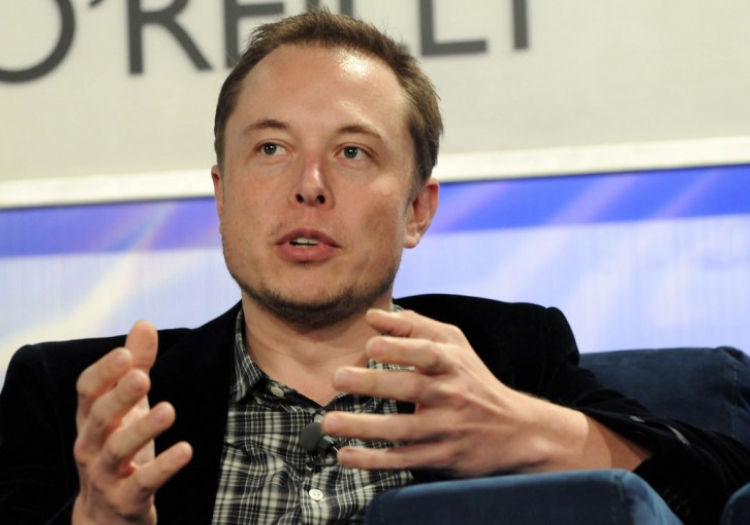 'We are speaking with the Thai government to see how we can help, and we are sending SpaceX/Boring Company people from the US to Thailand today to offer support on the ground,' a spokesman for The Boring Company told the BBC.
'Once we confirm what exactly will be helpful to send or do, we will.
'We are getting feedback and guidance from the people on the ground in Chiang Rai to determine the best way for us to assist their efforts.'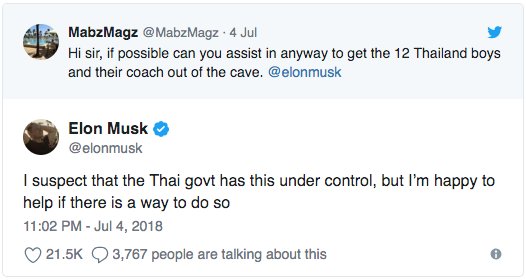 Speaking to MailOnline about the escape idea proposed by the SpaceX founder, Professor of Geology at the University of Aberdeen, John Howell said 'if anyone could do it would probably be [Musk]'.
'It's a clever idea and, in theory, there is no reason as to why it wouldn't work,' said Howell.
However, there are many limitations which could prevent the idea from its practical execution.
'It is limestone so the rock is going to be very sharp and irregular,' he said.
'It will also need to be used by several people at once, increasing the risk of a tear. One rip and it's going to fill up with water instantly.'
Transporting the nylon tube is also another problem.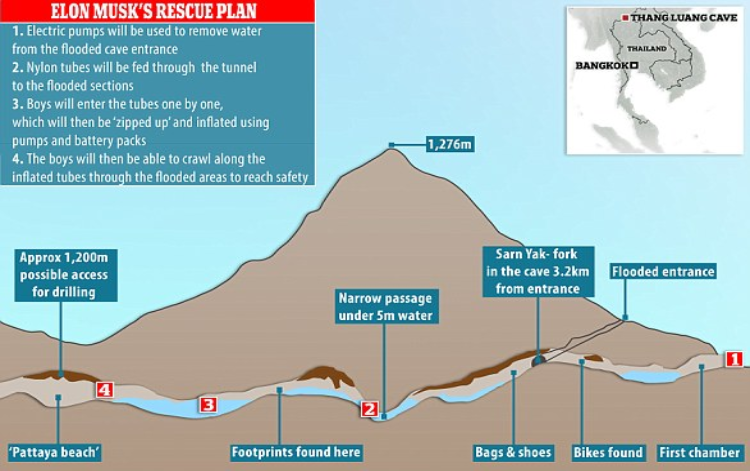 'Professional divers have struggled to get through to the boys as it is, one of them died earlier today,' Howell added.
'Imagine this but also trying to drag a one-kilometre long tube behind you.
'The practicalities make me think it is not possible,' Howell said in conclusion.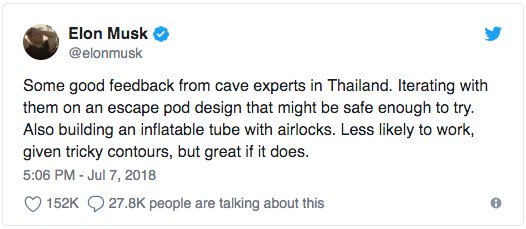 Chair of the cave research association Professor John Gunn from the School of Geography, Earth and Environmental Sciences at the University of Birmingham also opposed the idea proposed by Tesla co-founder.
He said: 'If you imagine a tunnel under London flooded, this this would be straight with a few bends.
'However, this is more like asking to thread a pipe through all the aisles of a supermarket, up the stairs, down the stairs and then back through the aisles and also in total darkness and underwater.
'You can see it is more complicated. If he was proposing the pipe is moved by divers then I think that's a non-starter.'
Another proposed approach was to drill down the cave for accessing the tunnels. However, drilling expert Kelvin Brown said drilling could result in the trapped boys being hit by falling boulders.
Professor of Applied and Environmental Geophysics at Keele University Peter Styles added: 'It may be worth trying to see whether there is access into the cave where they are from the surface or whether it is feasible to make one if there isn't a natural access.
'If it is already partly connected it would be feasible but tricky.
'To drill a shaft big enough to get folks through in virgin rock is difficult but not impossible, as the other alternative may be to wait for the waters to fall which, as they have said, may be months.'
Health experts are concerned about the mental effects the ordeal will leave on the youngsters.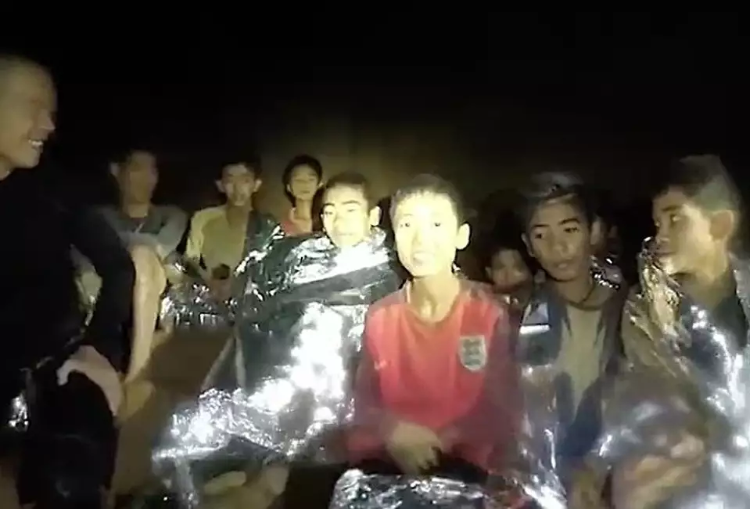 'Many of the young people trapped in the cave in Thailand are likely to develop new psychological symptoms in the short-term,' said Andrea Danese, head of the stress & development lab at the Institute of Psychiatry, Psychology & Neuroscience, King's College London.
'They may become fearful, clingy, or jumpy; they may be fear for their safety; they may become very moody or easily upset.
'In contrast, they may become detached or numb; or they may develop headache and stomach-ache related to the intense distress.
'Most of these young people will recover from these symptoms in a few weeks at most.
'However, we can expect that a sizeable proportion involved, between 10 and 20 per cent, will develop more enduring mental health problems related to the trauma, such as post-traumatic stress disorder (PTSD), depression, or conduct problems.'
"Recommended Video – Hero Lifeguard Manages To Save Boy Who Was Drowning While Surrounded By Clueless Swimmers"
Enjoyed the article? Check out another interesting story below ▼
---

Share this story with your friends and family!
---