LIKE OUR PAGE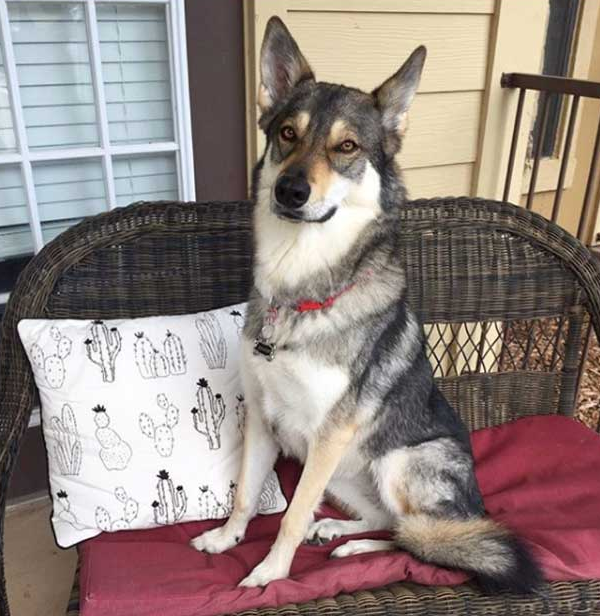 Many of us wish to make a right decision and only have a circle of real friends. However, human beings are unfortunate to lack this ability. I don't whether it is due to their capacity to hide their true color at the beginning or something else. We are unable to even choose from our siblings. In many cases, our choice of friends surpasses the ones we make within our family ties.
Here comes a dog named Raven, which had to make the two choices at once. Choose a sibling who would also serve as her best friend, so the day came.
Christina, the owner of Raven who was a puppy at that time, set off in the company of her pet. Her destination was a Lubbock animal shelter in Texas where Raven had to make a life-determining decision. Her lifetime companion.
Christina told The Dodo that she has always wished to see a cat and a dog growing up together. She had adopted a Tamaskan Husky dog, Raven, just a month earlier. And there she was, looking for a cat. Her love for pets is evident. Maybe they would give her company or whatever the reason that made her fall in love with them only she can tell.
Raven was ready to choose her partner, and she won't take it lightly if the whole process would have been a delay. So, four kittens were brought right before her. She inspected, one at a time till the last one. Her response was rather unusual, and the attendants together with Christina were in a great shock. She turned down the four kittens.
It was not until Raven's sight caught another kitten from a distance that those who were present sighed in relief! She identified her soulmate. Raven fell in love with Woodhouse. Christina could not hide her happiness. She smiled broadly saying that she wanted the two to have a good relationship and stay together as one. "…I wanted her to meet the cat and let the cat company her." She added.
Nothing is so beautiful to find an animal with the ability that Raven possessed. She knew what she wanted and went straight to it without any distraction from the first four that the attendant thought would be fit for her. Sometimes we must make decisions for ourselves so that we can be accountable for the consequences of our choices. No need to blame anyone.
Christina never knew how colorful the relationship between Raven and Woodhouse would be until she got home with them. She was amazed at just what she could not describe. She must have been happy to have the duo in her company.
"They are a perfect match." She said.
The two animals are always there for one another. Play together and sleeps together. Raven found what she had missed in her entire life. Her loneliness came to an end from the day her owner did her the great honor. It was indeed beautiful to see them move along quite well. It never took Woodhouse much time to adapt to her new home, maybe because she received a welcoming host, Raven.
One night, Cristina was doing a regular check on her beloved pets and what met her gaze was commendable. She became even happier. She had created a 'Raven and Woodhouse' Instagram page for them, and so she shared a post.
Christina was delighted to see the two pets adopting such a sleeping posture so, she reached for a camera and turned the light on to take a snap. Owing to the sensitivity of Raven, light woke her up and she raised her head as was captured in the photograph. Words can't explain how the two had a great love and trust, but the picture reveals it all. Her post on the Instagram page reads: "It warms my heart, I can't believe that I got them all for myself."
Raven and Woodhouse's good pranks are evident on their Instagram page. They have gained more than 87,000 followers, and the figure increases every other minute. Everyone is attracted to their beauty and how they get along just as if they are from the same family. It is quite adorable!
The two animal friends ever seen have their friendship started on the very day at the animal shelter when Raven declared her interest to Woodhouse. If they were human beings, then Raven would have gone to her ears and be like "I want you." How the two attracted to each other with that magnitude of affection is something beyond even Christina. All she had longed for is the duo to move on well.
You can share your comments and opinions in the comment section. Also, feel free to share the story and don't forget to LIKE US ON FACEBOOK.
LIKE OUR PAGE