Watch Sweet Moment Grandson Surprises His Hospitalized Grandfather In The Hospital!
In a sweet moment caught on camera, a loving grandson is seen surprising his grandfather in the hospital before taking his date to the prom.
The touching surprise was organized by Nicole Leon, the mother of the sweet grandson who took the time to visit his hospitalized gramps at a hospital in Webster, Texas.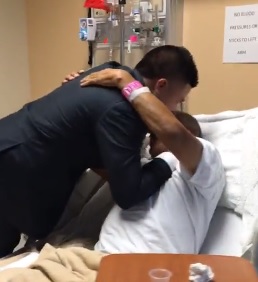 "The video is of my dad and my son. My dad has never missed anything that my son has had from games to banquets," the proud mother and daughter shared.
"My dad is diabetic and just recently had his toe amputated. With diabetes, it's slow healing and requires him to stay in the hospital to avoid infection.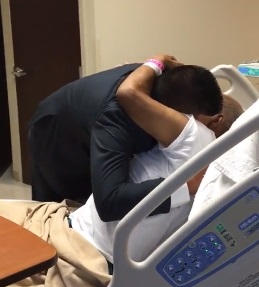 "We knew that he would still be in the hospital during my son's prom and he would miss that special moment. All week my dad kept telling my mom that he knew he couldn't be there but he did not want her to miss it. As long as he got pictures he would be happy."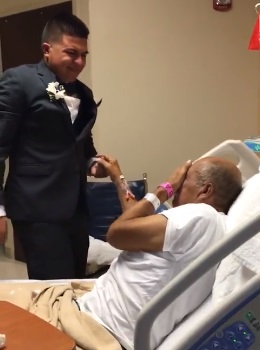 Knowing how much he means to his grandfather, the loving grandson decided to take his date on a short detour before getting on with their prom.
"That's when we decided we would make every effort to get my son to the hospital just to pop in and say hi," Nicole added. "It was a moment I will never forget and thankful my daughter caught it on video."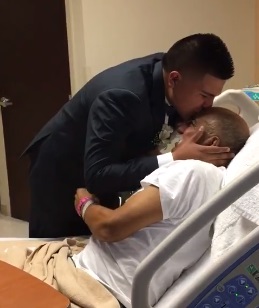 In the video, the grandson and his grandfather are seen bursting into tears as soon as they lay their eyes each other. Before taking leave, they share a tight hug and give each other a kiss on the cheek.
What are your thoughts on this story? Let us know in the comments and don't forget to SHARE this post with your friends and family!