Six years old Jia Jia living in China left abandoned by mother. She has been left alone to take care of her disabled father for more than two years. It is often seen that the hardest situations in human life help top unwrap the strongest side of the person about which they themselves may not be aware of.
A terrible accident changes the life of the six-year-old along with the fate of her whole family. Her father was left paralyzed in the car, and at the same time, her mother left them. She was all alone to take care of her father.
Scroll down to watch the video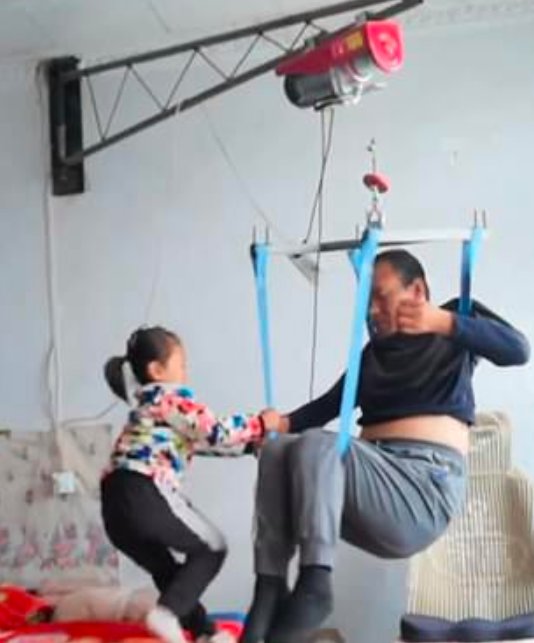 She started to look after her father in their Ningxia Province home and faced with some of the toughest situations of life. Though she was too young to take care of her father, she still did not give up.
Watch the video below:
Video credit: Pear Video
According to Chinese news reports, the little girl used to wake up as early as 6 am to massage her father. Following this, she brushes his teeth and helps him in other grooming procedure before she gets ready for the school.
Even after returning from school, she feeds her father and also helps him to move around in the house. She also does her responsibility when she is in school and asks her grandparents who are farmers to take care of her father.
The little girl further stated that she did not feel exhausted in taking care of her father. Tian Haicheng is a 40-year-old man who got paralyzed in the chest after he met with a taxi accident that crashed. Two and a half months later this incident, his wife abandoned him with their elder son.
Mr. Tian explained to the reporters that his wife went to her mother's house, but she never came back. Even after years, he could not manage to meet his wife and ask for the divorce.
The little girl Jia Jia has stood as the pillar of the family from an early age of four. In this regard, his father said that he is grateful to have a daughter like her. He further said that his daughter takes up too much difficulty in moving him around the house and help him get to the bed easily.
Therefore, Mr. Tian has to rely on his parents' farming incoming for his livelihood and pay medical expenses. In addition, he has to link his own account on Kuaishou which is a live streaming application to let other people know about his condition. It would help him to seek help from strangers.
Jia Jia has to use all her strength in order to move her father from the bed to the wheelchair. She has to go through a difficult physical task in order to help her father sit in the wheelchair properly. Among all task, she is best at shaving his father's beard.
However, the willing power of the small girl to take good care of her father is simply appreciable and her courage and dedication are also worth noting. The live streaming application has reached the attention of more than 480,000 followers by now.
Share this post with your friends and family.
Recommended Video – "Stepfather Gives A Priceless Reaction When His Stepdaughter Gives Him Her Adoption Papers As A Birthday Gift"
If you liked this post, we would love to hear from you:)
Enjoyed the article? Check out another interesting story below ▼
---

Share this story with your friends and family!
---