Have you ever tried drinking ginger water? Do you know the various health benefits related to it? If not, then this article is for you.
Here are five different ways in which you can use ginger–
Ginger Water acts as an immunity booster


Google Images
People have been drinking ginger water since ancient times and availing the amazing benefits that it has to offer. It keeps you healthy and keeps the flu away by keeping the immune system healthy. However, if you are already suffering from cold, cough, or flu then ginger water will act as an anti-inflammatory substance, rather than a cure.
Ginger Water as a tummy tamer


Google Images
If you are feeling bloated and excessively full then ginger water is the remedy you need. Ginger calms the stomach down and increases the number of digestive enzymes by stimulating intestines, which helps to digest the food easily.
Ginger Water as a pain reliever


Google Images
If you are suffering from muscle and joint pains then drinking ginger water can help. A study conducted at the University of Georgia found that drinking ginger water before eating food helps to relieve 25% pain in muscles and joints.
Ginger Water as a period pain reducer


Google Images
Ginger water act as a perfect alternative for ibuprofen. Ibuprofen is the medicine that women generally prefer when their menstrual cramps become unbearable. Ginger water helps to reduce the factors that are responsible for headaches, stomach cramps, and backaches.
Ginger Water as a fat burner


Google Images
Try drinking ginger water regularly if you want to get rid of fats stored in belly, thighs, and waist. However, exercising continuously and eating a balanced diet is still required, ginger will help you by attacking these sites specifically.
When is ginger most effective?
Studies conducted at Columbia University concluded that morning is the perfect time to drink ginger water.
They found that people who were eating ginger in their breakfast burn forty-three more calories than people who were not. Meaning that those people were burning 300 calories extra, which is equivalent to a workout session.
Ginger Tea
Drinking ginger water is not the only way by which you can add ginger to your diet. Ginger tea is another way.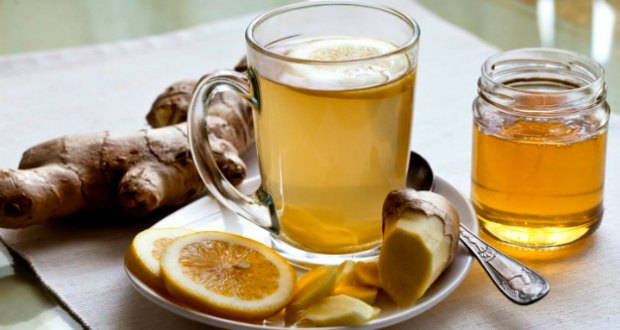 Preparing the tea is not difficult, either. Simply heat the water as you normally would and add a piece of ginger to it and allow the water to boil. Turn the heat off after five minutes and add some lemon juice in the tea if you find its taste too much overwhelming.
Ginger Water
Brewing ginger water is easy, and you can store it in the refrigerator and drink whenever you feel like. However, drinking it before eating the breakfast is the ideal time to drink it.
Chop a piece of ginger finely and add it to boiling water. Let the water boil for another fifteen minutes and then turn the flame off. Add some lemon juice to mask its taste and refrigerate it.
Share it with your friends and family.
"Recommended Video –5 Things You Shouldn't Do Before Or After Sex"

If you liked this post, we would love to hear from you:)
Follow

@smalljoys_of_life
Enjoyed the article? Check out another interesting story below ▼
---

Share this story with your friends and family!
---