A gay penguin couple 'kidnapped' a baby penguin while its parents toddled off for a swim, a zookeeper claims. The drama unfolded in a zoo in Denmark, when the chick's father and mother were having their daily paddle.
Animal keeper Sandie Hedegård Munck said the gay penguin couple at Odense Zoo has been desperate to become parents.
So, she states when they spotted the chick being 'neglected' by its parents, the male penguin couple decided to interfere and steal it in hopes of adopting it.
Scroll down to watch the video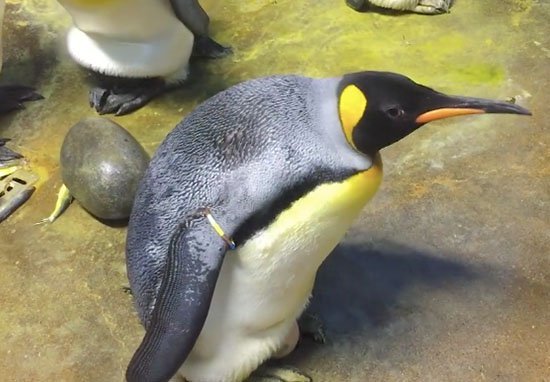 Sandie said she could see that something was completely wrong. The parents left and the chick was simply abducted. It was a pair of gay males who had snatched the kid and was stood with it.
Sandie told Danish broadcaster DR she believed the mom had gone for her routine bath and when she did not return in time, the dad seemed to have overlooked all about his parental responsibilities and left the kid alone.
She added when the gay couple saw the baby alone they perhaps thought "that's too bad, we will steal it."
Everybody at the zoo thought that the mother and father would return to claim their baby back, but that did not straightaway happen.
The Odense Zoo shared a video of the moment when the gay penguins were confronted by the straight couple as they hovered over the stolen chick. However, at first, the father penguin strutted around as if he had never had a kid.
Watch the video below:
Video credit: Odense Zoo/Facebook
Finally, they did come looking for the chick and it was decided to give them the guardianship of the baby.
At first, the two-toned, flightless fellas got in a flap about giving up their adopted child without a fight, but the zookeeper said with a heavy heart, the gay couple eventually let go.
The would-be parents didn't want to give up the chick but with the help of the authorities, the poor chick was returned to its biological family.
It really took the wind out of their sails when they found out they didn't get to keep the baby penguin.
However, while this may pull at heartstrings, the story doesn't end here. The zookeepers, after seeing how the wannabe parents cared for the chick, have decided to give them an egg from a mom, who is unable to look after it because of her illness.
Recommended Video!
"Amazing Kangaroo Fight In Australian Nature Park"
Share this post with your friends and family:)
Enjoyed the article? Check out another interesting story below ▼
---

Share this story with your friends and family!
---