A gang of thieves scored big Friday night when they managed to snatch $19,000 worth of iPhones from a New York Apple store while staff helplessly looked on.
A CCTV camera was able to capture footage of the robbery that occurred in Apple's Huntington Station outlet.
Video Credit: DRN/Suffolk County Police Department
It shows five men with hoodies just casually strolling into the store and fanning out to the various display tables and even tapping some of the display phones while carefully trying to keep their faces concealed. Because of their innocuous behavior, both the staff and other customers weren't alarmed.
One staff member who had an iPad on him did manage to look towards the men but he was distracted by having to deal with genuine customers who were asking about the product.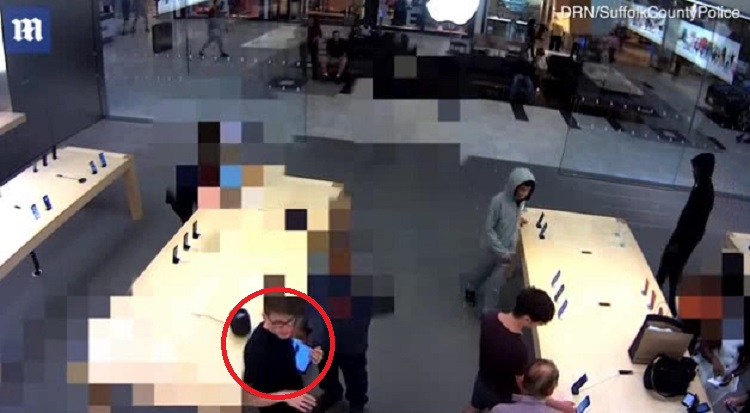 In the meantime, the thieves use the opportunity to scout the whole area and determine what they could most likely make off with. The thieves can even be seen coordinating and giving instructions to each other with one man even holding a hand across his face. However, everyone still remained oblivious to all of this.
Two minutes after they enter the store, they sense their opportunity to strike. All five men immediately act and start grabbing as many iPhones as they can.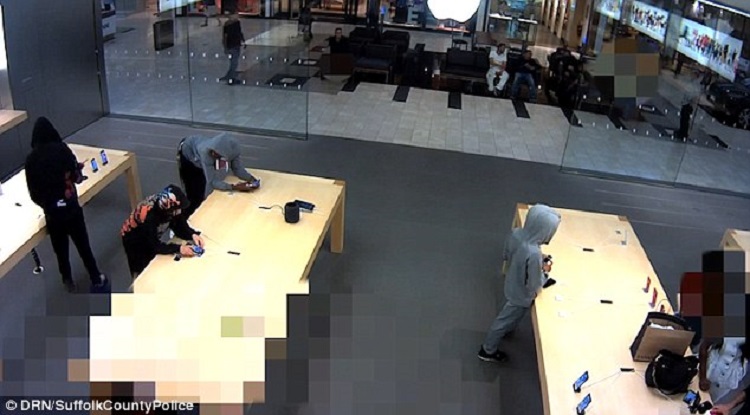 Outnumbered and caught flat-footed, store staff could only watch helplessly as the gang of thieves made their getaway. In all, 21 iPhone 8s and iPhone Xs valued at $19,000 were ripped from their display holders.
Police came out with a statement and a reward for information leading to the arrest of the perpetrators. The statement reads:
"Suffolk County Crime Stoppers and Suffolk County Police Second Squad detectives are seeking the public's help to identify and locate the people who stole merchandise from a Huntington Station store earlier this month.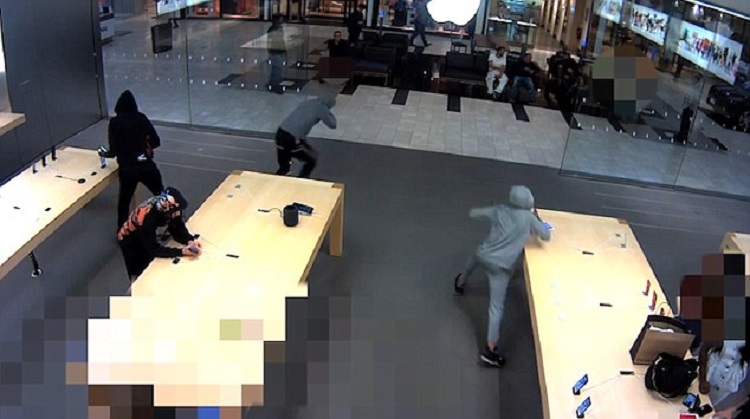 "Five men stole 21 iPhone 8s and iPhone Xs valued at over $19,000 from the Apple Store, located at 180 Walt Whitman Road, at approximately 8:20 pm on July 6, 2018.
"The men grabbed the phones off a display table and ran from the store.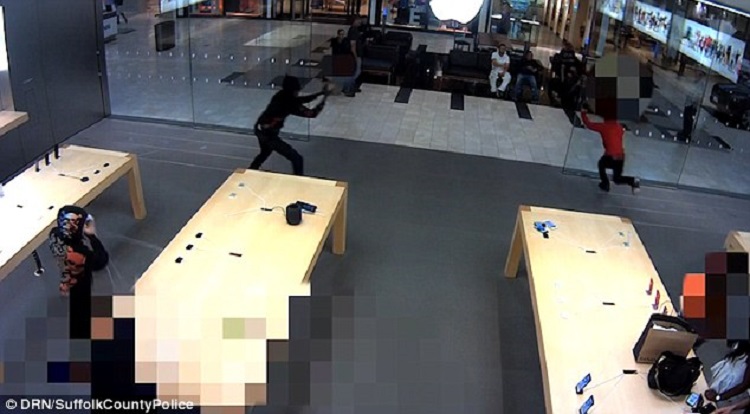 "The men were all wearing hooded sweatshirts.
"Suffolk County Crime Stoppers offers a cash reward of up to $5,000 for information that leads to an arrest.
"Anyone with information about these incidents can contact Suffolk County Crime Stoppers to submit an anonymous tip by calling 1-800-220-TIPS, texting 'SCPD' and your message to 'CRIMES' (274637) or by email at www.tipsubmit.com.
"All calls, text messages and emails will be kept confidential."
"Recommended Video – Hilarious Moment Woman Fleeing Cops Through An Air Duct Falls Through Ceiling Of Convenience Store"
Enjoyed the article? Check out another interesting story below ▼
---

Share this story with your friends and family!
---