A group of teen friends from Australia has found out a genius way to 'hack' an arcade machine and win every single time they play the arcade game that the device offers.
The crafty teenagers filmed themselves winning the jackpot prize and revealed how they beat the popular arcade game called 'Deal or No Deal'.
Scroll down to watch the video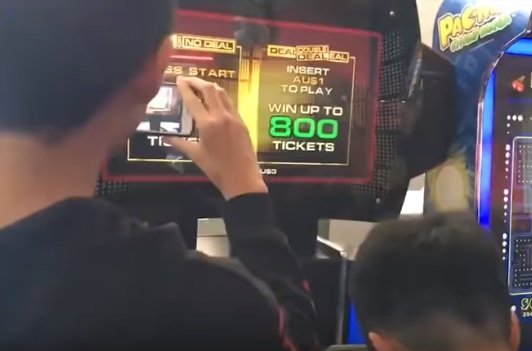 The only things that the teens used to play their clever trick were their favorite tools – their smartphones.
Video credit: Newsflare
At the beginning of their video, the boys took out their phones in anticipation as the arcade game at the Zone Bowling center in Australia was about to get started.
The 'Deal or No Deal' arcade game is based on the popular worldwide TV show that goes by the same name. In the game, the player has to choose from a preset number of sealed boxes and eliminate them one by one until reaching the final box and the reward it contains.
In this particular case, the arcade game presented the teens with 16 opened boxes, with each of them containing between 1 and 800 points.
Then, the boxes were closed and the numbers are hidden while the machine rapidly shuffled them, making it unable for a person to follow the boxes with the highest points with their bare eyes.
For that reason, the teens filmed the shuffling on their smartphones and carefully reviewed the video, frame by frame, on their phones after the shuffling.
This way, they were able to track down the box containing the highest number of points and eliminate all others before sealing the deal.
After the machine cashed out their freshly-won tickets, the teens approached the counter and traded their vouchers for a Jenga game which represents a major prize at the arcade games center.
What are your thoughts on their genius approach to beating the game? Let us know in the comments and don't forget to SHARE this post on Facebook!
Recommended Video!
"Propose Girlfriend With Super Mario Game? How Did He Do That?"
Enjoyed the article? Check out another interesting story below ▼
---

Share this story with your friends and family!
---