LIKE OUR PAGE

Two close and identical twins by the names of Kerri Bunker and Kelli Wall give a new definition to the family bond. With their lives always Crisscrossing, it's at Kelli's wedding that her twin sister Kerri met her husband.
Unfortunately, both Kerri and Kelli were not so lucky when it came to getting pregnant.They could not easily conceive naturally. Sadly, all the doctors they visited to consult about their fertility problems, just rubbed salt into the wound when they told them that it was next to impossible for either of the two twin sisters to conceive naturally.
This devastating news broke their hearts.
The two sisters had longed to have their own children. Despite the fact that they had each other to lean on, they had a void in their lives that they desperately needed to be filled.
With heavy hearts, the beautiful twin sisters decided to explore other options in order to get pregnant. Luckily, after using IVF (in vitro fertilization), both Kerri and Kelli were able to get pregnant. The best part? They both had not one child, but twins. How amazing! The two twin sisters were over the moon.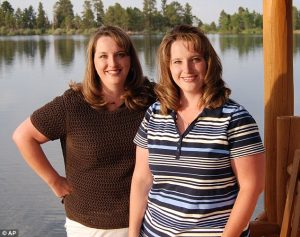 Their dream to have children had finally come to life. After a couple of years, Kelli attempted to get pregnant again. Thanks to IVF, the proud mother of twins was able to conceive.
Guess what? She was pregnant with twins-again!
Kelli was so thrilled, she could not hold back her excitement, she happily shared the good news with Kerri, her twin sister. Kerri on the other hand, on hearing the good news, had an irrepressible, inexplicable urge to make a baby as well. She thought, "What if I was pregnant too? " She further revealed, "I don't even know what made me think I could be.
There was nothing, I mean nothing. And it was just [like], 'why not?' I found out I was pregnant the day she found out she was having twins." Well lo and behold, Kerri was also pregnant.
Surprisingly, Kerri was pregnant with twins as well! Yes-both Kerri and Kelli have been pregnant with two sets of twins, all at around the same time. For twin sisters that thought they couldn't bear the fruit of the womb, you can't even begin to imagine how they must have felt about their incredible luck.
From being childless to having two sets of twins. What a miracle!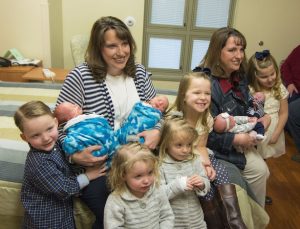 The sisters are still amazed by the blessings that have been poured into them. Their parents strongly believe that everything happens for a reason, so were their twin grand babies. They know that God has a purpose for their lives, so that's why they were born. Kerri explained, "We are chalking it up as a miracle and it's all part of our little plan!"
No matter what happens in the future, these twin sisters know they'll always be there for each other. And there's no better feeling than that! If these two sisters had such an incredible bond, I can't stop imagining what kind of bond their sets of twins will have. To the women out there, that are struggling to get pregnant, please take heart. Wait on God's perfect timing. Your little bundles of joy are on the way.
How blessing they are! I'm happy for them! Please write some messages for them in the comment section below! Also, SHARE with your friends if you wish all the best for their family!
Don't forget to ▼LIKE US▼ on Facebook for more inspiring stories!
LIKE OUR PAGE