Many of us have been searching for the recipes of our favorite McDonald's treats so we could make it on our own. However, the secrets to the delicious meals of the famous restaurant chain are not and will never be available online.
That's why a group of Australian foodies has decided to experiment in an attempt to crack McDonald's secrets using ingredients from the supermarket.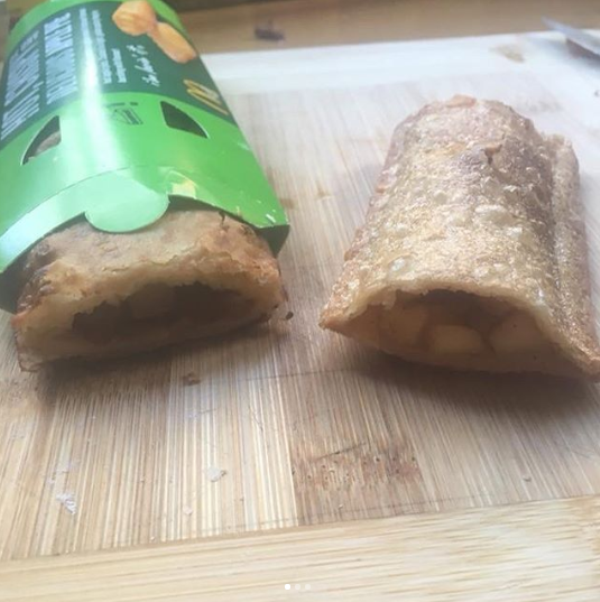 Instagram
Homemade McDonald's FB group already has over 22,000 members, and many of them claim to have made almost the same dupes to top-selling meals including Big Mac sauce, chicken nuggets, chicken burgers, McFlurry flavors, and McMuffins.
31-year-old Joel, the founder and group, told the Broadsheet that he started the group in February but he had been making his versions of homemade McDonald's for many years already.
"I would mostly make QPs (Quarter Pounders), Big Macs or cheebus (cheeseburgers)," he said.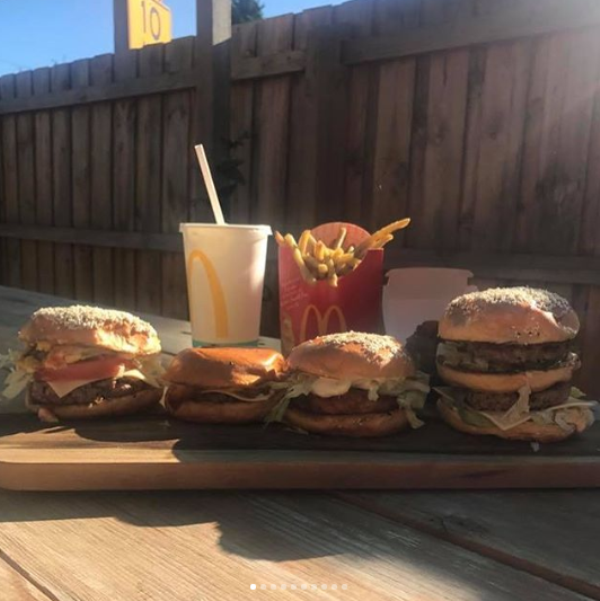 Instagram
Joel also told FEMAIL that he feels many people could benefit from the Facebook page he created. "You know, I'm a big fan of McDonalds and most fast food outlets actually. I like the consistency though which is where McDonald's would sometimes let me down.

No cheese, not sauced well enough, forgot the dipping sauce and you don't notice until you're home with the food. I could go on. I figured if i could make it myself I could perfect it."
The group also has simple rules. It requires members to share only ideas from the restaurant chain's menu – previous or current – and share bite photos of their creations.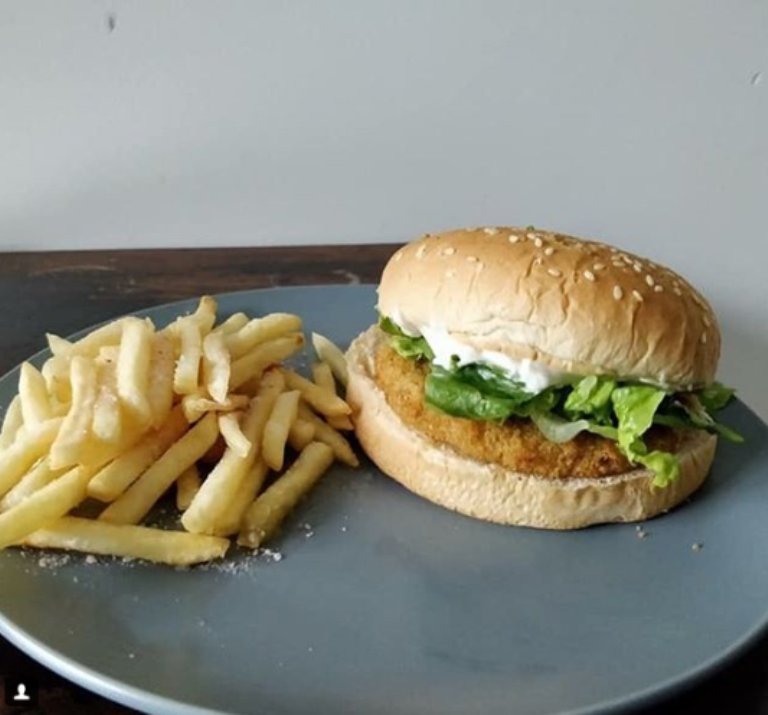 Instagram
"Posts that do not contain cooks must show a basic constructive discussion to a potential cook. If you're not able to make the meal yourself then call a 'CHALLENGE'.
Must post ingredients & rating /10, yes you can replicate items on the drinks and dessert menu, vegetarian/vegan substitutes are acceptable, but a level of aesthetic replication must be upheld."
One foodie shared his own versions of a Big Mac, a Cheeseo, a McFeast, large chips, a McChook, post mix Fanta, and an Oreo McFlurry.
"Big Mac played by the rules. Sauce comprised of Onion powder, sweet paprika, garlic powder, pickle relish, mayo and mustard. Delish. Buttered top bun – bit to dip in sesame seeds. 8/10 Meat could've been thinner. Flavour was on point," he wrote.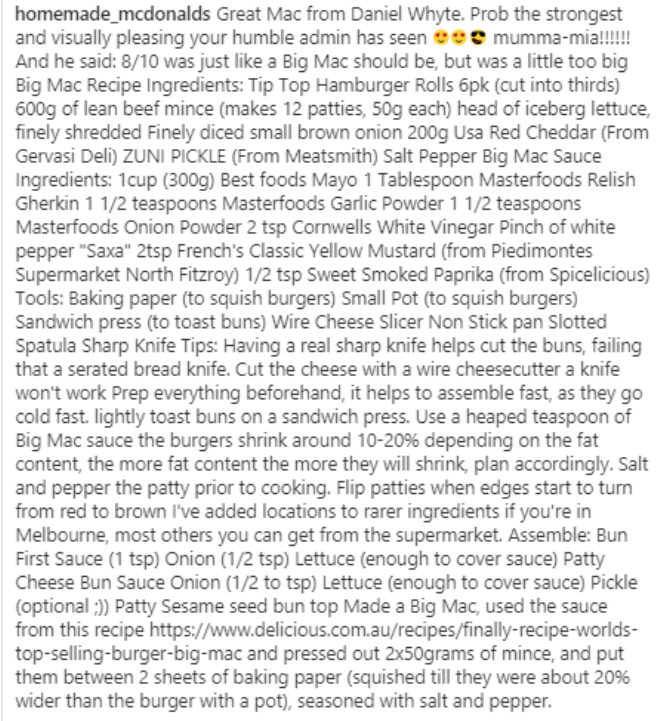 "Nugs were good! Again, can't compete with Ronald. All made from scratch though. Chippies were McCains. Shallow fried in same chook oil. Same as the shop. 9/10."
"Post mix Fanta is hungover essential. 70/30 split with Fanta and sparkling water. Straight 10-Oreo McFlurry for dessert. Mixed ice cream and biscuit. Easy. 10/10. I used polish dill pickles that I sliced. Hot tip."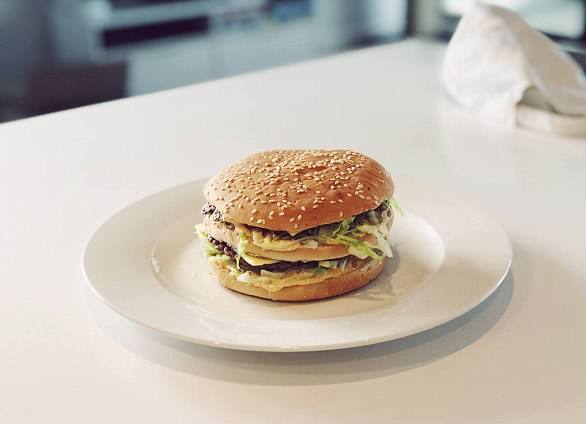 His creations were so impressive that even a man who claimed to be a trained McDonald's chef praised his replicas.
One woman named Natalie shared her 10/10 cheeseburger using seven key ingredients.
They included minced beef shaped into thin patties, tomato ketchup, processed cheese slices, brioche style burger buns from Coles, pickles, and frozen onion diced finely.
"I used my homemade zucchini pickles, but bread and butter pickles would work," she said.
A woman named Bernadette made chicken nuggets and sweet and sour sauce.
She gave her creation 9/10 for both nuggets and sauce. To make the nuggets, Bernadette used chicken breast triple coated in a ziplock bag of flour, garlic powder, vegeta, salt and pepper with an intermittent egg wash.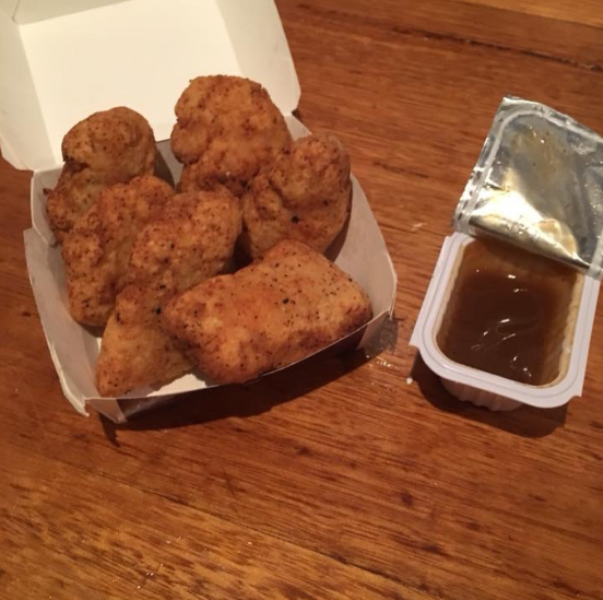 "I also popped them in the freezer between the second and third coats to ensure crispiness," she shared. "I honestly don't think I've ever made chicken this yum before."
For the sauce, she said that she was surprised at how close it was to the original. "Made with apricot jam, garlic powder, onion powder, soy sauce, mustard, white wine vinegar, glucose syrup and cornstarch – blitzed and then reduced over a gentle simmer," she said.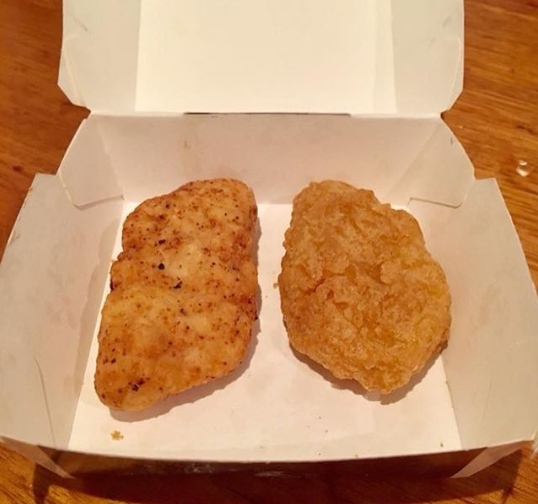 "So so so close to the original, dare I say it, perhaps even better. Made us both really dry in the mouth after though so lost points for thirst inducing qualities."
Check Homemade McDonald's Facebook Page or Instagram for delicious recipes!
What are your thoughts on this? Are you ready to make your own McDonald's treats? Share your creations with us in the comments section below!
Recommended Video!
"This Restaurant Sells Burgers With A Tarantula On Top"
Enjoyed the article? Check out another interesting story below ▼
---

Share this story with your friends and family!
---